4 Times Laura Benanti Was Flawless in 'The Sound of Music, Live!'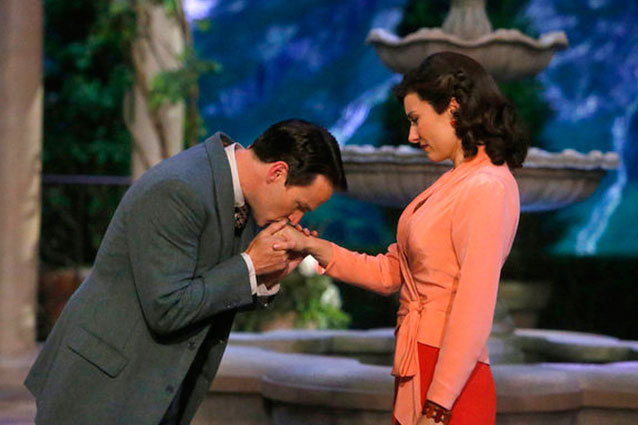 NBC
Whatever side of the Underwood debate you fall on, we think everyone can agree that the highlight of NBC's The Sound of Music, Live! were the Broadway veterans in supporting roles. Audra McDonald's "Climb Ev'ry Mountain" provoked the only emotion we saw on Carrie's face all night — other than "Meow, meow, meow, meow…," of course. Christian Borle made Max so likeable we kept forgetting about that Nazi sympathizer thing. And as Elsa, Laura Benanti changed the plot of the show to "Fabulous Baroness loses imagination-free whistle-fetishist to robot nanny in Sandra Bullock's costume from the Miss Congeniality talent competition scene." She. Was. Everything. In no particular order, her finest moments.
When she was the best-dressed woman in Austria.
Clearly, everyone but Laura did something to piss off the costume designer. While the rest of the cast was clothed in K-Mart's Heidi-meets-High School Musical collection, Elsa was devastating us in a black evening gown and a perfectly fitted and flowing pink and red pantsuit. Work.
When she single-handedly filled up our "Reaction Gif" folders.
We were already questioning the Captain and Maria's whirlwind "love" affair when they shared as much chemistry as I do with my Metrocard. But it was Benanti's eyerolls and raised eyebrows that really drove home the silliness of the situation. Go find yourself a nice Baron, Elsa.
Laura has played Gypsy Rose Lee, Claudia in Nine, Cinderella in Into the Woods, and yes, Maria the novice on Broadway. So she hardly broke a sweat when she slayed her meager two songs on the live broadcast.
When she loved us for loving her.
"Hey all my gays and bitches out there," Laura tweeted. "Thanks for being #TeamElsa."