'Splash' Will Attempt To Make Waves, Unlike 'Stars in Danger: The High Dive'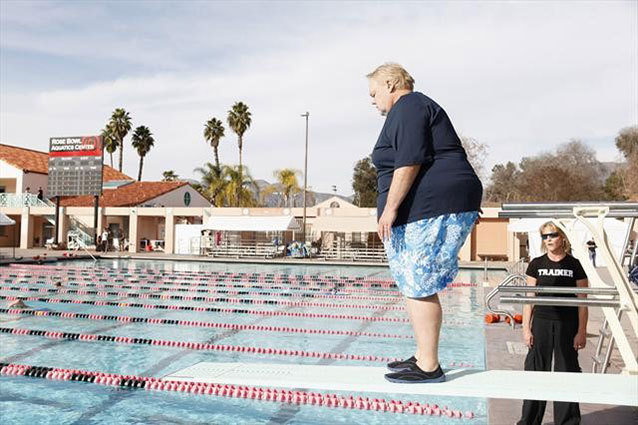 It seems like only yesterday that we, as a people, collectively decided to not give a s**t that some D-list celebrities were taking part in a televised diving competition. Well, actually, it was back in January, epitomized when only 3.4 million viewers tuned in to watch Antonio Sabato Jr. win Fox's two-hour special Stars in Danger: The High Dive. 
RELATED: Tallying Our Scores for 'Stars in Danger: The High Dive' 
Undeterred by the utter belly flop of a concept and execution that was Stars in Danger: The High Dive, ABC is stepping to the edge with Splash on Tuesday night. Splash — which will disappoint literally dozens of people who will tune in thinking it's a remake of the Tom Hanks 1984 comedy classic about falling in love with a mermaid — is a vain attempt to take the same formula as the failed Fox special and hope the masses care about a different set of D-list celebs jumping into pools. 
Hosted by Joey Lawrence (Whoa!) and Charissa Thompson, ABC is going for a much more shrewd way of getting viewers for Splash: their contestants include the likes of comedian Louie Anderson and Chelsea Lately sidekick Chuy Bravo. (You see, it's funny, because one is overweight and one is small! Whoa!) Here's what else is in store for Splash, which airs tonight on ABC at 8 PM ET. 
RELATED: The 13 Most Hilarious 'DWTS' Faces 
Other "Stars" You'll Recognize (Or Not): In addition to intentional sight gags Anderson and Bravo, there's also basketball legend Kareem Abdul-Jabbar,  Nickelodeon star Drake Bell, reality star Kendra Wilkinson, actress Nicole Eggert, Cosby kid Keshia Knight Pulliam, beauty queen Katharine Webb, and pro athletes Ndamukong Suh and Rory Bushfield. 
You'll Like It If: You like your reality shows with a nice serving of schadenfreude. 
Top 5 Reasons You Might Want to Watch: Your DVR erased Stars in Danger: The High Dive; winter has got you so down you just want to experience a pool, even if its via a television screen; you hate quality programming on other networks like New Girl; seeing pretty ladies like Kendra in bathing suits and handsome dudes like Rory in swim trunks; and, of course, morbid curiosity (poor Chuy). 
Top 5 Reasons You Might NOT Want to Watch: Side effects may include sympathy swim ear, sympathy belly flops, sympathy wearing-a-shirt-in-the-pool (poor Louie), sympathy and all-around sympathy. 
Love it, or Leave it?: Leave it! The 20th anniversary edition Ron Howard's far more entertaining Splash is on Netflix!
RELATED: 'The Voice' Season 4 Preview 
[Photo credit: Kelsey McNeal/ABC]
---
You Might Also Like:


Topanga's Revealing Lingerie Shoot: Hello '90s!


25 Stars Before They Were Famous