'Splash' on ABC Looks a Little Different From the 'Splash' I Remember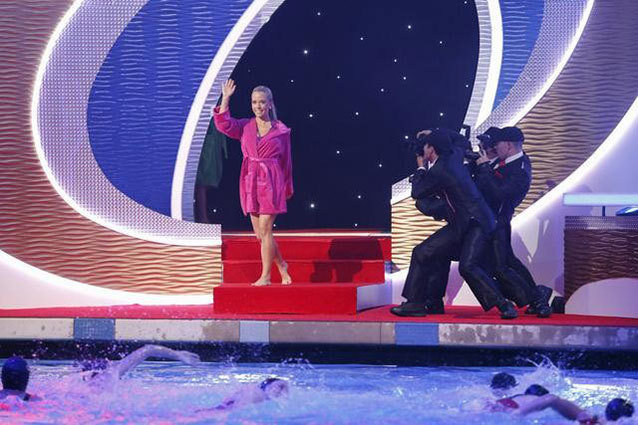 What's this on my DVR? Oh, Splash! That delightful Ron Howard movie about Tom Hanks falling in love with a mermaid played by Daryl Hannah. Little weird that it's only an hour long (maybe it's edited for television?) and that it's on during prime time hours, but I like a good, insane, conceptual romantic comedy as much as the next gal, so I'll just roll with it. 
RELATED: 'Splash' Will Attempt to Make Waves, Unlike 'Stars in Danger: The High Dive' 
Hmm, this looks a little different than I remember it. I definitely don't remember Kareem Abdul-Jabbar being in this, but hey that guy was huge in the '80s, so that could very well be a cameo I missed. Louie Anderson was kind of a thing in the '80s, too. Keshia Knight Pulliam was a Cosby kid, so that would make some sense… although man, she's a lot taller than I recall. Drake Bell? I'm pretty sure you weren't even a zygote. And why the hell is he jumping into a pool with a perfectly good guitar? 
Okay, so I think I figured this out: Splash is actually about a group of D-list merpeople like Kendra Wilkinson, Nicole Eggert, Chuy Bravo, Katharine Webb, Ndamukong Suh and Rory Bushfield who all must learn how to re-acclimate to the water to win Tom Hanks' love, and a wise ocean prophet (played by Greg Louganis) teaches them how to do it. Okay, maybe I remember this movie better than I thought. Though I swore Daryl Hannah was in this. Maybe that's this Kendra character? She's blond and pretty and talks like she's just been on land for the first time ever. 
Alright, so, there's people walking down a red carpet high dive and into a pool of synchronized divers. Hey, the '80s were a weird time, man. The merpeople are all being introdcued, which seems crazy, considering we already established this during the opening credits. Oh haha, Kareem and Chuy came out at the same time. I think Howard was going for juxtaposition here, as one is very tall and one is very small. He was very ahead of his time in 1984. 
WHOA, wait, what happened to Joey Lawrence? Where's his feathered hair? Is this some sort of Big situation? Am I watching the wrong fanciful Tom Hanks movie?
Oooh, a montage! Now I know I'm in an '80s movie for sure. Greg Louganis is training all the merpeople, and they are belly-flopping and attempting to go off the high dive. If I know anything about '80s movies montages, they're all going to be winners by the end of this and show the villainous Aryan Johnny what's what at the big ski competition. I mean, dive-off. 
RELATED: The 13 Most Hilarious 'DWTS' Faces 
Two guys named David Boudia and Steve Foley are making cameos, but I personally can't wait for Clint Howard to show up!
Keshia just said, "Life is like diving," which is the "Life is like a box of chocolates" of Splash. Man, this movie really laid the groundwork for Hanks' career, didn't it? Now, she's in a sparkly bathing suit that Dr. Huxtable would in no way approve of. She dives into the pool, but Steve tells her she's not ready to be a mermaid yet. So sad. 
Alright, here's the gist of what follows, because for an hour, this feels like an eternity. How was this such a box office smash?
At first, Louie can't get out of the pool, but then, apparently, jumps from 23 feet "for the troops"; Katharine is the '80s vixen character who's out to convince us she's "more than just a pretty face"; Rory reveals he is an extreme skier which means… oh no, he's the Johnny Bad Guy of Splash (could have sworn that was Eugene Levy, but I clearly don't remember this as well as I thought); Kareem overcomes being taller and older to land face first in the pool. 
RELATED: 'The Biggest Loser' Finale: And the Winner Is…
Hold the phone, why don't the other merpeople have to dive? Louie and Kareem are gone? Why are Keshia and Katharine having a dive-off? This plot is getting excessively confusing, especially for a Brian Grazer movie. Wait… this isn't the Tom Hanks rom com Splash… it's an ABC reality diving competiton!?! Oof. I miss the '80s.
[Photo credit: Kelsey McNeal/ABC]
---
You Might Also Like:


Topanga's Revealing Lingerie Shoot: Hello '90s!


25 Stars Before They Were Famous