How Can The Real Stephen Colbert Make His Character Work on 'The Late Show'?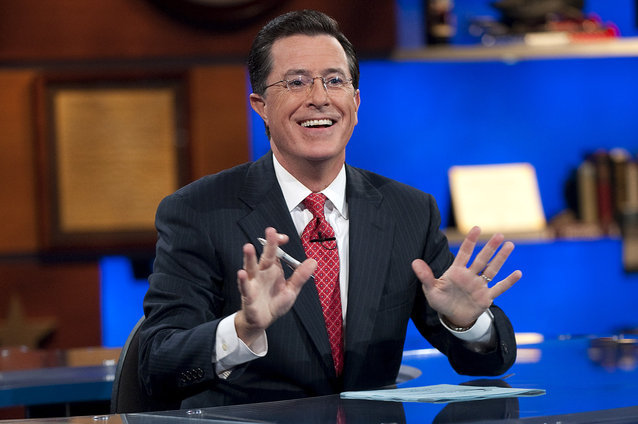 Comedy Central
We've been watching Stephen Colbert for years now — for eight years on The Daily Show and the past nine on The Report. We've seen him mold the jingoistic dork who bears his name into an icon of modern satire, skewering current events and lampooning punditry five nights a week for just shy of a decade. We've seen Colbert degrade the English language, vie for immortality in the form of a Hungarian bridge, forward the movement against wrist violence, run for president, wrestle Jon Stewart at the 2012 Emmys, and inspire a delightful grouchiness in childhood author Maurice Sendak. We've seen lots of Stephen Colbert. But we really have no idea what he's like.
But this man that we've yet to meet, save for rare candid interviews or pre-shtick recordings we might be lucky enough to have found on the web, seems to be the one we'll be spending the rest of our days with. Naturally, Colbert's new residence on The Late Show, announced on Thursday via The New York Times, won't foster this degree of caricature. As such, it's natural for fans of the Colbert Report, even (or perhaps especially) the most diehard of the bunch, to approach the news of the comedian's ascension to network TV with apprehension. We don't know what he can do without the good graces of his O'Reilly-inspired alter ego. We're not sure what a genuine Stephen Colbert interview will carry — when he's not belittling, accosting, or deliberately misunderstanding his guests, can he still be funny?
We'll have to wait until 2015 for a proper answer to this first question, although we're comfortable with a resounding "probably." But in mourning the impending loss of The Colbert Report's main character, we have to take a look at his fellow late night players, and the game itself. In earnest, Colbert is the only one of the lot who has been working from the soils of true fiction, but the industry entails some degree of trimming and hedging. The cameras add 10 pounds of performative composure and well-rehearsed shtick, and the good ones keep their elements as vivid as Colbert has his Bill O'Reilly sendup.
So the second question is: which of these greats will show Colbert how to handle the balance of his Comedy Central icon and the South Carolinian who pronounces his last name with an audible "T"? 
Gone by the wayside since Johnny Carson's retirement is the viewing audience's adherence to the "familial" in its crowning of a replacement late night king. With a long line from which to choose, we want characters. Maybe Jay Leno held good ratings thanks to his ability to play accessible and nonthreatening, but in the days of Internet criticism, professional and public alike, that translates to amorphous. There's no Jay Leno identity beyond the high-voiced bobblehead you'll find in too many stand-up comedy routines. Leno and his ilk have fallen to the new. We want the opportunity to dig through a collection of oddballs each night, satisfying whatever cravings the preceding hours have inspired.
We have that opportunity in David Letterman's crotchety cynic (who has always been, as a cultural fixture, far ahead of his time). In Jimmy Fallon's wide-eyed cherub. In Jon Stewart's put-upon nebbish. These are the characters these men have built, accessing something between relatability — face it, angrier people like Letterman and happier people like Fallon — and the special, distanced elation you get from watching a skilled actor work his comedic magic.
With so many balancing acts of varying aptitude — Chelsea Handler plays on sauciness, Jimmy Kimmel on boyish impetulance, Craig Ferguson on the residual mania of his dark past — Colbert has no shortage of professors to guide him through his early semesters in the CBS gig. But the best teacher of the lot to help Colbert tailor his character to the network form might very well be Conan O'Brien, who has managed from Late Night on to manufacture a most meticulous exaggeration of his gawky, psuedo-psychotic personality to maintain through bits, interviews, man-on-the-street routines, and even appearances in other media. It's really a shame he didn't get tenure.
It's natural to bemoan the loss of a character as important as Colbert's, or to fear that his greatness might not carry over to a new style of performance. But we have to remember that even in taking the stage as himself, performance is the most essential part of his new job. He might not bluster about as the right-wing blowhard we've come to love, but he sure as hell won't let his penchant for character craft and self-parody go untapped. He'll need it now more than ever.