Sunday TV is Officially Overloaded: ABC Moves 'Revenge'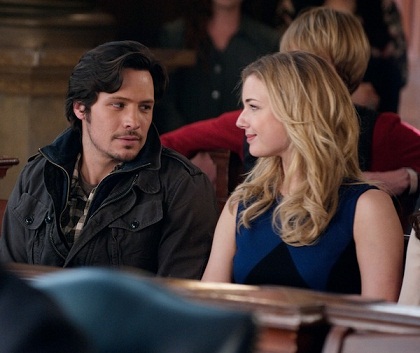 ABC, are you trying kill us? No? Well, maybe you're just trying to kill our DVRs so we'll all have to buy whatever Super DVR is coming out next (conspiracy!), because there is no way we can keep up with Sunday nights after this little scheduling change.
The alphabet network just moved our beloved Revenge to the Sunday night pimp slot at 9 PM, just before the salacious new Vanessa Williams drama 666 Park Avenue at 10 PM. The problem is, as we've screamed at the top of our poor, tired lungs many times before, there is simply too much television on Sunday nights as it is. Moving Revenge into that coveted spot just means we might have to start cutting shows, and that's before we factor in the fact that starting in September, Sunday night is also Football night. 
Seriously ABC, how do you expect us to be able to keep up? It already takes me until Friday to watch everything queued up from Sunday nights. Clearly, the network is sending us one very clear message: You don't need a life, all you need is Emily Thorne and her various sea creature baubles. 
And in case your life doesn't revolve around
Revenge
, here's the full
ABC schedule for 2012-2013:
Monday
8:00 p.m. "Dancing with the Stars"
10:00 p.m. "Castle"
Midseason:
8:00 p.m. "The Bachelor"
10:00 p.m. "Castle"
Tuesday:
8:00 p.m. "Dancing with the Stars the Results Show"
9:00 p.m. "Happy Endings"
9:30 p.m. "Don't Trust the B—- in Apartment 23"
10:00 p.m. "Private Practice"
Midseason:
8:00 p.m. "How to Live with Your Parents (For the Rest of Your Life)"
8:30 p.m. "The Family Tools"
Wednesday:
8:00 p.m. "The Middle"
8:30 p.m. "Suburgatory"
9:00 p.m. "Modern Family"
9:30 p.m. "The Neighbors"
10:00 p.m. "Nashville"
Thursday:
8:00 p.m. "Last Resort"
9:00 p.m. "Grey's Anatomy"
10:00 p.m. "Scandal"
Friday:
8:00 p.m. "Shark Tank"
9:00 p.m. "Primetime: What Would You Do?"
10:00 p.m. "20/20"
November:
8:00 p.m. "Last Man Standing"
8:30 p.m. "Malibu Country"
9:00 p.m. "Shark Tank"
10:00 p.m. "Primetime: What Would You Do?"