'SYTYCD' Recap: A Striptease, A Proposal, and Four Goodbyes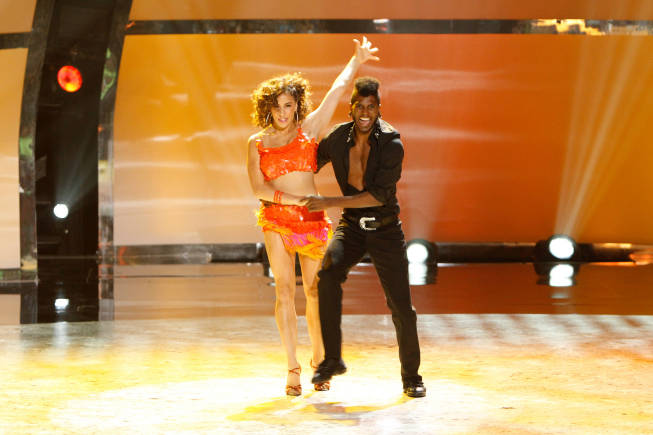 Those reality show producers aren't kidding when they say you only get one shot at glory. That's why four the members of So You Think You Can Dance's top 20 went home on Wednesday night, after getting just one chance to prove themselves.
Of course, the judges had some say in the matter: Nigel, Mary, and Adam Shankman were presented with the bottom six, and they got a chance to save their two faves. Basically, that meant that Witney, the Season 9 Golden Child, and a few select others were staying in the competition, no matter what. (Spoiler alert!)
I spent much of the opening number — a Phantom of the Opera-esque tribute, choreographed by Tabitha and Napoleon, that had the top 20 outfitted in red and black sequins and so much makeup I couldn't determine their identities — wondering how the producers would squeeze 10 performances and a mini-elimination show into a mere two-hour telecast. But have no fear: Nigel can do anything. Oh, and he did.
The first elimination show kicked off with the requisite awkwardness. Adam told Cat that her red dress made her look like a sexy tomato, and Cat challenged him to "take a bite" while Adam pretended to be interested. Then Lindsay and Cole performed a routine about a nerdy kid embarking upon a dental checkup with Jennifer Aniston's character in Horrible Bosses.
Seriously, that was actually the inspiration.
Cole started off the routine in a dentist's chair while Lindsay pretended to striptease for him. For at least half the number, Cole didn't do much besides sit in the chair and react to Lindsay, but I suppose they get credit for an original story — and for the acting. Cole didn't break character, even for the judging, which was equal parts amusing and serial killer-ish.
Nigel told them he appreciated their characterization, but that Lindsay's performance was immature and she tried too hard to play to the audience. In her defense, she's 18, so it's safe to say that playing a hooker dentist is a stretch. Mary told Lindsay she needs to bring better acting skills to the table, but told Cole he's a lean, mean dancing machine. Adam told our 18-year-old ballroom dancer to bring more sex to the table. Yup.
Next up, Amelia and Will got a "heavy, treacherous, desperate" emotional routine, courtesy of Sonya, which played right into Amelia's wheelhouse, unlike last week's fun routine — which she also killed. Coming into the show, I was a little worried about her, but this routine sealed her fate. Not that it would be in question, anyway. (Spoiler alert!)
Oh, and then there was Will. Why do the guys always wear black and the ladies wear the bright, exciting colors? It was almost hard to remember he was there; I'm not sure if that was because Amelia was excellent or because it was dark on the stage and Will's outfit blended into the background.
Mary gave them a "WOO," told Will he brought the routine to life (ummkay) and is "rising to the occasion." Adam gave them a standing O, gushed over Sonya, told Amelia she's brilliant, and said Will stepped it up. Nigel said he appreciated how Amelia buries her quirkiness in order to fit into whatever routine she's given, which is a great point. Coming into the top 20, the judges' biggest fear was that she wouldn't be able to excel with anyone's choreography except her own. Guess she quelled that fear.
Amber and Nick received the season's first tango routine — perfect for Nick, the ballroom guy, but not so much for Amber, who already has trouble connecting with him. Once again, she wore bright red and he wore all black, but because of the nature of tango, neither of them upstaged the other. Well, that's a lie; Amber was so fluid and her lines were so clean that you could've convinced me this was her specialty. She had her game face on the whole time.
NEXT: Stank Steps!Adam simultaneously told Amber and Nick that they were way too corny but also hot, then gave Amber props for becoming a "fire dragon." He said Nick made Amber look good, but unfortunately, he seemed like little more than the lady's partner. Nigel compared Amber to a cobra ready to pounce (so much reptilian imagery!) and said she made herself look good — it had nothing to do with Nick. Mary said they made the most challenging routine of the night look easy.
Audrey and Matthew were supposed to be strong, vicious, and aggressive, which was an interesting challenge for Audrey, considering she doesn't exactly strike fear in others. Still, these two are an excellent pair, and they feed off each other, emotionally and physically. That's the difference between them and the other pairs. Plus, the fact that her extension is ridiculous doesn't hurt. This is the first time I've thought maybe she could win the whole thing — she's likable and super talented.
Nigel commended Sonya's dark style this season and the "stank steps" she choreographed. Mary was impressed by Audrey's extension. Adam told Audrey that he doubted her until the Green Mile episode, but not anymore; then, he said the competition is Matthew's to lose. Guyliner and all.
Janelle and Dareian were saddled with a cheesy, old-timey number set to "My Girl," in which Dareian was supposed to be gearing up for the courage to propose at the end. Janelle wasn't that into it because Dareian reminds her of Donald Duck, but still, she gave her best effort with the acting. Adam is right that this season's routines are super corny — from the over-indulgent facial expressions, to the choreography requiring Dareian to put his jacket around Janelle's shoulders … sigh. This kind of stuff reminds of that show American Dreams.
As for the routine-ending proposal, Janelle accepted, and then they made out. Ow ow.
Adam said Dareian was fine, but Janelle, she failed to become invested in her character and will probably lose votes because of it. Don't sugarcoat it or anything. Nigel was inspired by the routine and thought both dancers were unchallenged by the choreography. Ouchies. When Mary gave her critique, it was so quiet in the studio that you could hear a pin drop, but Adam took care of the awkwardness by nearly pushing Mary's chair off the podium in order to pretend to kiss Nigel.
Seriously, though. This performance truly makes you wonder if Janelle can do anything besides bellydancing.
Janaya and Brandon did a Broadway routine about two lovebirds at a bus stop. Well, not two — one. Janaya was the pursuer, and Brandon was having none of it. I was not a fan of the fact that so many of the night's routines relied so much more on the acting rather than the dancing, but I suppose that's the nature of the beast in this industry. As Adam says, sometimes it's going to be more about the characters.
At least these two ended on a high note by wrestling and tumbling across the floor. Also, I must point out that Janaya's red printed tutu was way inappropriate attire for a bus stop.
Adam commended choreographer Sean and told both Janaya and Brandon that they, for a change, were suitably invested in the characters. Nigel thought the number was brilliant and both dancers did a terrific job getting into it, and I'd have to agree that Janaya showed some personality for the first time this season.
Next up, Eliana and Cyrus attacked the season's first jive, and Cyrus celebrated by unbuttoning his (all black) shirt to his navel. These two got the seventh pick in the choreography draw, and somehow, the jive was the lesser of the four remaining evils. Poor Cyrus. He wasn't built for this kind of choreography. He struggled with the transitions and with the steps, but at least he tried — and he was a good partner for Eliana, who spent the entire judging segment giving him a pitying, "there, there" smile.
Mary verbally slaughtered Cyrus for his struggles but told Eliana her star is still shining. Adam said the inside of Cyrus' head probably resembled a zoo if all the animals had escaped, but he still loves Cyrus' heart — and the things he can do when he's allowed to stay in his personal-style box. Nope, Cyrus isn't going home, no matter how many jives he has to do. Nigel told Eliana she has a tough job because she's Cyrus' partner — verbatim. Double ouchies. I love Cyrus because no matter what the judges say to him, he just stares at them with a blank grin. Perhaps the inside of his head is more like the inside of an aquarium, not a zoo.
NEXT: The first elimination!
Alexa and Daniel are somehow two of the most skilled dancers in this competition, but also two of the most uninspiring and bland. They danced around a bathtub meant to allude to the concept of drowning in emotions, which was hilarious because it was them, the two people who have the hardest time connecting to any sort of emotion whatsoever when they dance.
Technically, they were still perfect — clean lines, good extension, and they were especially impressive given the routine's level of difficulty — but they were stiff. They were like singers who could hit towering notes but didn't appear to care at all.
But alas, at least Daniel was wearing a Speedo once again. And neither of them wore black. Hooray!
As they finished, Cat mumbled something about how they were like Tom Hanks and Daryl Hannah, but luckily, she's not a judge. Adam said that after that bath, he should've wanted to take a shower, but he didn't —A lexa and Daniel were too chilly. Mary agreed; the execution was perfect, but there was no chemistry. Nigel said Dee Caspary's choreography was beautiful, but he concurred that there was too much concentration on the steps and nowhere near enough immersion in the emotion.
My own totally relevant observations: Daniel talks like Mr. G from Summer Heights High (I'm sure going to miss that — oops!), and why did Alexa's hair look so wet? Ew. (I won't miss that at all.)
Tiffany and George were forced to do the fox trot, despite the fact that there are at least three ballroom technicians in our presence this season who could've killed this. George didn't struggle as much as Tiffany, who just looked sloppy — I thought her lines were weak, and she seemed tentative and uncommitted to the choreography. George somehow upstaged her and her pastel, sparkly dress, so kudos to him.
Mary loved the routine and even WOO'd them, which truly befuddled me. Then she told Tiffany the fox trot was the perfect fit for her, which befuddled me even further. Adam was madly in love with the number (his words) and said both Tiffany and George were in-freaking-credible. Nigel believes the two of them have a terrific connection — I don't dispute that — and the routine made his heart smile.
I don't get it. The only word I can muster for this number was lazy, but I suppose it's up to America now.
Last up were Witney, dressed as Janelle, and Chehon, dressed as himself, and by that I mean shirtless. Bollywood time!
This routine deserved to be last; it was certainly the most entertaining of the night. I didn't think Witney had this in her — truthfully, I didn't think she had much aside from ballroom in her — but she so did. Both of them were perfectly in rhythm — no small feat, given this number's tempo — and they were perfectly in sync. There were a couple of select times where the lady looked like she was concentrating a bit too hard, but she probably needed it. This routine was a beast, and they both nailed it.
Adam had a hard time critiquing either of them because they were so fantastic, but he did tell Witney she needs to dance with a longer neck — and now that he said it, she did look a bit hunched. Mary told Chehon he was on fire and was far better suited for Bollywood than last week's samba. I agree that he let go and seemed to enjoy himself for the first time; I always think of him as a dull, Daniel-esque dancer, but not tonight.
Without further, ado, dun dun dun — it was time for the eliminations. American Idol should take notes from this: SYTYCD completed a full elimination show in 24 minutes, commercials included. It certainly helped that they avoided any of those tedious, four-minute performance review packages that tend to last longer than the original performances.
Promptly after the last performance, Cat brought all 20 dancers back onstage, dressed in street clothes (except Witney and Chehon, who remained in their Bollywood costumes) and got right down to business. America, here's your bottom six:
Alexa
Witney
Janaya
Nick
Chehon
Daniel
Nigel opted to avoid seeing anyone re-dance (surely, the time constraints had nothing to do with that). Interestingly, Janaya and Nick both ended up in the bottom without their partners, but there's no surprise there — Janaya was forgettable in a sea of very talented ladies, and Nick was upstaged two weeks in a row by his partner, Amber.
The early results immediately spelled doom for both Janaya and Alexa — there was no way Nigel would send home his new Lauren Alaina after just one week. As for the boys, Nick and Daniel had to be worried as the two guys who had the toughest time connecting emotionally with any of the material.
Chehon was never a blubbering wad of emotion, but he has enormous potential and, in addition to being technically perfect, was the only one of the three guys who improved substantially from week 1 to week 2.
After a short recess from the results for some shameless plugging of Adam's new Step Up movie — which stars some notable SYTYCD alums, including Twitch and Tony Bellissimo — the dancers from the movie took the stage for a live performance. Meanwhile, forget what I said about the absence of those useless video packages and irrelevant guest performances.
Before the judges used their saves, Nigel spent several minutes explaining that there was no voting off in the world of SYTYCD — there was only voting in. I doubt that made the elimination any harder to swallow for Alexa and Janaya. That's right, in the most suspense-less verdict in history, Witney got the first save, and she deserved it. Alexa has always struggles to inspire anyone who's watching her, where as Janaya has been forgettable for two weeks in a row, Witney has been anything but.
As expected, her partner-in-crime, Chehon, got the boys' save. This one makes too much sense — both Daniel and Nick were good, but this week, they weren't good enough to save themselves. Chehon was.
What did you think? Did the right guys and girls go home? Who would you have saved? And who's in danger next week?
[Photo Credit: Fox]
More:
'So You Think You Can Dance': Top 20 Announced