TCA 2012: '666 Park Avenue' Promises To Make Horror-Lovers Proud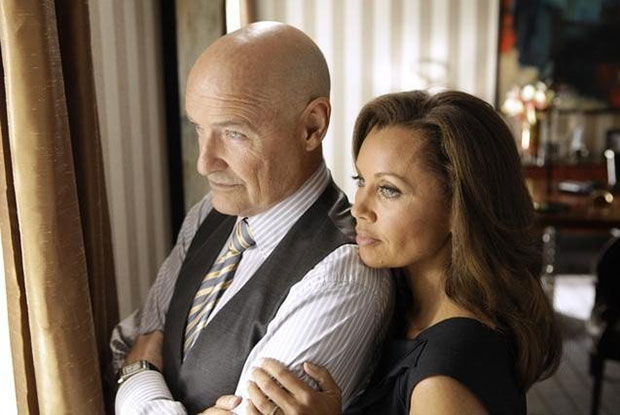 Prepare yourself, thrill-seekers! Thanks to the success of a show like American Horror Story, the demand for cringe-worthy dramas is at an all-time high. Luckily, ABC's fall drama 666 Park Avenue — about a couple who discovers their new apartment might be possessed — is moving to a TV screen near you and producers are promising a "twisted, fun, and dark" new show.
At the TCA panel Friday afternoon, executive producer David Wilcox explains why 666, which stars Ugly Betty's Vanessa Williams and Lost's Terry O'Quinn, will thrive in the fall. "I've been a horror fan for a long time," he says. "To me it's the type of genre that really has a direct connection with the audience and I've thought that there could be a horror show on network television for a long time."
Although 666 is a horror-driven show, Wilcox is confident it will still fit nicely within the ABC fall lineup. Wilcox sums up, "This show has soap, it has seduction, it has wish fulfillment. It has a lot of those qualities that other ABC shows possess."
Willams is no stranger to the formula used in many of ABC's most popular shows. Since 2006, Willams has consistently graced the alphabet network with starring roles on Ugly Betty and Desperate Housewives, and she's confident 666 is the best choice for her next show. "I was completely taken from the very beginning," she says. "It's compelling, it's in a city that I love… and it's a world that I wanted to explore. It's the Upper East Side — it's luxurious, and it's [about] a couple that is very powerful."
For Williams, the move to the Drake is a drastic change from her most recent address on Wisteria Lane. The 49-year-old actress believes her character, Olivia, has a personality more similar to Ugly Betty fan favorite Wilhelmina Slater: "It's a little bit more like Whilimena, where she worked her way up to the Upper East Side echelon. This is the same type of world, but a much different feeling."
But just who is Olivia Duran? Williams carefully answers, "At this point, I see her as kind of a mafia wife, where he [her husband] has supreme power, [but] she is aware of a lot of things that have happened that are unfortunate. She doesn't know everything or all the details, but she is aware of the makings of what goes on at the Drake."
Due to the show's large and luxurious setting, viewers can look forward to meeting a plethora of intriguing characters this season. "The way that we're going to try and structure the majority of the shows is that it will have a slightly serialized element, but we're also going to explore different resident deals along the way," Wilcox says. "And whether those deals last one episode, three episodes, four episodes, you want to feel that any given week you could be learning about a new resident of that building."
Although 666 has strong Stephen King influences, Wilcox says that hardcore gore lovers will see themes from all their favorite fearsome flicks. "It's so much more than that. We were influenced very much by Rosemary's Baby, clearly films of the '70s and '80s that were much more psychologically driven horror. Movies like The Shining, The Omen, even films like Blue Velvet and Jacob's Latter."
No matter how dark the storylines may get, Wilcox says there's more to 666 than just horror: "Seduction is really the steam that is driving this first season."
666 Park Avenue premieres on Sunday, Sept. 30 at 10 p.m.
Follow Leanne on Twitter @LeanneAguilera
[Photo Credit: ABC]
MORE:
Comic-Con 2012: '666 Park Avenue' Has Everything… Literally