TCA 2012: Meet Matthew Perry's Wacky 'Go On' Therapy Group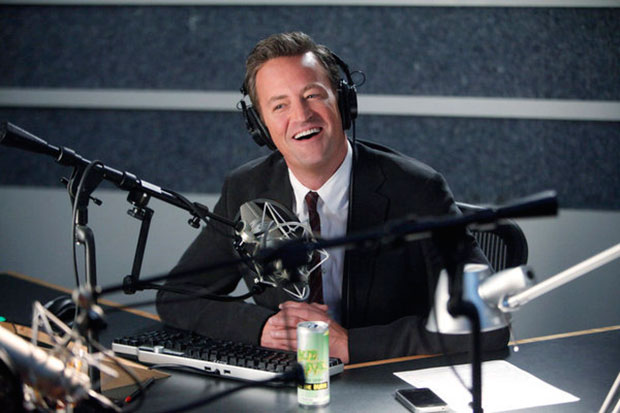 It seems as though Matthew Perry is television's little engine that could. He, along with fellow actors Tyler James Williams, Julie White, John Cho, Laura Benanti, Suzy Nakamura, Brett Gelman, and producers Todd Holland, Karey Nixon, Scott Silveri, and Jon Pollack took to the Television Critics Association stage to discuss their NBC fall comedy, Go On, at the Beverly Hilton on Tuesday. Perry, who recently completed work on the failed ABC sitcom Mr. Sunshine, was quick to self-depricatingly sing the praises of his new employer. 
"First of all, this is the room where people like
Mr. Sunshine
?" Perry joked, when a reporter praised the departed show. "I wish I had just stayed in this room that whole year! The bad news for me, creatively, is that Scott created a TV show for me better than the one that I created for myself. This show is just better. Scott is a better writer that I am." Silveri modestly joked back, saying "I also happen to be a better actor than he is." Perry went on to explain his desire to work on the show, saying that he "gravitate[s] towards broken characters who try to be better people. The set-up is better here. This guy has had some very dramatic things happen to him, and he's in denial when you meet him. It's a built-in excuse to be really funny."
On the show, Perry plays a popular sportscaster who attends group therapy as a way to cope with a devastating personal loss. A reporter noted that group therapy is typically very fluid, but Silveri insists that this is a good thing. "It will become a natural thing for him to be attending," Silveri said. "In the research that I've done, there's a fair bit of continuity for years in these groups. People don't heal all that quickly. There's also an easy way to cycle new people in, and cycle people out as people misbehave."
The show will also feature characters from Perry's workplace, which Silveri insists is another positive asset for the show. "There is going to be some cross-pollination, because these are all characters that are important to Matthew's character," Silveri said. "We love the work characters, we love the support group characters. Each being strong helps the other."
White, who plays a support-group member, was the first to be cast. Her character was pitched as a widow grieving the death of her husband, but she soon received a phone call from Silveri asking if she minded playing the role gay. "The idea of losing your spouse, or your partner, is the same kind of grief for everyone," White said. "In that way, Matthew and I, our characters are on the same kind of journey."
"It was important for us to represent all kinds of people in the show," Silveri added.
Benanti plays the sexy leader of the support group, and though her character has great chemistry with Perry's, she noted that viewers shouldn't necessarily expect a romance (at least not right away). "I think that my character probably has relatively straight ethics," she said. "You can tell from the pilot that [she and Perry] have a nice chemistry, and him telling me about his loss is something that I'm very empathic towards… maybe more so than a traditional therapist might be." But that doesn't mean that they'll get together. "I flirt with him just off-screen," Benanti joked.
Gelman's wacky character, who is seen in the pilot going to lamaze classes, only goes to group because he wants to fit in… somewhere. Anywhere. "He's not a sociopath," Gelman insisted. "But he's not someone who is used to being around people very often. He wants friends, but he doesn't know the proper way to go about acquiring them. It gets pretty awkward. He meets the number one cool friend, which is Matthew. … he has strange intentions at times. But he's harmless."
Silveri — who was also a producer on Friends — says he still enjoys working with Perry, whose talents have only improved over the years. "Having worked with him for 8 years, I was well aware of the full spectrum of his talents," he said. "But I still get surprised."
What's not surprising, however, is that Perry has maintained his Chandler Bing brand of self-deprecating sarcasm. When asked about his favorite role, the actor replied: "It's either this, or The Whole Ten Yards." Yikes.
Follow Shaunna on Twitter @HWShaunna
[PHOTO CREDIT: NBC]
MORE:
TCA 2012: NBC Boss Defends 'Community' Move, Insists Firing Wasn't Persona
Matthew Perry's Sitcom Goes to Series, But Will It Break the Curse?