In Honor of Ja'mie's Return, A Look Back at Comedy's Best Cross-Dressing Moments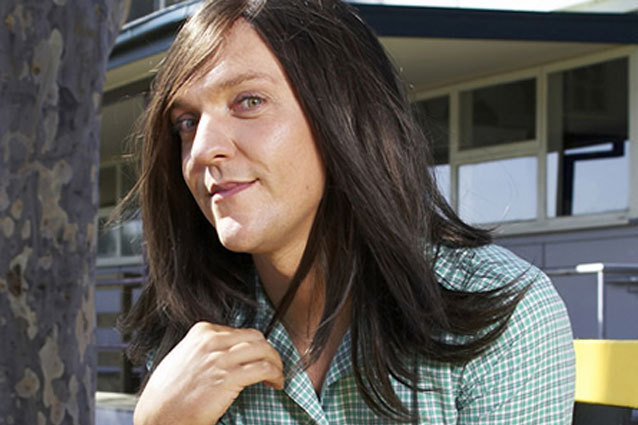 Chris Lilley is bringing our favorite Summer Heights High character back with Ja'mie: Private School Girl. This time, she's left public school and back on her old stomping grounds, Hillford Girls Grammar School, where the lawns are more manicured and the trash bins are less random. We love Ja'mie for her brutal honesty, her words of wisdom, and her tireless goal of helping others. She's such a strong character that sometimes we forget that she's played by Australian actor Chris Lilley, who makes playing a schoolgirl look so natural and believable. We tip our hats to Mr. Lilley for creating one of the best female characters played by a man in comedy history. To celebrate Ja'mie's triumphant return, we're taking a look back at the best cross-dressing moments in comedy. (And of course, a feathered hat must be tipped to Eddie Izzard, one of the few real-life out transvestites in comedy.)
Tootsie (1982)
Dustin Hoffman's gender-bending role as Miss Dorothy Michaels is one of his most memorable. Out-of-work actor Michael Dorsey (Hoffman) dresses up as Dorothy and auditions for a female part on a popular soap opera. He lands the part and becomes a famous actress, but soon faces complications with his new identity, as he falls in love with his costar Julie and is courted by Julie's father. Tootsie earned 10 Oscar nominations, one of which was won by Jessica Lange as Julie, and the American Film Institute ranked it as the second funniest film of all time.
The Kids in the Hall (1988-1994)
The boys of The Kids in the Hall made playing girls a regular thing on TV. In fact, playing women was one of their trademarks, but they weren't in drag, they were just playing regular women. They made cross-dressing and playing the opposite sex seem normal, natural, and comfortable, paving the way for characters like Ja'mie. Two of our favorite characters are secretaries Cathy and Kathie, whose sketches often feature all five of the members playing women.
Mrs. Doubtfire (1993)
Robin Williams was born to play Mrs. Doubtfire. After his character, Daniel, loses custody of his kids in his divorce, he finds a way to stay in their lives by applying to be their housekeeper. With the help of his makeup artist brother, he transforms into hefty Scottish matriarch Mrs. Doubtfire. His family has no idea that Mrs. Doubtfire is actually Daniel, and he is able to fully take on the role of their housekeeper, learning to be a better parent to his kids along the way.
The Adventures of Priscilla, Queen of the Desert (1994)
Terence Stamp, known for playing villains and intimidating types, steps out of his comfort zone and into gorgeous gowns as Bernadette in this critically acclaimed Australian comedy. His stage partners are played by equally unlikely actors, Hugo Weaving and Guy Pearce. The trio travel in a purple school bus named Priscilla through the Australian outback to reach their gig in Alice Springs. They encounter many interesting characters along the way, and Bernadette questions her path in life.
To Wong Foo, Thanks For Everything! Julie Newmar (1995)
Coming off the success of Priscilla, To Wong Foo is a similar twist on the buddy-movie genre. Three professional drag queens, Vida Boheme (Patrick Swayze), Noxeema Jackson (Wesley Snipes), and Chi Chi Rodriguez (John Leguizamo) take a road trip from New York to LA and get into several mini adventures in the small towns along the way. In their encounters, the three ladies teach the townspeople valuable life lessons on self-confidence, chivalry, and love.
The Birdcage (1996)
This remake of the Franco-Italian classic La Cage aux Folles stars Robin Williams as Armand, the owner of a South Beach drag club, and Nathan Lane as Armand's domestic partner and star drag queen. When Armand's son, Val, gets engaged to Barbara, whose father is an ultraconservative Republican senator, Armand must create the illusion that he is a straight man when he invites Barbara's parents over for dinner. The ruse gets complicated — but hilarious — when Albert (Lane) uses his talents for cross-dressing and pretends to be Albert's wife.
Sorority Boys (2002)
It's definitely not the most eloquent example of cross-dressing in cinema, but Sorority Boys is proof that the tactic can been used in any genre, even teen sex comedies. Three mysgonistic playboys are accused of embezzlement and get kicked out of their frat, and their only option to stay on campus rent-free is by dressing up like women and joining the sorority Delta Omicron Gamma (D.O.G.). Not the best message, but their past mistreatment of women does come back to bite them in the ass, and they learn a few lessons in the process.
White Chicks (2004)
In this movie, not only do Shawn and Marlon Wayans have to become a different sex, but also a different race. The premise is ridiculous, but that's part of the film's appeal. Brothers and FBI agents Marcus (Marlon) and Kevin (Shawn) Copeland must pretend to be socialite sisters Brittany and Tiffany Wilson (this was when the Hilton sisters were still relevant) in order to catch a serial kidnapper. The movie might not go down in film history, but pop culturalists will forever be haunted by those faces.
More:
'80s Movies That Should Be Remade
'American Pyscho' Coming to FX
Watch Jared Leto in Dallas Buyers Club
---
From Our Partners:


40 Most Revealing See-Through Red Carpet Looks (Vh1)


15 Stars Share Secrets of their Sex Lives (Celebuzz)