18 TV Hangouts You Wish Really Existed
Let's be real, all you've ever wanted is to grab a burger at The Max or have a cup of coffee on a big orange couch with your friends at Central Perk. Here are the best hangout spots from the best TV shows that we wish actually existed.
1. Central Perk on Friends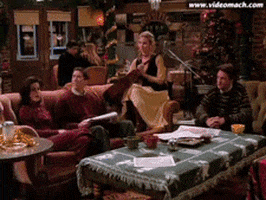 Before Starbucks took over the world, our favorite Friends made the coffee house the cool place to hang out, and we still wish we could grab a latte with them on the big orange couch. We'd give anything to be able to see Phoebe perform "Smelly Cat" live in real life!
2. Cheers on Cheers
Sometimes, you just want to go where everybody knows your name. Cheers was the place in the '80s to grab a drink and vent about your job, your love life, and any other woes. The great thing is, you can actually get a cocktail at the real Cheers! The bar where exterior shots for the show still exists in Boston. Who knew?!
3. Monk's on Seinfeld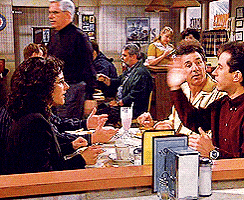 Where else in NYC would you go for a Big Salad?! The famed diner frequented by Jerry, Elaine, Costanza, and Kramer does actually exist in New York, so fans flock to Tom's Restaurant, located at 112th Street and Broadway, to see it, but the inside looks different as all the interior cafe scenes were filmed in studio.
4. Arnold's on Happy Days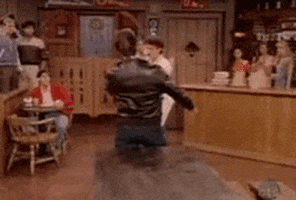 These Happy Days are yours and miiiine.. and there's nothing more that we'd love than to put on a poodle skirt or our finest leather jacket and groove on in for a milkshake at Arnold's with The Fonz. Heyyyy!
5. Luke's Diner on Gilmore Girls
Whether you grew up in a big city or a small town like Stars Hollow, there's something so comforting about the neighborhood diner — who wouldn't want to share a cup of coffee with Lorelai and Rory while you have a heart to heart?! Sigh…
6. The Krusty Krab on Spongebob Squarepants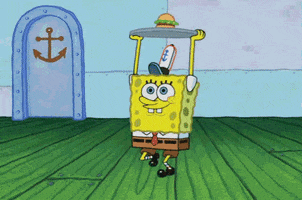 It may seem odd to wish that a burger joint found under the sea is on our list of dream hangouts, but it's true — all we've ever wanted is to try a Krabby Patty burger, despite the gross name. After all, The Krusty Krab is in the city of Bikini Bottom — and we're willing to overlook it all because Spongebob and Patrick Star are just SO cute.
7. The Max on Saved by the Bell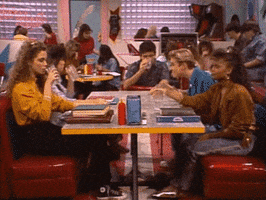 The Max was the quintessential high school hangout — the perfect place to catch up with friends during a study break or before hitting the movies on a Friday night. It was the site of much drama, however, when college guy Jeff stole Kelly's heart and she dumped Zack, and then he brought his revenge date there while Kelly was waitressing. But the gang always came back together in the end.
8. The Hub on That '70s Show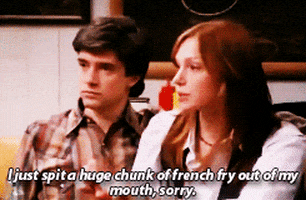 The Hub was known for its French fries, hot dogs, and pinball games, and also provided much drama (remember when Fez asked Crazy Caroline out there?!) but the group was always there… except when they were doing naughty things in Eric's basement!
9. Moe's on The Simpsons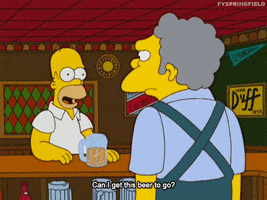 Moe's is where beer lovers unite in Springfield. They've got Duff, Duff Beer with an umlaut, and occasionally Red Tick Beer. It's also the victim to Bart Simpson's many prank calls and drunken shenanigans by locals. Die-hard Simpsons fans can visit Moe's in Universal Studios theme parks for a Flaming Moe — d'oh!
10. MacLaren's Pub on How I Met Your Mother
The characters on How I Met Your Mother began hanging out at MacLaren's Pub because they lived above it, but eventually they grow to legitimately love the bar and hang out there even when it was no longer geographically convenient. Aw!
11. The Bronze on Buffy the Vampire Slayer
The Bronze was, hands down, the coolest place to rock out to an indie band or chill with a cup of coffee, if you're part of the under-21 set. Who wouldn't want to hang out here with the Scooby gang?!
12. The Peach Pit on Beverly Hills, 90210
The Peach Pit is the coolest incarnation of a retro throwback restaurant we've ever seen, and was also the coolest hangout in Beverly Hills. We still want out burger to be served by Brandon Walsh, even after all these years. Sigh…
13. Paddy's Pub on It's Always Sunny in Philadelphia
Paddy's is an Irish bar in South Philly owned by The Gang that has a reputation for being a bit less than clean, but we'd still love to get a beer there!
14. The Drunken Clam on Family Guy
The Clam, is the local bar and favorite hangout of Peter, Glenn, Cleveland, Joe and sometimes Peter's dog Brian. This is where the men get to drink a beer and get away from their wives, if just for a little while.
15. Chubbie's Famous on Boy Meets World
Chubbie's was the spot where the magic happened. The frequent date night spot for Cory and Topanga, this was the place where the kids caught up, played pool, and discussed life. It was sweet and we still wish we could really go there!
16. Tric on One Tree Hill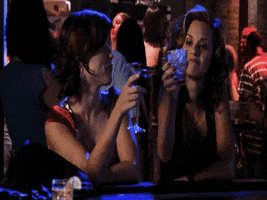 Though Tree Hill Cafe is great for a quiet moment, Tric is the Friday night hot spot. Run by resident music aficionado Peyton Sawyer, Tric is a boozy venue that hosts a slew of up-and-coming artists. We'll drink to that!
17. The Bait Shop on The O.C.
Sure, it seemed slightly unrealistic that a bunch of teenagers could hang out at The Bait Shop given the drugs and the fact that there was a shooting there, but we'd want to hang there even as adults. Performers included The Killers, Modest Mouse, Coldplay, and Gwen Stefani, and it was the hottest place in the O.C., hands down.
18. Bob's Burgers on Bob's Burgers
Who wouldn't want to get a burger by the shore at Bob's?! Though the restaurant consistently struggles due to competition from other restaurants in the area, we'd go there just to say hi to the Belchers any day.