The Best, Worst, and Weirdest Celebrity Moments from the 2014 Oscars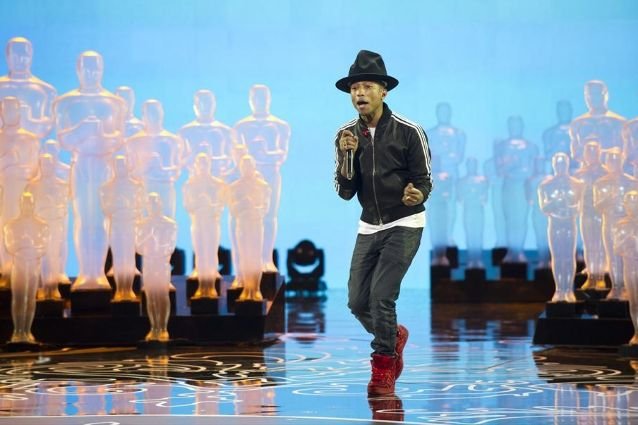 A.M.P.A.S.(r)/Michael Yada
The Academy Awards are the biggest night in Hollywood, where the best films and performances of the years are celebrated in a ceremony that always drags on a half hour too long. If you're a host or a nominee, you're going to be the talk of the town in the weeks surrounding Oscar night, but in the end, it's never the moments that you expect that steal the show, because when you gather the biggest stars in the world and put them in one room, something insane is bound to happen. Sure, Ellen Degeneres had a finely-honed monologue, but the real highlights of the evening came from an unfortunate flub or a weird, rambling presentation. 
We're celebrating the biggest party in Hollywood by pulling together the best, worst and weirdest celebrity moments from the 2014 Academy Awards, so that you can catch up on or relive all of the awkward and hilarious moments from the show. They might not have won an Oscar, but they managed to steal the show from Brad Pitt's pizza party, and in some ways, that's even more deserving of an award. 
World's Quickest Presentation: Channing Tatum 
By now, you'd think that Channing Tatum would have no problem reading a pre-written speech from a teleprompter. After all, he's one of the biggest movie stars in the world. Surely he knows how to deliver his lines by now. Unfortunately, it seemed as if his nerves got the best of him last night, and Tatum raced through his spiel about the Oscars college program so quickly it took everyone at home a minute to process what had just happened. We're not sure if he was just nervous, if he had a bet going with Jonah Hill to see how long he could speak without breathing, or if someone threatened to hold him personally responsible if the ceremony ran long, but whatever the case, we're glad to see someone at the Oscars wants to help us all get to bed at a reasonable hour. 
Most Charming Speech: Robert Lopez and Kristen Anderson-Lopez
"Let it Go," the song that everyone and their baby cousin has been singing incessantly for months, took home the Best Original Song Oscar last night, and the film's composers, Robert Lopez and Kristen Anderson-Lopez delivered the most adorable speech of the night. There were bits spoken in unison, long passages of rhymes, a quick song breakdown, and a tear-jerking message to their daughters watching at home. It was like a Disney movie itself: pure, heartwarming fluff that you will never admit actually made you cry into your ice cream. 
Most McConaughey: Kim Novak 
It takes a great deal of skill and careful preparation to be more rambling and nonsensical than Matthew McConaughey, but Kim Novak managed to do just that when she presented the Animation Oscars alongside the man himself. It was almost impossible to tell which bits of their speech were written on the telepromtpter and which bits she decided to wing, but either way, she decided to take the moment to have a McConologue of her own, and managed to be weirder than a guy who routinely goes on tangents about Neptune, the forces of the universe, and being his own hero. Brava, Ms. Novak. You have officially out-McConaugheyed the master. 
Best Depolyment of Awards Show Singing: Darlene Love 
Between Diane Keaton's weirdly terrifying tribute to Woody Allen at the Golden Globes and Rita Moreno's mini-concert as she accepted her SAG Lifetime Achievement Award, this season has included an uncomfortable amount of impromptu a capella singing. But Darlene Love blew both of them out of the water, and the roof off of the Dolby Theater, when she helped celebrate the Best Documentary Oscar for 20 Feet From Stardom by belting out "His Eye is on the Sparrow," and earned a standing ovation. So, future award winners, we beg you: before you decide to sing, ask yourself "Am I Darlene Love?" If the answer is no, just stick to speaking, lest Love herself show up to put you in your place with a powerhouse belt. (Sorry, Diane.) 
Most Tone-Deaf Presentation: Goldie Hawn 
Remember way back at the Golden Globes, when 12 Years a Slave got an awkward introduction from Reese Witherspoon, presumably because she's Southern? Well, the Oscars continued the tradition of disjointed awards show introductions, as Goldie Hawn took to the stage to present clips from that film, as well as Philomena and Nebraska. Before you could attempt to come up with a reason as to why these three films were introduced together (they all… involve road trips?), Hawn decided to end her speech about 12 Years a Slave with a big grin and a cheery inflection to her voice, which was a jarring contrast to the serious, devastating subject matter of the film. Pro tip: try and save the smile for a film that doesn't involve slavery. 
Best Homage to Chariots of Fire: Jamie Foxx 
Jamie Foxx has never met an awards show moment he couldn't spice up. So, when it came time for him to present the award for Best Score with Jessica Biel, he decided to ignore the stuffy introduction that the Oscars had prepared for him, and instead went off-script with a few improvised jokes, before performing an a capella version of the Chariots of Fire theme, complete with slow-motion running, while Biel attempted to read off the nominees. Because nobody lives up to the old adage "anything can happen on live television" quite like Jamie Foxx. Maybe he should host next year. 
Most Meme-Inspiring: John Travolta and Adella Dazeem 
Look, reading things is hard. At least, that's what we're assuming John Travolta's defense is after delivering the biggest flub of the night, when instead of introducing Idina Menzel, the Tony Award winner who voiced Elsa in Frozen, he instead introduced Adella Dazeem. Before Menzel even finished her song, the Internet had already pulled together dozens of memes, and a parody Twitter account had already started gaining followers. It was a year filled with difficult-to-pronounce names, but the one that got messed up was relatively straightforward. Good job, Jorn Tramolto. 
Most Touching Tribute: Bill Murray 
In what was probably the best presenter pairing of the night, Bill Murray and Amy Adams took to the stage to reveal the winner of the Best Cinematography Oscar. After taking the time to compliment Adams the way only he can ("Baby, you look like $146 million domestic"), Murray added one last nominee to list: Harold Ramis, for Caddyshack, Ghostbusters and Groundhog Day. It was only a quick moment, and yet that tiny bit of sincerity in the midst of Murray's trademark goofiness managed to be more touching that the entirety of the official In Memoriam segment. Somewhere in the audience, Bette Midler was probably furious that someone had stolen her thunder. 
The Meryl Streep Golden Shimmy Award: Meryl Streep (Ft. Pharrell, Lupita Nyong'o, and Amy Adams)
Pharrell's nominated song "Happy" is infuriatingly catchy. It's the kind of song that you love and hate in equal measure, but can't help but dance to when it comes on, no matter where you are or what you're doing. Lucikly for all of us, Meryl Streep feels the same way, and when Pharrell hopped off the stage and headed into the audience during his Oscars performance, she couldn't help but join him for a little shimmy. Sure, Lupita Nyong'o and Amy Adams may have had the more enthusiastic moves, but everyone knows you haven't truly made it until you can get the most nominated actress in Oscars history to bust a move with you. 
Most Jim Carrey: Jim Carrey 
At some point in the course of Oscars preparations, the producers probably turned to each other in frustration. "We've got this whole montage about heroes, but I can't figure out how to introduce it," one of them said. "Why don't we just stick Jim Carrey up there, and let him just fill the time however he wants. He can stick a word or two in there about heroes, and everyone will laugh because it's Jim Carrey, and we can get back to ordering all of those inflatable lawn-ornament Oscars." And that, ladies and gentlemen, is exactly what happened.