'The Big C' Season 4 First Look: Death Knocks on Cathy's Front Door — EXCLUSIVE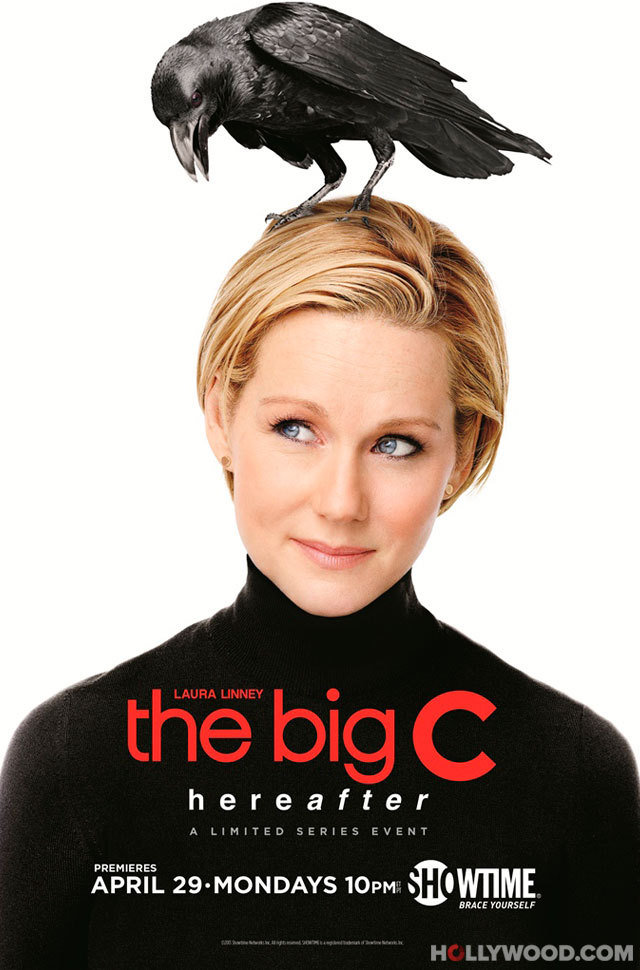 Anxiously awaiting your first look at Season 4 of The Big C? Well, now you'll have to wait (quoth the raven) nevermore! 
In this exclusive sneak peek of the Showtime series' final season, Cathy Jamison — played by Laura Linney — appears draped in black, under the foreboding stare of a black raven. Does the image symbolize what's in store for Linney's character, who continues to suffer from terminal cancer?
Could be — at the end of Season 3, we were left pondering Cathy's fate after she received news that her tumors were growing again. Opting to leave her life behind instead of living out her final days (or hours?) in the middle of a flawed suburban life, Cathy was last seen tracking down her new fisherman friend, Angel. (Holy symbolism!)
RELATED: 'The Big C' Ending After Season 4
With Season 4 marking the series' last and given the outcome of Season 3, it seems only right to speculate the final season is not only the conclusion of the series, but the final chapter of Cathy's life. Of course, we should expect some laughs on the way, courtesy of Season 4 guest star Kathy Najimy, who comes on board as Cathy's strong-willed therapist. 
But will she survive? Or will Cathy soon be, well, nevermore? Check out the Season 4 premiere of The Big C April 29 on Showtime.
Follow Lindsey on Twitter @LDiMat.
[Photo Credit: Showtime]
---
From Our Partners:


Happy 25th, Rihanna: 25 Naked Pics to Celebrate (Vh1)

'Warm Bodies' Nicholas Hoult as Young Han Solo? (Moviefone)