'The Following' Recap: (Really) Bad Teacher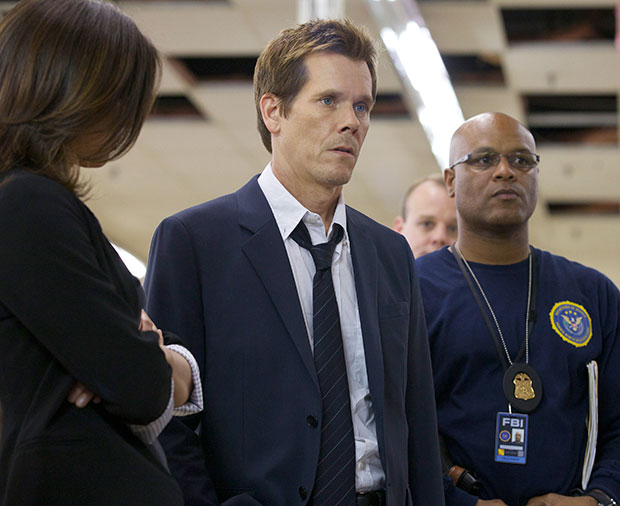 They obsessively sing the praises of books you mostly skip. They play the "cool" card almost twice as much as their colleagues in other departments, using slang and pop culture references to show how you dudes aren't that different. And sometimes, if they've got that real "it" quality, they inspire you to tattoo your body with 'The Raven' quotations before gouging your eye (and brain!) with an ice pick. We were all thinking it, so I'm just going to come right out and say it: English teachers are the worst.
The Following, you may have heard, is the most violent network show of this midseason. Possibly all-season, and on network or cable. It really wastes no time in living up to its hype. Sure, there are two minutes where you think "oh, this isn't so violent!" as you're treated to a nice story about a prison guard heading home for the night. But that's quickly replaced by the image of the corpses this prison guard has butchered, demanding your traumatized attention. By the first commercial break, that image has been replaced by the aforementioned ice pick move. Basically, there are no safe spaces for your brain to hide.
But what is The Following about, apart from serving as the start of your future art therapy? Joe Carroll (James Purefoy) is a college English professor who, for reasons as-yet-undetermined, decides to start killing coeds in some homage to Edgar Allen Poe. It's been eight years since his last attempted murder, having been thwarted and imprisoned by dogged investigator Ryan Hardy (Kevin Bacon). Since then Hardy has taken to drinking, and largely shut himself off from the world. Can't you see? He NEEDS Carroll. So it's a real good thing for him when Carroll escapes and, through the magic of the Internet, begins assembling a "Following" of fans/crazies to carry out his twisted murder designs. Will Hardy need his former quarry to stop the serial killing epidemic? (Yes.)
Like many high-concept shows to premiere in the last few years, The Following bites off a LOT of material in its first episode. Flashbacks (of which we can expect many more in the coming 13 weeks) flesh out bits of the backstory from 2002 — when Carroll was just a charismatic English teacher married to Claire Matthews (Natalie Zea) — to 2004, when he attempted to murder Sarah Fuller (Maggie Grace). The Edgar Allen Poe connection feels iffy right now, more window dressing than psychologically significant, but the way it's used in the crime scenes is effective enough. "Poe believed nothing was more beautiful than the death of a beautiful woman," we're told. SOUNDS LIKE A SOLID FOUNDATION ON WHICH TO BUILD A SERIAL-KILLING CAREER.
It's Hardy's pursuit of the escaped Carroll that makes this pilot so engaging, but also raises questions for just how long the premise can sustain itself going forward. By episode's end, Hardy has caught his prey. Victory is short-lived, however, as Hardy learns that Carroll's charismatic teaching has spread online and beyond, reaching a whole network of people eager to continue his work. And let's just say it's a real all-star crew: a prison guard who's recently been "practicing" his murder skills on dogs; the babysitter who kidnaps Claire's child. Hell, the sweet gay couple who live(d) next to Maggie Grace are in on the fun, too. For your own safety, you just need to assume that everyone is in "The Following" until proven innocent. (Honestly I don't even know if we can clear Kevin Bacon just yet.) There's something fun in that "it could be anyone!" quality, but at the same time an easy, maybe exhausting insurance policy for the writers. With nearly everyone's guilt called into question, there's no corner that can't be written out of with a quick "surprise! They were in on it!" It will be interesting to see just how the show grows over the course of this season.
Though slightly overdone at times, the English class motif suggests that creator Kevin Williamson has more on his mind than just gouged eyeballs. The final scene of the pilot, in which Hardy and Carroll sit down for their first true back-and-forth, outlines the story's next phase at the same time it comments on itself. Hardy is, according to Carroll, the "flawed protagonist" forced to work with his nemesis to "write the next chapter of the book." Silly? DEFINITELY. But when it yields retorts like "if this book ends with anything other than your death, you better plan on a rewrite," you can't do much but smile.
With any luck next week will give us a stronger sense of what the show looks like from here, taking on more Silence of the Lambs DNA in its central relationship and expanding "The Following" to what look like dudes in Edgar Allen Poe masks. Never seen that before? Well, you weren't taught by the most charismatic English teacher of all time.
But before we go: a moment of silence for the dearly departed (and visually challenged, in her last moments on earth) Maggie Grace, whose hyper-brief stint on The Following makes her 1.2 seasons on LOST look like a Russian novel. Goodbye, Maggie Grace! See you next pilot season!
[PHOTO CREDIT: FOX]
MORE:
'The Following': James Purefoy on Serial Killers, '70s Porn, and Kevin Bacon's Entrails
'The Following': Kevin Bacon's Dark, Twisted Game-Changer
'The Following' Stars Kevin Bacon and James Purefoy Kissed on Tuesday

Craziest Celebrity Swimsuits Ever (Celebuzz)