'The Following' Season 2: Will Kevin Bacon and James Purefoy Return After [Spoiler's] Death?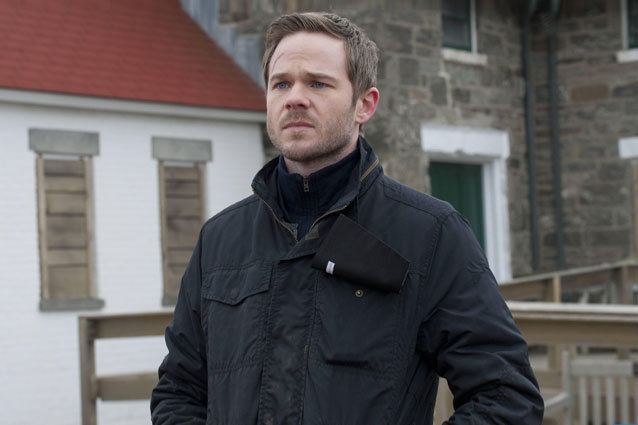 Major spoilers ahead if you haven't seen Monday night's season finale of The Following!
Just when you thought Ryan Hardy (Kevin Bacon) won against the evil Joe Carroll (James Purefoy) and was safe at home with his lady love Claire Matthews (Natalie Zea), all hell broke loose… again. The Following's Season 1 finale was filled with shocking twists, major deaths (RIP Agent Parker), and one serious cliffhanger. 
Ryan and Claire got shivved by Ryan's ex-girlfriend in his kitchen! Are they gone for good? What will Emma do now that her leader (and lover) is dead? Hollywood.com caught up with the cast and creators at the Academy of Television Arts and Sciences for a special screening of the finale, and they dished on where the show will go from here.
"Season 2 will be different than Season 1 and at the same time it's going to make perfect sense as to why it's different," executive producer Marcos Siega tells Hollywood.com. How charmingly vague! One thing he's planning on improving — how he deals with major character deaths.
"I become too invested, that's my problem," Siega says. "I fell in love with Adan [Canto] who played Paul, and I fell in love with the Paul/Jacob [Nico Tortorella] storyline," Siega says. "I knew exactly what was going to happen, I knew when it was going to happen, but I didn't expect it to have that effect on me. And then when we got to that moment [where both Paul and Jacob died] I was like, 'I wish we could continue this.' So what I've learned from that is that I'm going to think more about these big decisions."
When it comes to those big decisions of who will die on the show, executive producer Kevin Williamson knows that it is no small matter. "That's a tough decision. Sometimes the actor and cast start surprising you and you want to keep the character on so you have to figure it out," Williamson tells Hollywood.com. "You're only plotting out 15 episodes and I have so much story to pack in that I feel like I short-changed some characters, whereas some may have overstayed their welcome. There are so many characters and so many moving pieces, it's a tough puzzle to put together. I will tell you, I was sad to see Jacob go and I was super sad to see Rodrick go. I would have loved to explore them more."
While Jacob and Rodrick won't be seeing Season 2 thanks to their unfortunate demises, Williamson is already planning out how Season 1 will transition into Season 2. " I always planned for a Season 2. You have to plan for that," Williamson says. "Tonight's ending is also a beginning. It's that metaphorical ending where everything that was set up in the pilot tries to play out in the final chapter."
The final chapter ended with serial killer Joe dying in a fire after trying to kill Ryan and Claire. Follower #1 Emma (Valorie Curry) was last seen hiding out in Alabama crying over Joe's death, and her grief might propel her to become the next big bad. 
"She thinks that Ryan is responsible for [Joe's] death, and for everyone's death," Curry tells Hollywood.com. "Everything's personal now. Before, her beef with Ryan was really about Joe. She hated him because Joe did, and she loved him because Joe did. Now she's got her own vendetta against him because he's the reason that everything has gone so awry, and why she's had to do unspeakable things."
And even though Joe was confirmed dead at the end of the finale, we might not have seen the last of Purefoy on The Following. "I believe so, but that's no guarantee," Purefoy says of the chances that he'll stick around for Season 2. "Honestly, it's a show about serial killers. There will be a high body count and we all knew that going in."
A show about murderers also contains plenty of disturbing imagery, and Bacon's toughest moments from Season 1 were all in Monday's finale. "Just in general the idea that the Parker character gets buried and we're trying to find her," Bacon says. "The outcome of that and a couple of things in this finale were tough."
There's no word yet on whether or not Ryan Hardy will live through his stabbing, but there's a high probablity he will. Besides, Bacon has already begun to contemplate Season 2. "I wouldn't want the show to become in any way a procedural. That would be a drag," Bacon says. "In other words, if every week, Hardy finds a killer. I wouldn't want the show to not explore new territory for the characters. The reason you do a television show is you either morph as a character or uncover things in the past; that's what is exciting about it. It's all about character for me."
However Season 2 turns out, we're sure Hardy could use a vacation first. He's certainly earned one.
Follow Sydney on Twitter: @SydneyBucksbaum
More:
'The Following': James Purefoy on Serial Killers and Kevin Bacon
'The Following' Recap: Murder and Mayhem at the Rec Center 
---
From Our Partners:


Miley Goes Braless for Magazine Cover (Celebuzz)


33 Child Stars: Where Are They Now? (Celebuzz)