'The Following' Stars Kevin Bacon and James Purefoy Kissed on Tuesday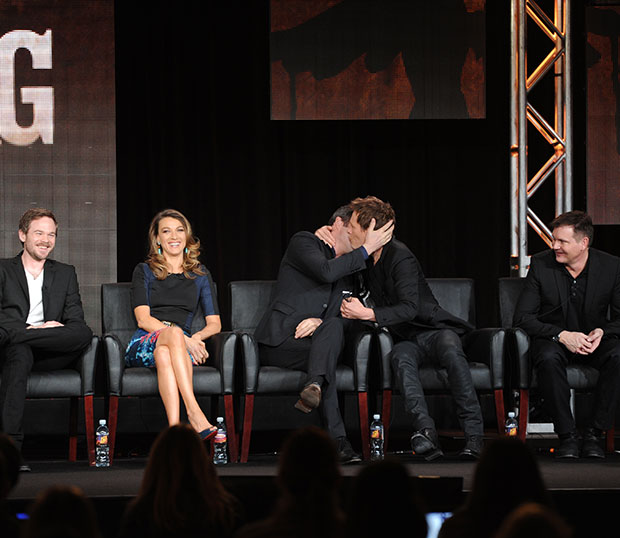 The Following is a very scary, creepy show about a serial killer and his cult full of acolytes murdering in his name. It is also the reason Kevin Bacon and James Purefoy kissed in front of a room full of journalists on a Tuesday morning.
The back story: The two men and their castmates gathered in a hotel ballroom in Pasadena to discuss their new FOX show at the Television Critics Association winter press tour, and a journalist commented on their explosive chemistry (Purefoy plays the serial killer, Bacon the grizzled FBI agent who put him in jail). While she watched one of their on-screen confrontations, she just wanted them to kiss, she told the men.
"Anything could happen," Bacon said slyly as he leaned over and planted one on his costar.
Purefoy played along. "Rule nothing in, rule nothing out," he smirked after the smooch.
Unfortunately for those watching at home, there are no on-screen kisses between the two leads during the first four episodes screened for critics, although there is a very interesting sexual storyline between some of the supporting characters.
Much of the Following panel focused on the show's violence, along with Bacon's decision to star in his very first television show. The actor said that his move to TV — after wife Kyra Sedgwick's successful seven-year run on The Closer — was actually years in the making.
Bacon told reporters that he had been looking for a suitable television project for a while. "I was looking for a long time, probably three or four years," he explained. "From the moment that I kind of made that decision, I started to read just one amazing pilot after another. What really struck me was all of a sudden the level of the scripts … I was reading all this amazing stuff."
But when The Following came across his plate, he knew it was the perfect match. "I initially had thought that it was going to be on cable. I could not put it down. It was just such a page-turner and I just thought it was such an interesting character. Given the fast-paced, heart-pounding nature of it, it still had a lot of great heart and a certain kind of sentimentality that I responded to."
The Following premieres Monday, Jan. 21 at 9 p.m. on FOX.
Follow Jean on Twitter @hijean
[PHOTO CREDIT: Frank Micelotta/FOX]
More:
TCA: FOX Picks Up M. Night Shyamalan Series; Late-Night Animation
TCA: FOX Picks Up 'Bones' for 9th Season
TCA: Ryan Lochte Gets E! Reality ShowFrom Our Partners:

Megan Fox's 12 Hottest Moments (Moviefone)