'The Glee Project' Recap: And the Winner Is…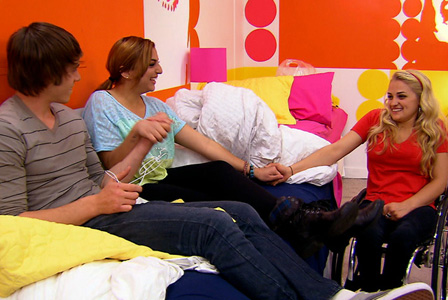 This is it. The end of the line. The last hurrah. The grande finale. After ten weeks of watching these kids go through the wringer, we will finally know which of our three budding thespians will have landed a seven episode arc on Glee. Will it be charismatic, teacher's pet Blake; Aylin, the rebellious Muslim; or wheelchair-bound ball of light Ali? Only time will tell (60 minutes, to be exact). 
To kick off Gleeality week (we're makin' up words again), the final three will perform "You Can't Stop the Beat" from the musical Hairspray. Huh. Seems like an odd choice for three people, it being a high energy group production number and all. Oh wait — Robert's not done. "One more thing… " he says. And all of the brokenhearted contenders are back, hugging and crying and exalting in each other's wonderfulness. Charlie has been back for all of 45 seconds and he is in the corner making out with Aylin. Typical.
Ali immediately takes charge. She's all "I don't want to be a b***h but, I'm going to win this thing and all y'all were sent home already, so you better shut the eff up and listen to me." Okay, so she doesn't really say that. But she does say, "I feel like we should get on our feet and try this." Gotta love the royal we. And with that, the contenders are ready to get their lindy hop on. 
For the final homework assignment, none other than Chris Colfer is the super secret surprise mentor/judge. Since the role of Kurt was written specifically for him, it makes perfect sense that Colfer is here to give advice to the contenders. He really is what The Glee Project is all about (except for the fact that he was found by a casting director and didn't have to audition through a series of music videos and fripperous challenges). 
As soon as the contenders start performing "We Got the Beat" for Robert and Colfer, it becomes clear why Ali was so eager to take charge. She is singing just about the entire song, by herself. Aylin and Blake can harmonize, it's solo time for Ali. How did Aylin and Blake let this happen? Side note: I'm at the edge of my seat watching this performance because I'm like 98% sure Lily is going to pull a Tanya Harding and take everyone down with a lead pipe in order to crown herself victorious. (Spoiler: She doesn't.)
Huge surprise, Colfer is a big ol' softie and picks all three contenders as winners. That's not what it means to "win," Chris. "Winning" means just one.
As befitting for a finale, the recording and choreography sessions are just gigantic love fests. Nikki retracts her claws and gushes over how much she loves Ali, Blake, and Aylin. And Zach loves everyone. "It's been a fun time, folks," he says. "Come hug me."
The video shoot for this, the final of weeks, is Hot Chelle Rae's "Tonight Tonight." It's the high school prom, as made clear by a high school gymnasium filled with pink balloons and a swing set. Blake, Ali, and Aylin don't just get to sing their little hearts out, though. Oh no, they have characters. Aylin had to sneak out from under the nose of her strict parents to attend the prom. Blake is the popular — yet humble — prom king, and Ali is a flirtatious mean girl. These roles are really a stretch, huh? Hope they can handle the pressure!
While watching the playback from the video shoot, I'm struck by one thing: Shanna keeps pulling my focus. I know I'm beating a dead horse at this point, but I really think this girl was sent home to soon. I can't say she should've won, but I do think I would've liked to have seen her make it to at least the penultimate episode. But that's neither here nor there; she already sang her Avril Lavigne and left the mansion in tears.
So. Blake, Aylin, and Ali. The final three. The video shoot was fun and all, but we all know that the decision will really come down to the last chance performances. And this time the contenders get to pick their own songs. This adds an extra, psychological element to the critique. Lord helps the kid who picks a song that Ryan Murphy doesn't like. If it were me, I'd make sure I prepared a Madonna/Britney mashup. A "Vogue"/ "Toxic" remix would be like crack to Mr. Murphy, so I'd go with something like that. And I'd dance, a lot.
To help Ryan Murphy make his decision (you know, the one that he probably made like three weeks ago, despite contrary reports), he is joined in the audience by most of the super secret guest mentor/judges, the Glee writing team, and the offed contenders. Let the games begin!
Ali is the first to take the stage, clad in a pretty pink dress, and she has decided to sing "Popular" from the musical Wicked. This may not be the most heavy-hitting song, but it's a smart choice. It allows Ali to play up the snobby character Ryan has been projecting on her as well as show off her comedic timing. She's just too darn cute, that girl. And did a really bang up job. Good singing,' good actin,' she done good. "It's impossible to root against her," Ryan says. But have you been trying to? That's not a good sign.
Next up is Blake, singing "I'll Be" by Edwin McCain. This song is such a sucker punch for any girl growing up in the '90s. Hearing Blake sing it just makes me want to find someone to hold me while I cry and then tuck me in at night. (If that person were to be Lord of the Dance Zach Woodlee, I wouldn't complain.) When Blake finishes his song, he has something else up his sleeve. Like, literally up his sleeve. He reaches into his hoodie/blazer and pulls out … a poem. He wrote a poem! It's about being a complicated guy, one with perseverance and demons and a Cuban ancestry. Nikki is crying, Robert is crying, and Ryan is thinking, "S**t, I have to let this kid win."
Finally, Aylin takes her turn in the spotlight. She has decided to sing Adele's "Rolling in the Deep." This song is a bring-the-house-down explosion of soul, and Aylin has a great voice, so we just know that by the end everyone in the audience will be on their feet, slapping their thighs and screaming, "Werk!" Yep. That's what happens. Well, technically Abraham yells before Aylin starts singing, but tomato tomato.
The house lights come up, the kids exit stage left, and Murphy asks everyone for their opinion. The audience seems to be pretty split between Ali and Blake. Charlie, however, has prepared a touching speech about how important it is for Aylin to be on television in a post 9/11 America. He's right, but the sentiment loses something by coming from Aylin's boyfriend snuggle partner.
And at last, we've reached the moment of truth. After ten long weeks, which cuisine will reign supreme? Ryan Murphy prefaces his decision by saying, "Glee Season 4 is changing. There are some people, as you know, who are seniors and who are graduating, so there is a real need for a very specific talent and a very specific person." With that off his chest, Murphy names Blake the winner of The Glee Project.
Blake. Confident, dreamboaty, dependable Blake. He may not glitter like Ali nor pop like Aylin, but he still stands out; probably because he's so tall. Nah, I'm kidding. I think it was a good choice. A smart choice. Murphy said it himself, they are looking to fill a very specific role on the new season. Namely, Finn Hudson. Those are some big shoes to fill, Blake. Merde!
Follow Abbey Stone on Twitter @abbeystone
[Photo Credit: Oxygen]
More:
'The Glee Project' Recap: Why Abbey Hates Time Warner Cable
'The Glee Project' Recap: 'It's a Very Lesbian Week'