'The Good Wife' Is Suddenly the Gayest Show on TV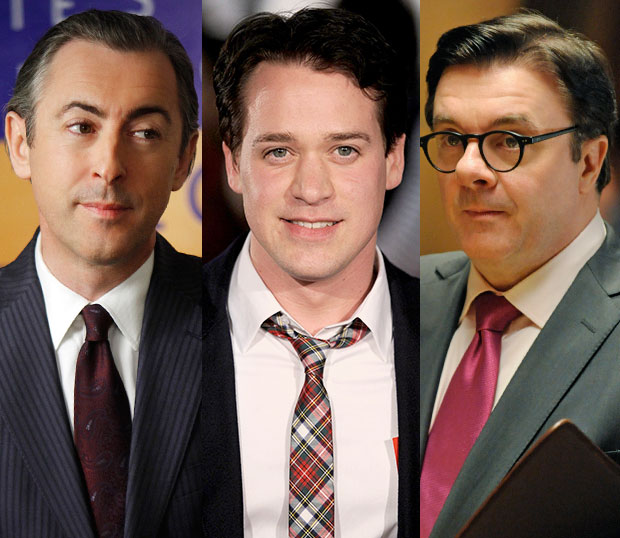 When you think of the gayest shows on TV you probably think of something like Glee that not only has a slew of openly-gay characters and actorsbut also has the added benefit of having used every single in the Katy Perry songbook at least once (and twice for "Teenage Dream"). That's gayer than Liza Minnelli's florist. You might also think of one of the new gay family dramas like The New Normal or Partners, where gay men are in committed relationships and trying to have children. You might even think about a reality show that every homosexual worth his rainbow-flag bumper sticker watches, like the Real Housewives of Every City or RuPaul's Drag Race. You wouldn't think of the real gayest show: The Good Wife.
Yes, honestly. This CBS procedural about a woman who stands by her politician husband after he is caught having sex with hookers (I know, sounds real gay) has stealthily become a queer haven on Sunday nights. And now it's adding Gay's…oh, I mean Grey's Anatomy vet T.R. Knight to the show for a guest spot. He's in good company. Alan Cumming, who has been openly gay for years, has been a series regular for the past couple seasons playing campaign strategist Eli Gold. Nathan Lane, who gayed up Broadway and The Birdcage, has been doing a multiple-episode arc this season as the bankrupt law firm's court-appointed custodian. John Benjamin Hickey also keeps popping up as the Mark Zuckerberg-esque owner of a website called ChumHum. And that's not even mentioning honorary gay Christine Baranski who will always be an icon for her gin-soaked turn on Cybill all those years ago.
What is going on over there? It's starting to look gayer than Neil Patrick Harris hosting the Tonys! And this is CBS – a network that's always getting in trouble for not having enough gay characters. Maybe that's because none of the gay actors who are on The Good Wife are playing people of their own sexual orientation. At least, that we know of. Cumming's Gold is straight, formerly married to Parker Posey, and had a liaison with Amy Sedaris (two of the only women gay men would think about sleeping with, anyway). Knight's character is still not defined, and Lane and Hickey's characters have never really talked about their personal lives on camera. No one can say that these guys are being typecast. There is a gay character, or at least a bisexual, on the show. Kalinda is a voracious omnisexual who will devour men as well as women and is played by the straight (in IRL) Archie Panjabi, who got herself an Emmy for her trouble.
Maybe this is what the future of television looks like. The Good Wife never shies away from a gay story line (see: Sunday night's episode, which turned a murder into a possible hate crime) and deals with themes and scenes of same-sex loving all the time thanks to Kalinda. It also has a whole stable of gay men, most of them playing heterosexuals or at least guys who are defined by their work rather than who they want to go home to after their jobs are done. This is integration. This is equality. This is what gay activists are fighting for. Who ever thought the future of gay rights would be seen first on a CBS procedural?
Follow Brian Moylan on Twitter @BrianJMoylan
[Photo Credit: CBS]
More:
CBS Last in GLAAD Network Responsibility Index Again: Will It Ever Change?
Angelina and Brad's Engagement Lets Gay Americans Down
The Least Normal Things About 'The New Normal': Baby Clothes Edition
From Our Partners:

Jessica Biel Shows Off Wedding Ring After Marrying Justin Timberlake in Italy — PHOTO
(Celebuzz)

Kristin Cavallari Doesn't Want to Plan a Wedding Right Now, Says She's Focusing on Motherhood for Now — EXCLUSIVE VIDEO
(Celebuzz)