'The Mindy Project' Recap: Heading to Hollywood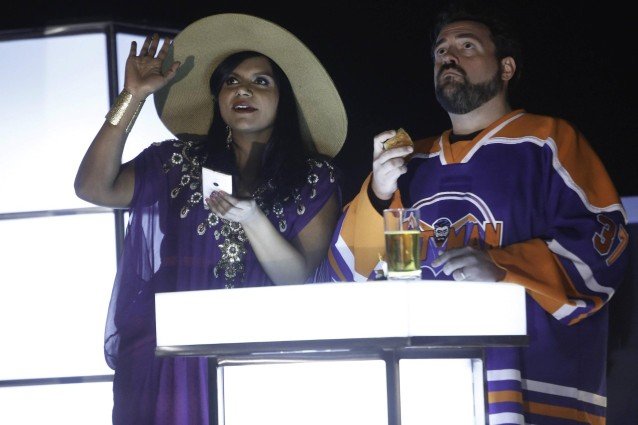 FOX Broadcasting Co.
It's field trip season at Schulman and Associates, and everyone is heading to Los Angeles to learn about lip injections and vaginal rejuvenation. But Mindy (Mindy Kaling) is not about to leave town without dropping a few Entourage impressions and a bomb on her budding relationship, asking Cliff to move in with her. This all-too-soon proposition stops their chemistry instantly, as Mindy heads across the country with Danny (Chris Messina), Morgan (Ike Barinholtz) and Party Boy Peter (Adam Pally).
After a plane ride long enough to learn that Mindy is terrible at napping and Danny still has daddy issues, they arrive. Mindy and Peter pair up for the longest time since crushing a wedding earlier this season. Their bromance was more than worth the wait. It's almost harmonious how they're both equal parts girly girl and frat boy, as if they cancel out how annoying each other could be. On a sentimental level Mindy and Peter connect in their hopeless romanticism (and their love for Maria Menounos), adding depth to their hilarity.  
Not long into a shopping spree for naked lady shoes, Mindy runs into her ex-fiance Casey. It initially looked like the Pastor/D.J. had pathetically moved on to retail, but Casey owns the trendy store "Dope Feet" where they sell shoes that are "ugly, but  on purpose." Both boasting about their post break-up lives, Mindy shares she has a boyfriend while Casey just had an "adult onset growth spurt." Before parting Casey invites Mindy to a celebrity pool party, which she declines.
Mindy tells Cliff about running into Casey and he asks her not to go out with him. But as she consoles Peter about a broken heart, Mindy convinces herself she's going to the party for her friend's sake. Intentionally avoiding Casey, Mindy gets cornered in a recurring bit with Kevin Smith, where he addresses her as his overweight equal ("I'm like an ant hill and you're like a volcano."). Finally they reunite in the pool, where Mindy can't avoid Casey without ruining her hair and makeup underwater. Casey mistakes this for a "pool sex vibe," driving Mindy out of the party back to her hotel.
Meanwhile Morgan is getting Danny out of his hotel to face the fear of seeing his estranged father. This was brought up earlier in the season when Danny's brother visited New York. Just as Danny starts to have fun in Old West Town, Morgan confesses plans to reunite him with his dad. Danny storms off, stealing Morgan's room at the YMCA to drunk-dial the man in question. This secondary storyline was not resolved and is likely setting up a second episode in L.A., where we finally meet Danny's father.
Mindy's Los Angeles story seems to be heating up for a continued episode as well. Cliff breaks up with Mindy after seeing a picture of her and Casey on the Internet, leaving her single in a city with the man she thought she'd marry. Casey is charming enough to make Mindy and the audience miss him, yet with the kind of hubris that makes us want him to eventually go away. While they wont get back together, revisiting Mindy's feelings for Casey may make for some hilarious and heartbreaking moments next week, perfect for this rom-sitcom.