'The Mindy Project' Recap: Destination Desert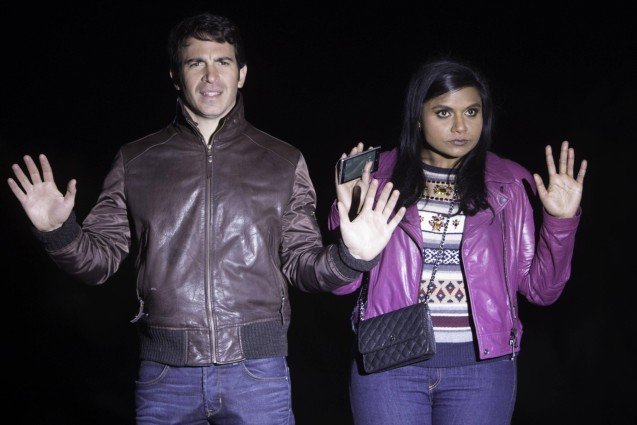 FOX Broadcasting Co.
After getting dumped by Cliff (Glenn Howerton) on a technicality, Mindy is certain she will be exonerated like "Amanda Foxy Knoxy Knox." She has been faced with the mission of winning him back after getting caught at a party with her Pastor/DJ/Shoe Designer ex on last week's The Mindy Project. But as she gets ready to head home from Los Angeles, Danny (Chris Messina) who is arguably a more substantial and slow-burning love interest, needs Mindy for support meeting his estranged father (Dan Hedaya). Conflicted with the urge to stay or go, Mindy decides to return to New York to salvage her relationship with a guy who already dumped her.
Mindy instead gets stuck in the car with Danny headed to his dad's house, while Peter (Adam Pally) and Morgan (Ike Barinholtz) are trapped back at the practice under much different circumstances. Eager to leave work and rebound with a butterface, Party Boy Peter gives himself a bathroom mirror pep talk, saying "I hope you've got your life vest on, because we're about to go motorboating." After the bathroom door breaks, it's clear that Peter's motorboat options are now limited to Morgan, who is also trapped. 
Missing her flight, Mindy still supports Danny and pushes him to visit with his Dad. They quickly meet Little Danny, Danny's half sister from his father's current marriage. As Danny realizes that the man he hates is now a good father, he handles it the manliest way possible: drinking and wandering in the desert. At this point Mindy has moved on, attempting to make her way to the airport and back into Cliff's heart. But Danny continues to test their bond, drunk dialing Mindy while lost, ultimately making her miss another flight.
More potential is revealed in the seemingly superficial relationship with Cliff, when Morgan and Peter hear him in his office while stuck in the bathroom. Sharing the same building, Morgan and Peter recognize Cliff's voice through the vent. Not knowing about the break up, they call for help before hearing Cliff launch into an epic session of cry-singing Jewel's "You Were Meant For Me." They decide they'd rather be trapped forever than acknowledge hearing that. Once freed they meet Cliff in the elevator, sporting a post-cry glow, and invite him out to a boys night. Party Boy Peter even cancels on a "Wisconsin nine" for the occasion, so it's pretty serious. 
The more dire issue unfolding is Mindy reaching her breaking point with Danny. His unraveling over his father goes too far, and Mindy calls him out in a way that is harsh yet telling of a loving relationship. Danny and his dad finally have a heart to heart, that seems more informative than funny until we're reminded that Danny was once a skilled ballerina ("a primo ballerino"). The heart-to-hearts hardly stop there as Danny and Mindy finally find their way onto a plane home. They apologize and Danny helps Mindy draft a letter to win back Cliff. They seem to fall back into the platonic pattern they've settled into, until Mindy gets up for a tonic water. Possibly moved by literal turbulence, Danny seizes the moment and meets Mindy for a sexual tension breaking make-out session that will change the course of this Rom Sitcom. For those who've been following their relationship, the next new episode of The Mindy Project on April 1st can't come soon enough.