The Dos and Don'ts of Dating from 'The Mindy Project': On Your Birthday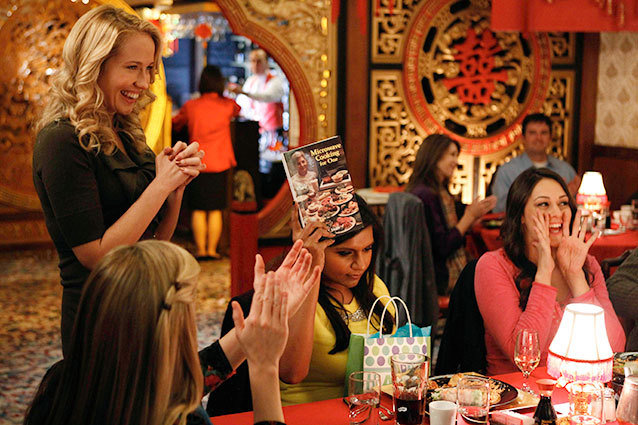 Everyone loves a birthday, don't they? Well, not if your name is Dr. Mindy Lahiri. Because on this week's episode of The Mindy Project, we learned that birthdays are the worst when your friends don't realize their capacity for unintentional insults and your Topher Grace-faced Internet date was actually just a a trick. (Which, I mean, c'mon. Blind Internet Date on your birthday? Mindy!)
RELATED: The Dos and Don'ts of Dating: Before Seth Rogen Gets Away!
In one of the funnier episodes  of this season, Mindy left her pitiful birthday party and ended up Weird Alone Girling-it-up at a chain restaurant in an unmistakably LA version of Times Square. Sure, a few moments with a group of young, overly-optimistic and supportive girls is great for a minute, but after awhile it all turns to sorority cheers and delusion — and no good can come from that.
So while her friends risk not-exactly-life and limb to find her (while simultaneously fighting over Mindy's friend Alex — ahem, Danny and Jeremy), Mindy got a pep-talk from Beverly (who moonlights at said chain) and saw the light at the end of the tunnel: that her friends love her. And perhaps…someone else, too? Oh hi hello Brendan, Hot Midwife, with a — a constellation named after the one Mindy made up one time? Sacré bleu, soyez toujours mon coeur!
RELATED: The Dos and Don'ts of Dating: When You Have a Minute
So what's a guy or girl to learn about love and relationships this week? Heaps! Check out this week's dating tips courtesy of Mindy and Co.
1. Do Accept Gifts: It's the kind, respectful thing to do if they came from the heart.
2. Do Not Wear Fedoras In Public. Ever: We mean it boys. Seriously. Stop. And if you get us started on the embellished kind we're really going to be here all night.
3. Do Not Insult Perfect Strangers: That won't impress anybody. And it says more about you than it does them.
4. Do Tell The Truth, Though. Always: I mean, we all have to do what's best for the future. And because science and stuff. Medicine. Hippocratic Oaths and s**t.
5. Do Not Go on Blind Internet Dates on Your Birthday: What? No. No, no, no that is so strange and makes you seem sad in so many ways. Full-blown judgment, not sorry.
6. Do Be Grateful When Your Friends Throw You Surprise Parties: Because yay no sad-clown-status Internet dates! See? Some things are meant to be if you just go with the flow.
7. Do Not Insult Someone When You're Trying to Hit on Them: Your name is not Mystery, Dr. Castellano.
8. Do Have a 'This Means War' Style Dude-Off: But only if it ever involves these two in this way. No, not Tom Hardy and Chris Pine.
9. Do Not Ever Ever Give Anyone the Microwave Cooking For One Cookbook: This one cuts real deep: I speak from experience.
10. Do Not Let Your Friends Off the Hook for Being Insulting: Not cool, friends and varied life interlopers. Not cool at all.
11. Do Show-Off Your Strengths: Modesty is the pits! Directions are helpful and French is hot.
12. Do Eat What You Want: Your body, your choice. You have the right to life, liberty, and the pursuit of wings.
13. Do Not Fall Down a Man Hole: Ouch.
14. Do Not Be Afraid to Take a Second Look: I mean, especially if he has a Mark Duplass face.
15. Do Get a Beyoncé Song to Play You Out: Finally, you put my love on top.
RELATED: The Dos and Don'ts of Dating: On Valentine's Day
What did you think of this week's episode of The Mindy Project? Let us know in the comments.
Follow Alicia on Twitter @alicialutes
[Photo Credit: Jordin Althaus/FOX]
---
You Might Also Like:


Topanga's Revealing Lingerie Shoot: Hello '90s!


25 Stars Before They Were Famous