The Dos and Don'ts of Dating from 'The Mindy Project': When You Date a 'Workaholic'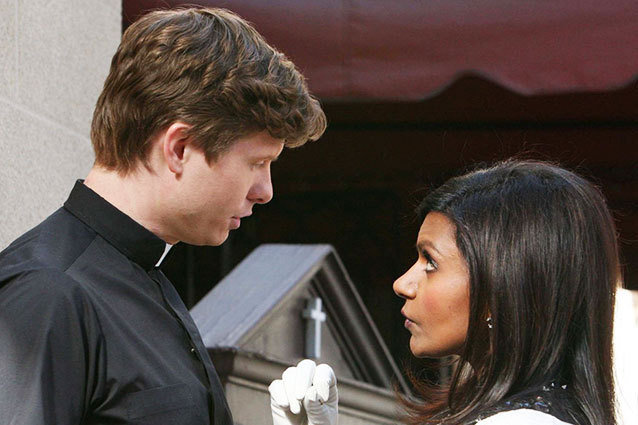 There's a lot to be said about a sharp-dressed, handsome do-gooder: sometimes, they just get under your skin so fast, you don't see the arrogance in their egomanical ways. And on tonight's episode of The Mindy Project, Dr. Lahiri had just that happen to her, thanks to Mindy's new Cool Christian Boyfriend, Pastor Casey (played by Workaholics' own Anders Holm). Lord, give us the strength to deal with this egomaniac who uses religion and his good deeds as an excuse to be full of himself.
The charismatic, altruistic, and popular Lutheran pastor is friends with Moby, helps Haiti, and sings Bruno Mars songs during church — what's not to like, right? Outside of that whole different opinions, lifestyles, interests, and his ability to belittle the sh*t out of Mindy with his charitable ways. To say nothing of his complete and utter lack of respect for Mindy, but hey! Who are we to judge, right? Pastor Casey seems to have the judgement game on lock anyway.
RELATED: The Dos and Dont's of Dating: When You're Doing It All
But, it's like MC Scat Cat always said: opposites attract. And so with Casey's opposite opinions on, well, pretty much everything under the sun, Mindy agrees to go on the office's volunteer trip in order to prove him wrong about her. Only, instead of proving herself to be the altruistic, humble girl she believes herself to be, she starts a prison riot. Well done! But it turns out that Mindy's good work was enough to get the egomanical pastor to take note (you volunteered, for me? Barf.), though, and we'll be seeing him again in at least another three episodes. So, you know, hooray? More bad life decisions are undoubtedly ahead of us. Praise whoever.
So what did we learn from all this ballyhoo and religious hullabaloo? A few things, actually. Here are this week's dating dos and don'ts:
1.) Do Dress Like A Rapper's Publicist — It'll get you at least one date.
2.) Do Throw Money At Things You're Not Good At — If you can't fix 'em, pay for someone else to do it.
3.) Do Not Change Yourself For A Man — Because that just spells d-i-a-s-t-e-r, y'all.
RELATED: The Dos and Don'ts of Dating: On Your Birthday
4.) Do Accept Uggs From Moby — Moby knows best, you guys.
5.) Do Not Lie In Front Of A Church — Then you're just asking for it, religious or otherwise.
6.) Do Not Let Someone Else Make You Feel Like Crap — That's his impossibly-high standard to uphold, not yours. 
7.) Do Good Work — Yeah, OK, it can be charity work or, you know, regular work. Whatever.
8.) Do Listen To Experts — They're called that for a reason.
9.) Do Not Make Bad Glass Ceiling Jokes — You're too handsome for that, Dr. Castellano.
RELATED: The Dos and Don'ts of Dating: Before Seth Rogen Gets Away!
10.) Do Not Start Prison Riots — This just feels like a no-brainer.
What did you think of this week's episode of The Mindy Project? Sound off in the comments!
Follow @alicialutes on Twitter 
[Photo Credit: Beth Dubber/Fox]
---
From Our Partners


See 'Game of Thrones' as 'Mad Men' (Vulture)


Hayden Panetierre Bikinis in Miami (Celebuzz)