'The Newsroom' Recap: Unintended Consequences (Season 2, Episode 4)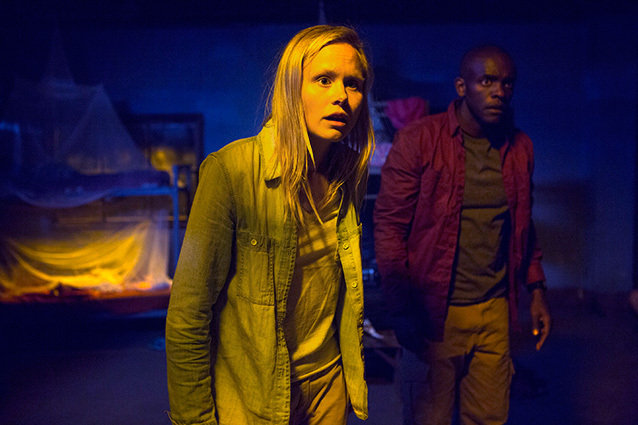 We were back in deposition mode this week, as we finally found out what happened to Maggie in Africa that left her emotionally traumatized and with a horrible haircut. Meanwhile, Jim dealt with the consequences of leaving the campaign bus and Shelly got in the way of the news team perusing a major lead on Genoa.
Nothing But Trouble
Maggie tells lawyer Rebecca Halliday the full story of her trip to Africa. Rebecca seems entirely unsympathetic, going on about $14 million apartments and how she hates the Dutch. She also hopes to use Maggie's fragile mental state to help AWM's case, despite Maggie denying being "messed up." Six months after the Africa incident, Maggie and Jerry went to interview a general who is somehow connected to Genoa. Maggie says that the general never stated that Genoa actually happened, while Jerry claims that Maggie was in no position to say that. Given that Maggie's not rocking back and forth on the floor in the fetal position, I'd say that Jerry is just trying to cover his own ass for getting everyone into this mess.
S o the big question is: what happened in Africa? Before she and Gary could go to Kampala, they had to get footage of soldiers building an addition onto an orphanage. While visiting the orphanage, Maggie sees a child named Daniel sitting by himself, clutching a book. She starts reading the book to him, and Daniel quickly becomes attached, asking her to read it over and over again. It's cute, but also sad because you know that something bad is obviously  going to happen to this kid.
Maggie and Gary have to stay at the orphanage overnight because they can't drive on the roads in the dark. In the middle of the night, they are woken up by gunshots and men yelling in Lugisu, which no one understands. (Maggie later figures out that they were yelling "Give us the camera.") They wake up the children and load them onto a school bus, but Daniel is missing. Maggie finds him under her bed but can't reach him. Gary helps her unbolt the bed from the floor and forcibly drag Daniel out. Maggie carries Daniel on her back to the bus but turns around when Gary falls, and Daniel is shot in the back. He dies immediately, leaving Maggie distraught and wracked with guilt. Maggie and Gary have to go back to the US right away, and Maggie chops her hair off because Daniel had admired it.
Jim Finally Moves On
Jim's speech may have convinced Hallie and Stillman to leave the bus with him, but now they have to face the fallout. They no longer get hotel reservations or email updates, and they have to follow the bus in a rental car. Jim asks Romney spokeswoman Taylor for a statement from the candidate that everyone else got by email, but she refuses. They get into an argument which leads to Taylor finally cracking and telling Jim to "Go f**k yourself." Jim smiles, knowing he caught her in a compromising position, and she asks him what she can do to make him forget what she said. Me thinks 30 minutes with the candidate will do the trick.
But Jim actually gives away his precious interview time to Hallie, whose pig of a boss was giving her a hard time for leaving the bus. When Hallie finds out about this favor, she gets pissed off, but quickly gets over it and makes out with Jim by the hotel pool. She also proudly whispers "I'm the rebound, and I went to Vassar," which is one of the more absurd things a woman has said on this show, and that's saying something. Anyway, Mac makes Jim come back to New York after giving up the interview, so his campaign romance is short-lived.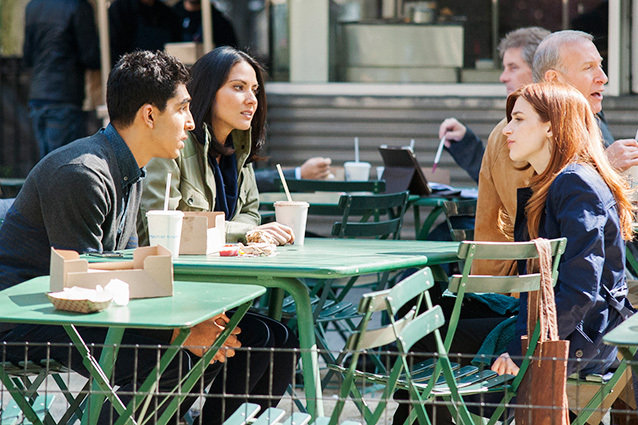 Crisis of Confidence
Back at the newsroom, Jerry and the rest of the crew have to deal with someone who isn't as obsessed with the news as they are. Plot device Shelly Wexler has an Occupy Wall Street buddy who might have information about Genoa, but won't bring Jerry to meet him because Will embarrassed her on-air. Sure, Shelly is being difficult and stubborn as hell, but if I had to deal with the News Night team's overinflated egos, I would probably act the same way. One by one, Neal, Sloan, and Don try to make it up to her, but they let their trademark smugness get in the way. Finally, Will goes to meet Shelly and apologizes to her, saying that he just wanted to bash Occupy Wall Street to make him look more like a moderate. He did this despite the fact that they already found who they were looking for: a guy who wrote a report stating that American troops used chemical weapons on civilians in Pakistan. The report seems to match up with what they already know about Genoa, further convincing Mac and Charlie that the story might be credible. Obviously they are missing a major piece of the puzzle that would prove the story false, but they won't find it until it's too late.
Follow Mary Oates on Twitter @mary_oates | Follow Hollywood.com on Twitter @hollywood_com
More:
'The Newsroom' Recap: Don Quixote Rides Again
'The Newsroom' Recap: Always On My Mind
'The Newsroom' Recap: You Better, You Better, You Bet
---
From Our Partners


Stars Pose Naked for 'Allure' (Celebuzz)


20 Grisliest TV Deaths of 2012-2013 (Vulture)