'The Newsroom' Recap: Always On My Mind (Season 2, Episode 2)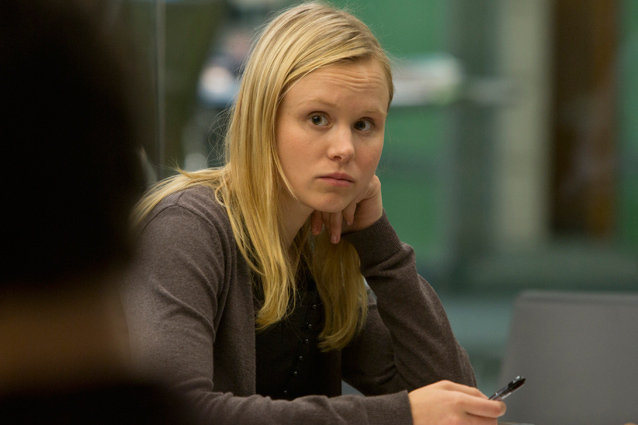 For an episode called "The Genoa Tip," there wasn't much mention of the top-secret operation that gets the whole newsroom in trouble. But there was still plenty of drama to go around, which was all wrapped up by a solemn country song.
Holly Go-f**king-lightly
This wasn't a good week for Maggie, but then again, it almost never is. She decides to creepily track down Erica, the girl who posted her Sex and the City-fueled tirade online, by finding her on Foursquare. Maggie and Sloan confront Erica in a laundromat in Queens, which is not weird or stalkery at all. Erica is understandably freaked out, but then gets excited as she recognizes Maggie from her video and starts asking her questions. Sloan offers to tweet about Erica's SATC fanfiction if she takes the video down.
Despite the tweet, Erica does not take the video down, and instead decides to blog about the laundromat showdown. Lisa finally sees Maggie's recorded outburst, and subjects her to the scariest hug of all time. Calm but noticeably upset, Lisa accuses Maggie of setting her up with Jim because she knew things would never get serious between them.
After losing her boyfriend and her best friend, Maggie sets her sights on Africa. She gets the go-ahead from Mac to travel to Uganda for a story, but we already know that doesn't end up going too well. Poor Maggie.
Feeling Under the Weather
We got a little more of Will McAvoy's backstory in this episode. This is a man who took the anchor desk for the first time on 9/11 and promised his audience that he wasn't going anywhere. Ten years later, he has to watch two other people cover the anniversary of that day and read the words that he wrote for them. The audience no longer trusts him like they used to, and he craves their approval. He's so ashamed that he tells the staff that he took himself off the 9/11 coverage, just to save face (although no one believes him).
When it's reported that an American was targeted and killed by a drone strike in Yemen, Mac and Charlie want Will to go on air and demand that the administration release the memorandum authorizing the strike. Will doesn't want to alienate his audience even more by looking like he's defending a terrorist, but the argument is interrupted by a phone call from Neal. He attended an Occupy Wall Street rally and was arrested. Will goes to bail Neal out of jail and basically throws a little hissy fit at a police officer. The officer asks him "Are you feeling alright?" like any sane person would, and Will replies "Yeah, I just had the flu for a while."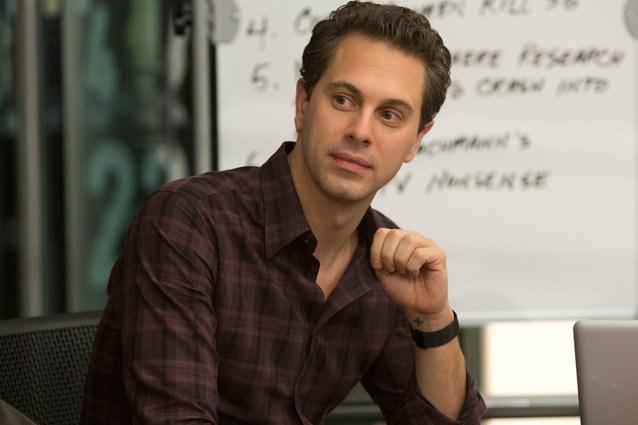 Swing Votes and Lobbyists
Don has been following the case of Troy Davis, a black man who was convicted of killing a white cop in Georgia. Davis has been in prison for 20 years and is soon to be executed unless he receives clemency. Don believes there is reasonable doubt in his case and wants Will to cover the story, but Will refuses.
Don gets more desperate as he hears from a source that the Georgia parole board has been lobbied and the swing vote is now voting against clemency. He wants to report on the development but doesn't have his source on the record. He briefly considers threatening to reveal his source's name, but knows that's going too far. That night, Don receives a report that Davis was executed.
Like the Headsail on a Boat
Jerry gives Mac the full details of Operation Genoa that he heard from Cyrus. Two soldiers were held in a village in Pakistan, and the Marines sent in to rescue them used sarin gas on civilians. Mac thinks the story is ridiculous and couldn't possibly be true, but Jerry spends the rest of the episode trying to contact Gunnery Sergeant Eric Sweeney. Once he finally gets him on the phone, Eric confirms to Jerry and Mac that Genoa was real and that American troops did indeed use sarin gas on civilians. Mac and Jerry look at each other in shock, and then Willie Nelson finally stops singing (seriously, that song went on forever).
Other Observations:
Jim finally gets on the Romney campaign bus, courtesy of a reporter named Hallie. Fun fact: that's Meryl Streep's daughter! He also receives a breakup email from Lisa and ignores Maggie's call about Africa.
Why is Sorkin under the impression that all women love Sex and the City?
Will reads online hate about himself during his own broadcast. Pull yourself together, man.
Follow Mary Oates on Twitter @mary_oates | Follow Hollywood.com on Twitter @hollywood_com
More:
'The Newsroom' Recap: You Better, You Better, You Bet
'The Newsroom' Season 2 Preview
'The Newsroom' Season 2 Trailer Deals Some Serious Drama
---
From Our Partners


Battle of the Bikini Bodies (Celebuzz)


Fangbanging: Complete Guide to All of 'True Blood's Sex Scenes (Vh1)