The 5 Biggest Character Transformations on 'The Office'
A lot can happen to a person over the course of nine years. You can change jobs, you can fall in love, you can face the loss of your favorite television show… and all of that will make you turn into the person you are today. 
We've seen the characters at Dunder Mifflin grow (and sometimes regress) since the debut of The Office back in 2005, and with the series coming to an end on Thursday, May 16, we wanted to look back and see who has changed the most. While some have stayed rigidly the same, we've witnessed others evolve right before our eyes, for better or for worse. (And no, Ryan doesn't count, because he has been, and always will be, a total d-bag). While we weren't always sure or didn't always agree with the direction in which the writers would take these characters, after nine seasons, we still felt like we knew them, inside and out. 
Here are the five biggest character transformations. 
Michael Scott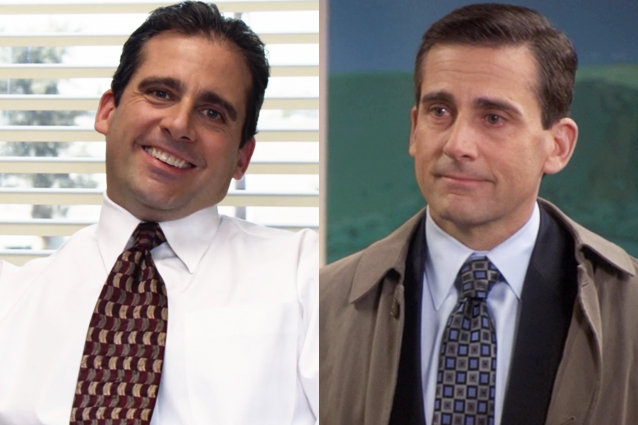 Watching Michael Scott now in the pilot is nothing short of painful. Yes, Michael was always an awkward, terribly uncool boss, constantly saying the wrong thing. But in the beginning, he was a pretty awful jerk with sketchy greased-back hair who fake-fired employees for a laugh. Who could have guessed that by his final episode, we'd be crying not to see the dorky, oh-so-big-hearted (well, to everyone but Toby) guy go? Michael was just someone who wanted to be loved and give love, and layer by layer we got to see that truth reveal itself. Explain to us again why Steve Carell doesn't have an Emmy?  
Pam Beesly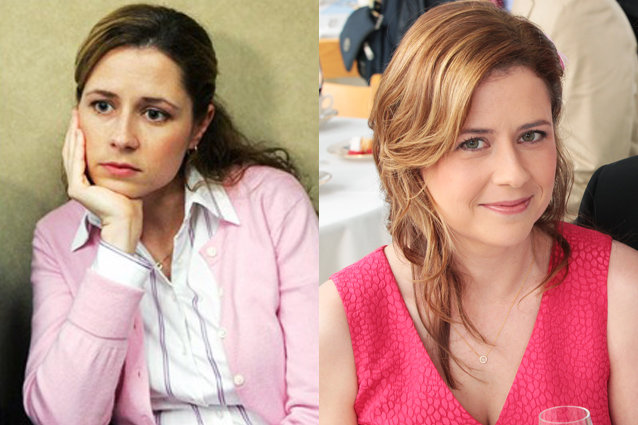 At the start of The Office, Pam was just the nice girl next door (or the girl next cubicle) engaged to a big lunk named Roy, letting the real love of her life (Jim) and her passions (painting) slip away. But Pam became a powerhouse, taking back her fate by dumping Roy, following her dreams (she briefly traded Scranton for art school in New York City), and finally saying "yes" to Jim. Not to mention the fact that she went from mousy wallflower to full-on babe when she started dating Halpert. 
Phyllis Lapin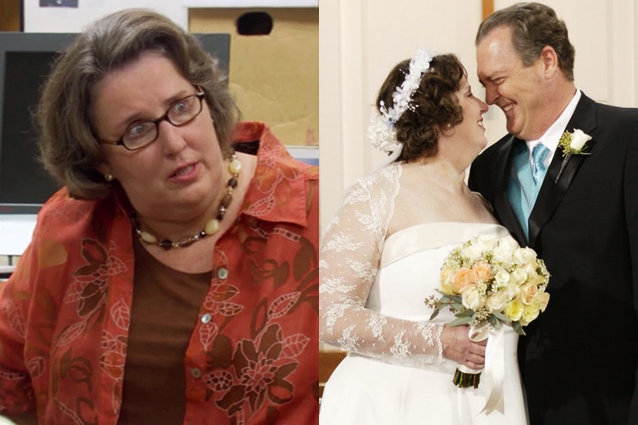 When we met Phyllis she was a sweet and quiet office fixture, but not much more than Angela and Michael's meek punching bag. Eventually, Phyllis put Angela in her place and could fire back zingers at Michael like the best of them. Plus, Phyllis was the first one to truly find love at Dunder Mifflin, and her marriage to Bob Vance (Vance Refrigeration) is still going strong. 
Andy Bernard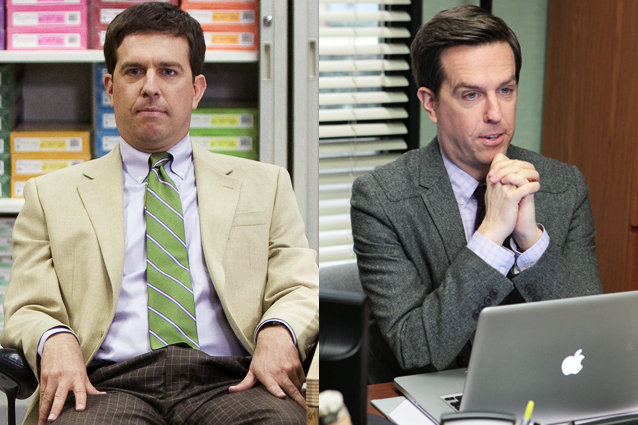 If we fell in love with Michael Scott over time, then we did just the opposite of Andy. He started as an annoying, angry, but ultimately harmless preppy transfer from the Stamford branch, but we've seen Andy manically and frequently bounce from a well-meaning lovelorn guy to a local musical theater hopeful to a full-fledged a**hole of a boss. Andy was always easy pickins, but now everyone has a reason to hate him. 
Kelly Kapoor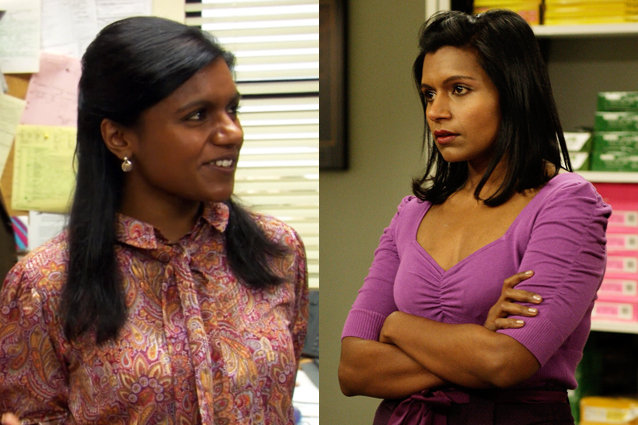 Transforming her from the quiet, poorly dressed office drone to the fast-talking and fashionable Kelly we came to know and love, The Office writers pulled a total 180 on us with this one. In the first season (and a little bit into the second), Kelly was not only missing her Valley Girl accent, but she was nearly Pam-like: quiet and smart and dressed like a school marm. Thankfully, they went in the different direction of the boy crazy, Netflix-explaining, fashion-show-at-lunch enthusiast that became Kelly. She was way more fun over time. 
The Office retrospective and series finale airs at 8 PM/ET on NBC. 
Follow Aly on Twitter @AlySemigran
More: 
The 10 Best (and 5 Worst) Episodes of 'The Office' 
'The Office' Series Finale: Retrospective, Guest Stars, and More
Steve Carell is Returning for the Series Finale of 'The Office'
---
From Our Partners:


Zoe Saldana Strips Down For Magazine (Celebuzz)


33 Child Stars: Where Are They Now? (Celebuzz)