'The Office' Recap: Pool Party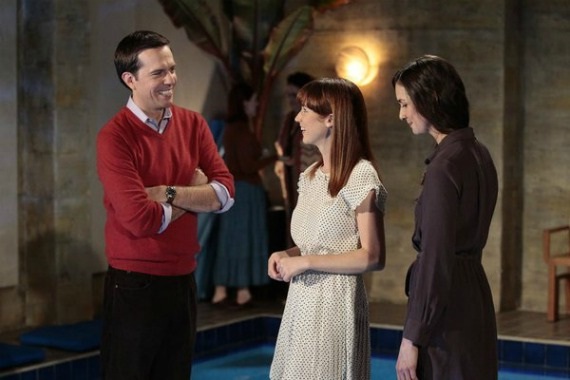 "Pool Party," the twelfth episode in the first Michael Scott-less season of The Office, continues the series' ongoing trend of amusing but uneventful happenings. I'm not sure if the show's narrative ailment is the result of creative fatigue or if the writers/producers are still coming to terms with how to move the larger, collective story forward with Steve Carell, but last night's episode provided more evidence that it's losing steam. Still, that doesn't mean that The Office is incapable of producing fun, one-off episodes, and with a pow-wow at Robert California's soon-to-be sold mansion at the center of it you know there was plenty of opportunity for comedy.
"I haven't proposed to anyone in years" – Andy
The opening scene teased more of the ongoing rivalry between Jim and Dwight, with the former bombarding the latter's desk and supplies with dozens and dozens of meatballs. It appears that Stanley has taken the place of Pam as Jim's office hijinks audience, but we quickly learn that he's actually in cahoots with Dwight in an effort to extract as many meatballs from Jim as possible. I won't lie – it was a cool twist on the classic cold open's that the show has become famous for, and is perhaps a sign that the times are changing.
Meanwhile in the manager's office, Andy is contemplating popping the big question to his new gal Jessica after she apparently received a high approval rating from his parents. He's even got his grandmother's engagement ring on hand – sans diamond. Erin has observed the progression of her former flame's new relationship, and even though she says that she's happy for him, when Meredith drops the tiniest hint that he may still be sweet on her, she jumps at the chance to make her fairytale romance come true.
But where, and when, could the cute little receptionist make her move? Kevin made it all too easy for her, as he suggests the idea of a party at California's aforementioned mansion in honor of all of the wild, depraved revelries that he never got to have.
"Wow, Andy is such a weird stalker! Following me home like that when he has a girlfriend? I should get a restraining order." – Erin
We quickly jump to the home of Mr. California, and it is every bit as flamboyant as he made it out to be. While the majority of the crew hangs out by the indoor pool, Robert grabs a handful of his Dunder-Mifflin foot soldiers for a tour of the residence, including Jim, who had been planning on an early exit since he arrived. Even with limited screen time, John Krasinski remains the most lovable character on the show. I sincerely hope that when Jenna Fischer returns to the series later in the season their storyline picks up again in a new and fresh way, because everything else that happens in this episode is awfully repetitive. Well, save for one thing…
Anyway, Andy appears incredibly nervous as he massages the ring while figuring out how to propose to Jessica, but Erin is observant of this and does her best to interfere. When her initial awkward advance falls flat, she decides that she'll try her hand at forced jealousy. When she sees Andy and Jessica getting all touchy-feely-flirty, she engages Dwight in the same kind of innocent activity, but it bites her in the ass as he pushes her into the pool.
But as the tour of the California home (or maybe we should just call it California?) continues, inhibitions begin to come down. Oscar stumbles upon an enviable wine collection, and Robert offers everyone in the room their own bottle to nurse through the night. Not the smartest idea with this group.
Back at the pool, Erin and Dwight are now flirting full force to get Andy's attention, but the 'Nard dog finds himself in a bit of a pickle when he loses his grandmothers ring. What could make the situation worse? Kelly finds it. A game of chicken ensues, but Andy is as uninterested in their shenanigans as I was.
"To both these bears!" – Jim, Ryan and Oscar
At this point things take a turn for the kooky. The tour group continues down a path toward debauchery. Dwight nearly passes out from exhaustion when Erin works him hard at chicken after Andy and Jessica finally oblige. Meredith, Kelly and company decide to "cremate" the ring in the pool (?). Just when it looks like it'll be a happily-ever-after conclusion when Erin retrieves the ring and returns it to Andy (which makes him realize just how much they belong together), Robert rejoices in the celebration and decides to skinny dip. Brown-nosers Ryan and Gabe follow suit, and before you know it the episode ends with one of the weirder credits sequences, wherein the ass-kissing duo dance in to the wee hours of the morning with their employer.
As previously stated, nothing really happens in "Pool Party"; just more of the same characters that we've grown to love. But while our love affair with The Office may be beginning to burn out, the embers of the fire still occasionally burn bright.