The Key to 'The Vampire Diaries' Spinoff Success? New Orleans, Says 'The Originals' Star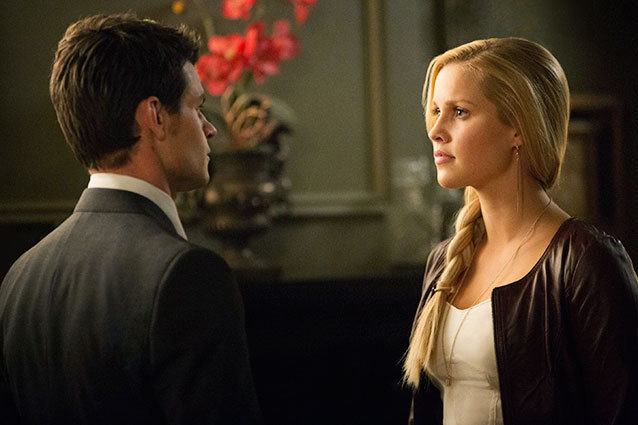 If all goes according to plan, Claire Holt and her ancient vampire brothers will be spending a lot of time in New Orleans next year. The potential Vampire Diaries spinoff, "The Originals," which airs tonight as an installment of TVD at 8 PM on The CW, sees the three surviving original vampires head to the magical world of New Orleans— well, maybe.
"We don't actually know if Rebekah makes it to New Orleans or not," Holt teases to Hollywood.com. That makes sense, since she and her vampire/werewolf hybrid brother haven't been on good terms recently. "Her journey is more about deciding whether she's going to follow and help Klaus, or whether she's going to stay behind and live her own life. I think she's felt very betrayed by Klaus, he's done some awful things to her, so it's going to be a tough call."
Klaus (Joseph Morgan) and Elijah (Daniel Gillies) head to the city they helped found when Klaus learns of a mysterious plot brewing against him. Rebekah, meanwhile, stays behind in Mystic Falls (at least for the time being). Klaus and Rebekah are still at odds, but Elijah is trying to keep the peace between his siblings. "I think Elijah's always been the mediator. He's usually the sensible brother, the smart brother, and I think he's trying to bring our family together again," Holt says. "That's his goal; he's really loyal and he wants us to start over and I don't think Rebekah is necessarily having that. I really love the dynamic that Klaus and Rebekah had at the very start of my journey on the show and I hope we get to revisit that."
Although the spinoff will contain elements of the TVD we know and love, Holt says the show has its own distinctive look and feel. "It's a really different feel from The Vampire Diaries. It still has those same elements that makes the show so popular — the really intriguing story, the fantasy and the escapism — but it feels darker and it feels like a different story, a different world, and it's really exciting to me," Holt says. "Some of the new characters add a great dynamic. There's a lot of strong females and Marcel, played by Charles Michael Davis, is an absolutely outstanding talent. So he definitely adds a lot to the show. He's so great, oh my gosh. Even at the table read he just brought that character to life in a tiny little conference room in Atlanta, Georgia. He's going to be a star for sure."
Plus, the city of New Orleans provides an incomparable backdrop. "['The Originals'] looks beautiful. The production value is amazing. New Orleans has such beautiful places to shoot," Holt says. "There's a lot of amazing jazz musicians in this episode, and the story is helped along by all the elements that are unique to New Orleans. Of course the boys and the story and Klaus's quest are certainly very important, but I think it's really helped along by the fact that we got to shoot in such a beautiful city."
"The Originals" episode of The Vampire Diaries airs Thursday, April 25 at 8 PM on The CW.
Follow Jean On Twitter @Hijean 
More:
'The Originals' Brings 'TVD' Vamps to Witchy New Orleans
First Look at 'The Originals,' the New 'Vampire Diaries' Spinoff
A 'Vampire Diaries' Spinoff is In the Works
---
From Our Partners


50 Worst Celeb Mugshot Fails (vh1)


33 Child Stars: Where Are They Now? (Celebuzz)