The Racial Comedy of Larry Wilmore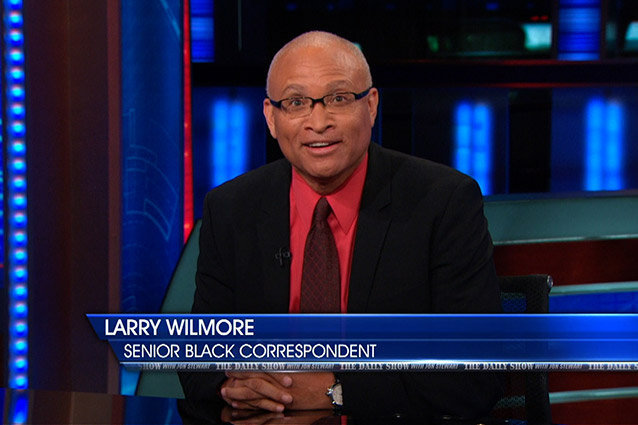 Comedy Central
The dust has finally settled after the latest late-night shake up, and Stephen Colbert officially has a replacement: Larry Wilmore, who will take over the 11:30 Comedy Central slot as host of The Minority Report with Larry Wilmore. In a press release, the network described the show, which will feature a cast of minority comedians, as a "a comedic look at news, current events and pop culture from unique perspectives not typically on display in late night television." Wilmore, who has been the Senior Black Correspondent on The Daily Show since 2006, has written for numerous sitcoms, including The Bernie Mac Show (which he created), The Office (on which he appeared occasionally as a put-upon racial sensitivity trainer) and the upcoming Black-ish, where he will serve as show runner until The Minority Report kicks off in January.
Though his name didn't seem to come up much in the speculation that followed Colbert taking over The Late Show, Wilmore was apparently the first choice for executive producer Jon Stewart. Audiences have been clamoring for a more diverse late-night landscape for some time now, one that will talk about and deal with the news and issues that face the underrepresented parts of TV viewers, and Wilmore is the perfect person to step into that role. In addition to being an established comedian and show runner whose comedy has dealt with race and racial politics for many years, his time on The Daily Show has given him time to cultivate an audience who are interested in seeing him bring his trademark comedic style to late night. 
Wilmore's comedy is often sharp and quick-witted, and his segments as Senior Black Correspondent are excellent takedowns of complicated racial issues, but his delivery tends to give the subject matter an injection of lighthearted goofiness. It keeps the subject matter from getting too dark for a comedy program while at the same time offering a slightly different take on a story that the 14-hour news cycle has already torn to death. His latest appearance on the show, on April 28, saw him take apart the Donald Sterling controversy to ultimately reveal his real mission: convincing Chris Paul to move to the Lakers.
Wilmore's combination of absurdity and wit often comes to a head in some of his weirder, sillier bits, like when he took out a credit card swiper to discuss the "race card" or the First Annual Wilmore Awards, which were given to people who broke down barriers that didn't need breaking down. It's the kind of segment we wouldn't be surprised to see on The Minority Report: goofy enough to keep the tone upbeat, but still providing him plenty of opportunities for his more biting jokes, as well as allowing him some room to comment on events or issues from a slightly different perspective. Plus, it's undeniably funny, as best exemplified by him wrapping up the bit by silently sliding a Wilmore Award across the desk to Stewart.
With so many cable news programs and comedic fake-news shows all competing for an audience, The Minority Report will need to stand out and gives the stories its covers a different spin or a new, unexpected angle. Wilmore's been doing just that on The Daily Show for years, subverting the viewers' expectations to keep things fresh and funny.
Though Wilmore has constantly come up with interesting and surprising ways to use his segments, The Minority Report gives him the opportunity to explore a wider range of topics, as well as the freedom to play around with different formats. As Senior Black Correspondent, his style works perfectly when dealing with race-related issues and policies, but it would work just as well covering major political scandals or newsworthy celebrity controversies. Though it's likely that The Minority Report will have a similar structure to its predecessors, Wilmore's long career in television means he's more likely to experiment with the format of the show. He not only know what makes a good segment, but he also knows what makes a good television show as a whole, which means that he's not as tied to the strict structure of The Daily Show.
It also means that he'll have the opportunity to conduct more interviews and interact with more people on the show, whether they're regular correspondents of guests. Wilmore plays off of other wonderfully, whether he's wearily putting up with Stewart's attempts to work rap lyrics into the conversation or pairing up with John Oliver for an investigative report. As the steady force of the show, his ability to connect with other will be an invaluable resource for the show, especially as new comedians and correspondents are introduced on the show. His rapport with Stewart and the various guests he interviewed is part of what made him a fan favorite on The Daily Show. In fact, the worst part about Wilmore hosting his own show is that it significantly cuts down on the amount of field interviews he'll get to do.
Unlike Colbert, who carried much of his show himself, Wilmore's acerbic yet relaxed demeanor will make him the perfect host for a variety of comedians and correspondents, and we wouldn't be surprised to see The Minority Report become just as much of a launch pad for the careers of its correspondents as The Daily Show was. Though he's not yet revealed whether they will be looking at brand new talent or bringing in some already-familiar supporting players – critics are already predicting that breakout star Jessica Williams will make an appearance – there's no doubt that with Wilmore at the desk "The Best F*&#ing News Team Ever!" will have some friendly competition very soon. Especially if you're looking for someone on late-night TV to host a friendly conversation about race.