The Rolling Stones On 'Crossfire Hurricane,' David Petraeus, and More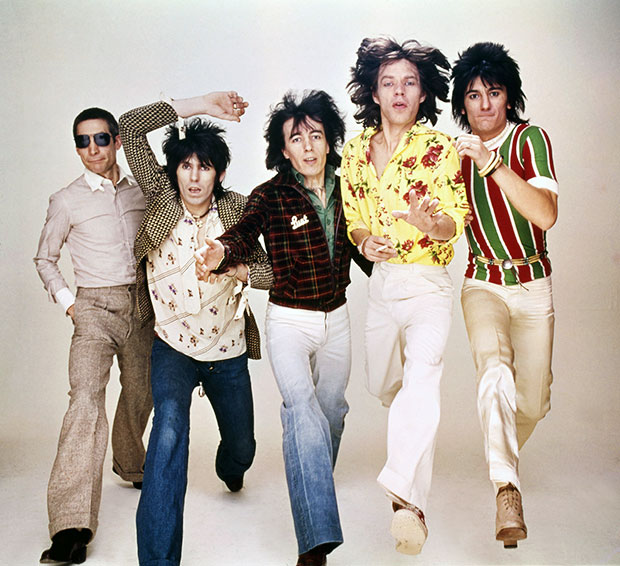 If you're a Rolling Stones fan, wild horses couldn't have dragged you away from HBO last night. The band's latest documentary Crossfire Hurricane—one of the very best films ever made about the group, and there've been many—made its TV debut on the pay-cable network. To condense fifty years of Stones history must have been a daunting task for director Brett Morgen, who previously trained his lens on no less larger than life a figure than maverick producer Robert Evans in The Kid Stays in the Picture. So he very judiciously parsed what highs and lows to cover, and all but glossed over everything the Stones have done since 1981, the year they released what many consider to be their last great album, Tattoo You. "The audience will have to make up their own minds about how well it covers our history," Keith Richards told Hollywood.com at the film's U.S. premiere Tuesday night at New York City's Ziegfeld Theatre. "I can't make up mine, so I wish them luck."
Crossfire Hurricane is less a blow-by-blow account of Stones arcana than an experimental tone poem to their boundary-pushing personas as '60s provocateurs extraordinaire. During songs like "(I Can't Get No) Satisfaction" Morgen splices clips of the band performing with period commercials and Vietnam war footage to show what exactly the Stones were implicitly in rebellion against: a complacent society that was both violent and sanctimonious. Thankfully, they're no "talking heads" trying to contextualize the rapid-fire images for us and say why the band was important. Instead, Morgen, acting more as a curator and editor than director, recorded over 80 hours of audio interviews with Mick Jagger, Richards, Ronnie Wood, Charlie Watts, Bill Wyman, and Mick Taylor and played their commentary over found footage. "When Mick called me, he said he wanted me to make a movie," Morgen says. "And I said, 'You mean like a miniseries?' And he said, 'No, I want it to be a movie.'" Jagger himself had a generational statement in mind with Crossfire Hurricane. Introducing the film at the Ziegfeld premiere, Jagger, wearing a green velvet blazer, said after two standing ovations that he hoped the film would "…take you back to a younger but perhaps not gentler America. An America where only IBM and the military had computers. Where there were no smartphones nor emails. A simpler America. An America where we didn't read other people's emails, so we didn't know if four-star generals were having affairs with their biographers"—a reference to the recent scandal involving David Petraeus.
Many of the clips in Crossfire Hurricane have appeared in previous Stones documentaries like Gimme Shelter or C***sucker Blues. But Morgen's collage aesthetic lets the different pieces of footage bounce off one another, mapping new connections among the songs, the fashions, the wild stage antics, the cartoonish egos, the messy personal lives, to make a statement about the Stones as a cracked-mirror reflection of the Baby Boomers' generational possibility. Having just made the serious mistake of attempting to interview drummer Charlie Watts and getting his reply of "I don't know" to every question I asked, it was heartening for me, as a journalist, to see a 1965 clip of Watts only answering "I don't know" to questions presented by a TV broadcaster.
As a filmmaker Moren seems interested in covering epochs in the band's creative life, not events. Much like how Al Reinert's For All Mankind imagined all seven manned moon missions as one grand adventure, Morgen projects a rock & roll continuum of hormonal sensation and experience for a time when moving your hips was still a political act. That's why it's named Crossfire Hurricane, after the opening line of "Jumpin' Jack Flash": "I was born in a crossfire hurricane…" Morgen tells Hollywood.com, "The whole movie leads up to 'Jumpin' Jack Flash.' It represents a crescendo for the band after all the criticism they'd incurred from concerned parents, and certainly their drug bust. The whole film builds up to that song, in a way." The Stones may have recognized that you can't always get what you want, but they would fight to the death for your right to do what you want.
As for the Stones today, sadly none of their recent preparation for a rumored 50th anniversary world tour is included in the movie. "I filmed the rehearsals in Weehawken, New Jersey in May," Morgen says. "And those will be on the DVD. It's an image of the band that nobody's ever seen. We haven't glossed it up with a lot of big shiny lights and all. It's just raw. It's the band performing for themselves. I wanted it to end the film, but we're saving it for the DVD." Adding his two pence, Ronnie Wood, clutching an opened can of Red Bull agrees. "The music is so electrifying in that rehearsal. I can't wait for everyone to see it."
Did you catch Crossfire Hurricane last night? Where do you think it ranks among the all-time great Rolling Stones docs? And might you pick up the DVD for that new rehearsal footage alone?
Follow Christian Blauvelt on Twitter: @Ctblauvelt
[Photo Credit: HBO]
More:
'American Horror Story' Interview: Zachary Quinto Gets [SPOILER ALERT!]
Kevin Spacey Glowers in New Trailer for 'House of Cards'
'American Horror Story' Renewed for Season 3—Where Will They Haunt Next?

Prince Harry's 'Naked Vegas Party Pal' Carrie Reichert Writing a Tell-All Book — EXCLUSIVE
(Celebuzz)