'The Vampire Diaries' Season 4 Episode 20: Matt Finally Dies?!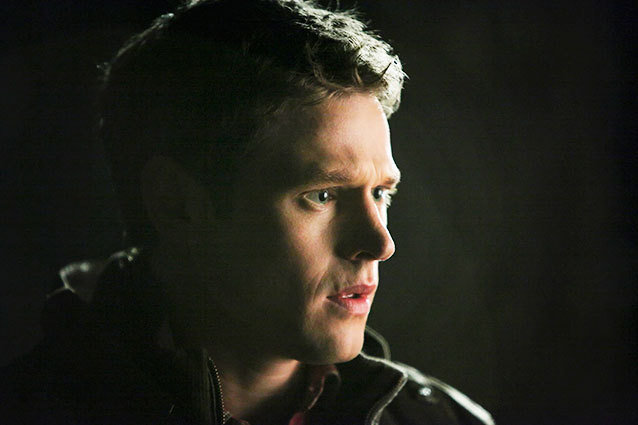 While "She's Come Undone" ostensibly focused on our Vampire Diaries heroine, Elena, as both of her vampire former lovers tried to torture the humanity back into her, the real MVPs of the third-to-last new episode of Season 4 were Matt and Caroline. Which is really a feat, because Nina Dobrev gave another award-worthy performance as Elena's feelings came rushing back.
As we've all known for years, Caroline is actually the best vampire on the show and Candice Accola has way more acting chops than Season 1's ditzy Caroline required. (If you're not on Team Caroline, GTFO because this is a Caroline Appreciation Zone only.) But during last night's episode she proved it to us again, first when she had a horrifying encounter with Klaus in the woods and later with Matt (both were actually Silas in disguise). But the real heartbreaking part of her journey came when she barricaded herself inside her house with her mom, terrified that Silas would get to them.
But of course, since this is Silas, he did. Turns out Sheriff Forbes was lying (dead?) on the living room floor the whole time. From a desperate Caroline's timid "mom?" (nice callback to her blood-soaked cave "hi mom") to the frantic attempts to revive her, this was truly one of the saddest moments of the season. Thank goodness, then, when Caroline injected her mom with her own blood, and the sheriff awoke with a gasp. At least ONE of these kids' parents has to stay alive for graduation!
The other emotional mindf**k of the episode was poor neglected Matt's return to the spotlight. While he had some lovely, quiet moments with Rebekah, his real time to shine came when Stefan and Damon realized Matt was the key to getting Elena to turn her humanity back on, which is both appropriate and adorable. He's truly the only link to her life before that fateful (first) car crash on the bridge, and it makes sense that he'd be the one to finally bring her back.
Unfortunately, that came at the expense of a heart-pounding few seconds where I almost believed that they'd finally killed off the lil human that could. I mean, I'd assumed Zach Roerig's Matt was wearing the ring the whole time, but you never know with this crazy show.
Thankfully, though, his crazy gamble worked, and Elena's emotions came rushing back. It was pretty painful to watch, but also a relief. No Humanity Elena was kind of the worst (rivaling Bonnie, who is actually the worst), and I'm glad that real Elena, as annoyingly sensitive as she can be sometimes, has returned. The next episode should be interesting as she starts to atone for all the horrible things she did while her emotion switch was turned off. Also, Dobrev's finest work this season came after Jeremy's death, but she was just as heartbreaking here. Could you imagine how mediocre this show could've been without such a powerhouse at its center?
Bonnie, in her quest to be relevant again, secretly met with Katherine to get Silas' gravestone. She wants to drop the veil for Silas so he can die once and for all, which is ludicrous because Silas is so evil there's no way he'd ever give up that much power. But she dangled that true immortality carrot in front of Katherine's face, and it turns out the recently dumped troublemaker is in.
There are only two more episodes to the finale, and my crazy theory is that Katherine, instead of going the truly immortal route, will be the one to ingest the cure. What do you think?
The Vampire Diaries airs Thursdays at 8 PM on The CW.
More:
'The Vampire Diaries' Spinoff, 'The Originals,' Is Amazing
'The Vampire Diaries' Recap: Prom at Mystic Falls High
What's the Secret to 'The Originals' Success?
Follow Jean on Twitter @hijean
---
From Our Partners:


Nina Dobrev, Julianne Hough Bikini in Miami (Celebuzz)


33 Child Stars: Where Are They Now? (Celebuzz)