'The Voice' Premiere Recap: "Hey, Soul Sibling"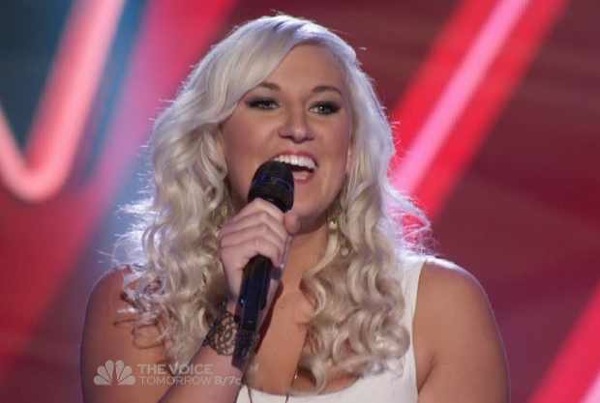 Last night, The Voice returned for its third season premiere on NBC. Meanwhile, somewhere in Beverly Hills, Simon Cowell pouted for two hours straight.
The Voice's blind auditions are like speed dating, except your would-be partner refuses to look at you and insists on sitting in something that a James Bond villain would have his teeth cleaned in. So, not awkward at all. Slap on a nametag and ladle yourself a generous glass of punch: It's go time.
Celebrity mentors Christina Aguilera, Adam Levine, Cee Lo Green, and Blake Shelton open the episode with a four-person cover of "Start Me Up." For the performance, Christina wears a rhinestone-encrusted bustier, which might seem unusual in a world where Cee Lo wasn't dressed in a white, full-body tunic lifted from a stall at the Renaissance Faire.
The blind auditions begin with Terry McDermott, a Scottish rocker. My instant fondness for Terry — and his tiny, precious son in his tiny, precious blazer — is matched only by my desire to forcefully shear his overgrown moptop, skyrocketing the singer to #2 on my list of celebrities whose hair I feel personally compelled to maintain (Anthony Davis, I'm coming for you).
Terry takes on The Who's "Baba O'Riley." He does the classic rock anthem justice with controlled yet soaring vocals. As Adam puts it, Terry's is a "tried and true rock-and-roll voice."
Terry's Result: Team Blake (also known as Team Ovulation-Inducing Accents)
A funny and commanding presence, De'Borah transitioned from a traditionally feminine style to an androgynous appearance at the age of 18; she casually explains that she's "not into the gender thing." Gendah schmendah. In a pair of oversized glasses, a bright coral sweater and matching skinny jeans, De'Borah is empirically adorable.
De'Borah's playful, throaty interpretation of Train's "Hey, Soul Sister" is loaded with personality. Although the smart money was on Cee Lo, De'Borah chooses Christina, citing Aguilera's "The Voice Within" as an inspiration for finding the strength to be herself. Let's all take a minute to reflect on the wisdom of grungy, brunette Xtina circa 2002.
Don't mind me, you guys. Just a little bit of water coming out my faceholes.
De'Borah's Result: Team Christina
Another blonde, fresh-faced aspiring country star, Gracia Harrison seems at first like this season's RaeLynn — except she yodels. Obviously. While part of me was hoping for a disaster of Swiss avalanche proportions, her vocally adventurous version of "I Want to Be a Cowboy's Sweetheart" was delightful.
Adam proclaims her the best country singer ever heard on The Voice, but unsurprisingly, Gracia chooses Mr. Miranda Lambert as her coach. Hell hath no fury like a Levine scorned: Adam busts out a twangy Blake Shelton impression, apparently harboring a secret desire to transition from SNL musical guest to host (no, thank you).
Gracia's Result: Team Blake
Sixteen-year-old Garrett Gardner learned to love soul from his professional musician father, who died of cancer two years ago. Garrett's take on Creedence Clearwater Revival's "Have You Ever Seen the Rain?" isn't bad by any means, but sounds a little too much like a weak John Fogerty impression. To generate an improbably grown-up growl, he stands doubled over, grabbing at his stomach like he's suffering from an ulcer.
Garrett goes unchosen, though the judges are encouraging, assuring him that better vocal control will come naturally with age and experience. Hugs and sniffles all around.
Garrett's Result: Team Nobody
NEXT: The spooky result of Hollywood's genetic experiment.
Once home-schooled, "small-town West Texas girl" Devyn DeLoera overcame shyness through her love of performing. Describing what she's about to do as "suicidal," Devyn goes full-on All About Eve with a cover of Aguilera's very own "Ain't No Other Man." Luckily, Devyn's full-bodied, soulful cover pleases the Supreme High Priestess, who allows the impudent child to live, and to join her team.
Devyn's Result: Team Christina
Bronx-born Bryan Keith boasts an impressive musical pedigree: his father, Ray de la Paz, is a Grammy-winning salsa singer. Bryan's sexy, radio-ready version of Bruno Mars' "It Will Rain" turns around all four judges.
Bryan's Result: Team Adam
(At this point in the show I realize that Carson Daly, interviewing Bryan's family backstage, is barely recognizable to me. Gone is the baby-faced VJ of my youth; in his place stands an ambiguously creepy, middle-aged man, who looks more like one of the performers' dads than a TV personality of the genus Seacrest. But whatever, the gauntness kind of works for him, and I'm into it.)
Does Daniel Rosa look familiar? The 21-year-old was rejected in his blind audition last season (in a flashback video, mean girl Blake mouths "pitchy" from behind his chair), but he's back and more earnest than ever. This time, he offers a stripped-down cover of Gotye's "Somebody That I Used to Know" — and the judges see the error of their ways.
Daniel's Result: Team Cee Lo
Anita Antoinette is a Jamaica native and a recent graduate of Boston's prestigious Berklee College of Music. Her rendition of Bob Marley's "No Woman, No Cry" is beautiful, but too superficial — the judges leave their buttons untouched, commenting that her cheerful performance didn't engage with the song's heavy subject matter.
She asks to sing the song again, a capella this time, and the coaches oblige her. Damn, girl. Why didn't you do that in the first place? Goosebumps and shivers abound, but it's too late for Anita.
Anita's Result: Team Nobody
Twenty-four-year-old Joe Kirkland, one-time frontman of the band Artist vs. Poet — if you wanted to write a joke name for an emotive indie band, you'd throw that one out because it's too on-the-nose — is ready for a solo career. In his audition, he brought a bubblegum Billie Joe Armstrong sensibility to "Gives You Hell."
Joe's Result: Team Adam
Jessica Sharpe's melodic Southern accent had me thinking she was destined for Team Blake, but alas, it was not meant to be. Despite my initial excitement at her choice of "Son of a Preacher Man" (Dusty 4 Lyfe), the performance felt a little hokey, like a wedding band's stale go-to number. From behind her chair, Christina assumes her best McKayla Maroney face, and the other judges are equally unimpressed. Sorry, sweet pea.
Jessica's Result: Team Nobody
(Before our final contestant of the evening, we breeze through a few unsuccessful auditions. The clear highlight of these is a brief appearance by someone named Danny Hunter Jones, who is such an uncannily perfect blend of Joe Jonas and Zac Efron that I can draw no other conclusion than that some seriously dark genetic experimentation is going down in a bunker under Hollywood.)
Raised in Jamaica, Queens by his garbage-collector dad, soft-spoken Trevin Hunte rounds out the first round of blind auditions with a surprisingly powerful version of Beyoncé's "Listen." Trevin's belting garners a well-deserved standing ovation, and Cee Lo finds it hard to believe that Trevin has had issues with self-confidence. D'aww.
Trevin's Result: Team Cee Lo
The Voice is back both tomorrow night and Wednesday. Has Cee Lo finally trained his cockatoo to sing? Will Adam Levine go rogue and submit himself, in an unconvincing false mustache, as his own team member? Stay tuned.
[Image Credit: NBC]
More:
The Voice Returns Tonight: Will You Be Watching? — POLL
The Voice Shows X Factor Some Teeth: Why It's All About Britney