'The Voice' Recap: 50 Shades of Blake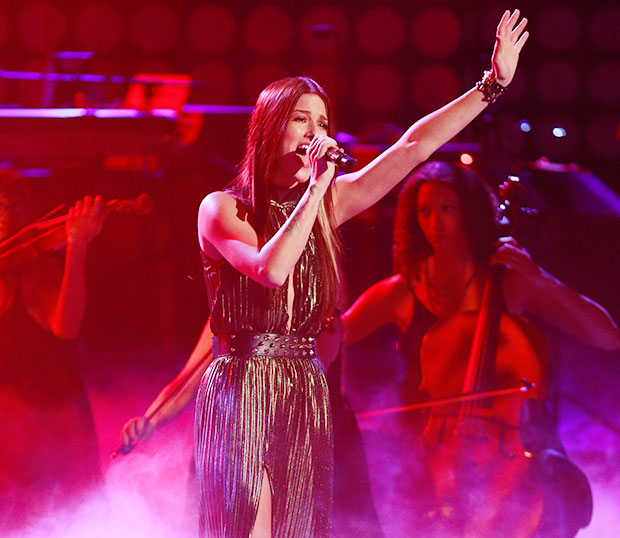 Welcome back to The Voice! With the departure of Dez Duron, Christina has become the first coach in the show's history to see all her team members eliminated before the finale. Nevertheless, Xtina seems cheerful, though she is dressed all in black — and as I've learned from Downton Abbey, sequins and fishnets were traditional components of post-Edwardian mourning clothes. This week, the six remaining contestants will each perform twice — one song chosen by their coach, and another chosen by themselves.
Up first, Nicholas David performs a track picked by coach Cee Lo Green: Earth, Wind, and Fire's "September." Train's Pat Monaghan covers for Cee Lo (who is out sick) in rehearsals this week. As Nicholas walks in, Pat warmly jokes, "I know you from TV." Nick smiles blankly, and I am instantly sure that he — old-soul Minnesota hippie that he is — has no idea who Monaghan is. Gold.
Pat, who I'm surprised doesn't speak in falsetto, encourages Nicholas to take risks and explore the furthest reaches of his vocal range. After all, there is an entire verse of "Hey, Soul Sister" that only dogs can hear.
The disco energy represents a stylistic departure for Nicholas that I enjoy — but as Adam points out, he lets his background singers almost entirely handle the chorus, the clear highlight of the song. What would "September" be without its glorious bah dee ya's?
With the success of her "Over You" cover in mind, Blake Shelton assigns Cassadee Pope another country song. She performs Rascal Flatts' "Stand," for which each audience member has been mysteriously equipped with a tampon-esque glowstick. She nails it, garnering rave reviews from the coaches — especially Christina, who has officially restyled herself as Cassadee's "co-coach/supporter."
Apparently concerned that all this country will make us forget how Punk Rock she is, Cassadee has incorporated blue streaks in her hair. I gather the bottle of dye must have been communal, because — up in the Sprint Skybox®™ — we see that Melanie Martinez's trademark two-tone scalp is now half blue as well.
In a rare stroke of genius, Adam Levine asks Amanda Brown to perform "You Make Me Feel Like a Natural Woman." The power, finesse, and exuberance she brings to the song are killer. I would pay money — several monies, even — to see this in concert. "There's nothing I adore more than to see a woman feel natural," Cee Lo comments, because it's been a few weeks since he's said something truly creepy.
Terry McDermott elects to perform Foreigner's "I Wanna Know What Love Is," inspired by the loss of his mother. The pared-down production design suits the emotional gravity of the song: alone on a dark stage with only a cellist and pianist,Terry is visibly overcome with feeling as he sings. It's certainly good, but by no means my favorite of Terry's work (to be fair, I kind of can't stand this song).
Another gem for the Blake highlight reel: He refers to that cello first as a "whatever that violin thing's called," and then as "a Cee Lo."
Trevin Hunte takes on "Walking on Sunshine" (Cee Lo's choice), resulting in the spontaneous formation of ska circles in living rooms across the country. We've seen the disaster that resulted from Trevin trading ballads for beats — remember Ushergate? — and similarly, I never would've guessed that such a poppy song would work for him.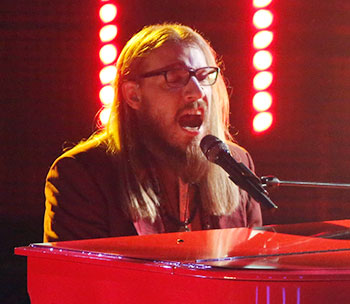 But that's the reason why Cee Lo's a coach on The Voice and I'm not (the only reason). It's a charismatic, vibrant performance, and Trevin ably meets the challenges of the fast-paced original.
Melanie takes a risk with Gnarls Barkley's "Crazy" — i.e., Cee Lo's biggest hit that doesn't contain an expletive in its title. But what's really crazy here is the staging: She plays a miniature pink keyboard with one hand, surrounded by faceless, guitar-holding mannequins with bows in their non-hair. It's weird. The performance is a little pitchy, but her trademark coo is less overdone than usual.
I'm sure you have a long career ahead of you, Melanie, but promise me this — whatever your manager says, please don't get your adorable teeth fixed. Dat diastema.
Terry is back with Rod Stewart's "Stay with Me." Well played, coach Blake. This is a smart choice: It's a classic rock staple, but with the playfully dirty, bad-boy edge that asexually adorable Terry generally lacks. Unfortunately, the sound mixing seems slightly off, and McDermott's voice blends too much into the rest of the track — it's a fun song, but far from an ideal showcase of his talent.
In his second outing, Trevin takes on Jennifer Hudson's "And I Am Telling You." The man-diva (divo? Devo?) we fell for in the blind auditions has returned. This performance gives me goosebumps. I'm officially back on the Trevin train, and so is Christina, who promises to take him "under her wing" after the show's over.
Coach Cee Lo feels so confident in Trevin's chances that he requests "a moment of silence" to "mourn" the other contestants (awkward for teammate Nicholas David, don't you think?). The season is over now. You can go home.
Adam attempts to recapture the rock-and-roll magic of Amanda Brown's "Dream On" cover with Whitesnake's "Here I Go Again." It's good, and gritty, and she works the lady-falsetto like a pro.
For her second performance, Melanie offers Lenka's "The Show," chosen by Adam to highlight her "playful side." Vocally, it's a strong showing for Melanie (the song is a great fit), but I find everything else about this unsettling.
The set is straight out of Sesame Street. Hammy, grinning stagehands carry out giant painted cut-outs — a car, a sailboat, a rainbow — for Melanie to interact with. It's way too cutesy, way too "little girl," and even a bit disturbing, in a Baby Jane sort of way.
Part of the problem is that Melanie is obviously embarrassed — instead of playing up the props, she acts like her parents are making her pose for a lame face-in-hole photo at the county fair. God, Dad, leave me alone!
In other news, I'm increasingly convinced that the blue cup in front of Christina contains something stronger than water, as she has now resorted to singing her comments for attention.
Cassadee is back with her "dream song," Avril Lavigne's "I'm With You." This was inevitable. She reminds me so much of Avril; when "Cassadee" is finally eliminated, she'll peel off her mask and wig to reveal her true Canadian superstar form.
It's a nice cover — a string section and the country flair to Cassadee's voice bring out the song's sweetness. She's probably not the best singer in the top six, but she might have the most commercial potential of all her competitors.
Nicholas David closes out the night with his mother's favorite song, "Somewhere Over the Rainbow." It's nice to see him back behind a piano, and he presents a gently funkified version that retains enough of the timeless original melody to be satisfying. But all of this pales in comparison to Cee Lo's characteristically bizarre closing remarks, in which he wishes a happy birthday to someone named Mr. Beans.
Now go to bed, kids. Mama needs private time to watch Blake Shelton's Not-So-Family Christmas Special, or as she has renamed it, 50 Shades of Blake.
The Voice returns tomorrow night at 8 p.m., when the two artists with the fewest audience votes will be eliminated. Follow Molly on Twitter @mollyfitz.
[Photo Credit: Tyler Golden/NBC (2)]
More:
The Voice Recap: The Cee-Bow Connection
The Voice Recap: Somebody Too Close to Love Someone Like You
The Voice Recap: Thanksgiving-sing

Inside 'Bachelorette' Stars Ashley Hebert and J.P. Rosenbaum's Wedding — EXCLUSIVE DETAILS

Mario Lopez, Courtney Mazza's Wedding Pictures Revealed!