'The Voice' Recap: 99 Problems, But a Win Ain't One!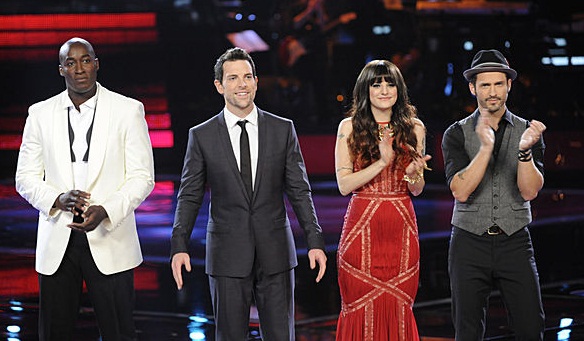 Welcome to the Christina Aguilera Show Recap! I'm sorry, did you think we were going to talk about voices? Oh, I'm sorry, America. This is a show about Christina Aguilera and her many thoughts, opinions, and her 99 problems. (See what I did there?!)
Before we get to the heart of the matter, let's discuss the completely unnecessary filler that took up 90 percent of the program. This, of course, meant more quality segments from part-time brain surgeon Christina Milian, and other great mistakes.
One non-mistake was the follicle fits of Juliet Simms. Homegirl went and got herself un-blonded. Thanks for listening, future BFF.
Now onwards! When asked by Late Night ghost, Carson Daly, Christina managed to not say a damn word about her team member Chris Mann. Because Christina is intuitive: She's acting on some Miss Cleo-type knowledge and she knows that when Carson asks about her thoughts on her pupil, what he's really asking about is how she's feeling, what she thinks about the show, and how her son is there to root her on! Because, you know, this show is not about four unknowns trying to make it in the music industry. So humble, Xtina. You went to work with a cold? Aww girl, you definitely deserve a cookie because most Americans definitely don't have to do that, ever. Above and beyond the call!
But to give Christina a break from her adoring audiences, NBC's thrown in a few performances from some other randos.
First, there's this kid Jermaine Paul. Have you heard of him? He can sing pretty alright, you know. I mean, he's no Christina Aguilera (pish-posh!), but he'll make due for now. "I Believe I Can Fly" is the ditty du jour, and (don't tell Christina!) he totally sang the pants off that song. He's fantastic vocally, but I never connect with his performances. But! He did have the first (of many, many, many) choirs for the evening. So, kudos for being a trendsetter or something.
NEXT: Christina Wears a Dress of Sorts
After the commercial break, we are returned to the Christina Milian Playhouse, where she is worshipping at the church of Jermaine's parents. Should I be getting communion from Xtina?
Another fluff piece for the evening — which the judges had, like, totally no idea about at all, what a surprise, OMG! — are the tribute performances for their judges. So basically, this is like the Hunger Games. (Wait… which one is Peeta then?) Anyway, Juliet Simms is up first with "Crazy" by Gnarls Barkley. Her energy is low and she sounds very reserved.
Returning to The Christina Aguilera Show, we have her duet performance with Chris Mann — "The Prayer" by Christina Aguilera-Andrea Bocelli and Christina Aguilera-Celine Dion — and everyone (including Christina's son) has been waiting for this Main Event. On a catherdral-ized Lazy Susan made for two, they perform. They are two attractive people with attractive voices that can sing very big opera songs. Hee-hoo. Christina decided to keep things subtle and understated in her wardrobe choices and wore two extremely long, glittery nipple tassels as her dress. My favorite part about that was definitely Chris' reaction later in the evening when asked about it: "Yeah… Christina's dress… I saw that." But what did you really see, Chris? Because I don't think it was dress. 
NEXT: Tony's 99 problems and a rip-off's one!
Tony Lucca. Tony f**king Lucca. He's on some sort of crusade with every performance he does. Tonight he decided to honky-tonk it up on his rendition of Jay-Z's "99 Problems." (WHICH! America! Please do not think this is original. Because it isn't. This is a carbon copy of someone else's rendition. The show just casually left that part out because it's easier to create a storyline this way.) Do we think doing this rendition was a way to try and entice Adam Levine away from the clutches of his other bromance, Shufflin' Shelton? Intrigue! Mystery! Dudes!
Actually, it was probably just a dig at Christina Aguilera because Tony Lucca and Adam Levine are what we call (in the biz!) Bitter Bettys.
Ms. Aguilera has a problem with the song's anti-feminist nature (didn't she used to say she worked with rappers and hip-hop artists all the time at the beginning of this dog and pony show? Has she actually ever heard any rap that is currently out there today?), so Adam Levine gets all punchy and says that it's a metaphor — because Adam Levine knows the difference between a metaphor and an analogy, America! — but Christina is all "nah man that ain't what Jay is saying," so Adam Levine just gets cranky and takes his shirt off to reveal his true allegiances. Is he trying to sleep with everyone on this show or piss them off? I'm not really sure I can tell the difference.
Next: Christina's Mannwich
In order to provide some sort of pseudo-relevancy to Christina Milian's backstage mugging, she is instructed with the task of giving the finalists each a brand-new Sprint phone! Because shitty service is universally adored and way cooler than money.
Chris Mann's ode de Christina is "The Voice Within," and I just have to ask the obvious question: Do you guys think they did it? Although I do believe he called her "mom" after his performance, so that's sort of weird and makes me uncomfortable, but like, maybe that's a thing they're into? Or maybe Christina just wants to get in on a Mannwich, but he's not interested, so he desexualizes her by calling her mom?
Am I thinking about this too much?
Onto the next! Heavy-metal hippie and her coach Captain Tinyarms performed "Born to Be Wild" by Steppenwolf. All I can say about this is that our dear figment Mr. Clarence St. Clair really out-did himself with the motorcycles. I'm crying real tears of joy.
Unfortunately, there is so much fluff in this show I could stuff 16 down comforters with it all, so let's keep this brief — we've got to get back to The Christina Aguilera Show, after all!
Tony and Adam performed "Yesterday" by The Beatles because everyone always seems to think they can do justice to that song. Jermaine performed Blake's "God Gave Me You." We good? Okay good.
NEXT: Chris Saw The Sign
Chris Mann went with the most obvious choice with "You Raise Me Up" by Josh Groban. Of course, there is another choir! And a sign language interpreter! And then the choir is doing the sign language, too! Christina is crying real human tears, so is Chris. Homegirl has such a ladyboner for Chris Mann — you can just barely see it through the narcissistic commentary guys. Watch it again, you'll see it. He's a real man, America! A real man! So much so that she has to get on stage after his performance because it's The Christina Aguilera Show.
More fluff — this time in hyper-speed! — Blake & Jermaine performed the oddest of odd couple duets ("Soul Man"), and Tony Lucca paid tribute to future soulmate Adam Levine by performing "Harder to Breathe." Tony, all butterflies and tiddlywinks in his stomach, messes up the lyrics because he was too busy giggling and making eyes at Adam. In the end, Tony thanks all of the judges — not just his own — for their dedication and support during the show, but Christina is too busy texting the producers that she wasn't in enough of the duet performances to notice.
NEXT: The bird revolution will be televised
Finally, to close the show out one last time, Juliet Simms takes on "Freebird" because she is totally free and bird-like, which was made all-the-more evident with the FIERCE cape moment she had when a burst of wind from underneath the stage came up and engulfed her, shooting the cape around her like a billowing cloud of ferocity. It even made Poor Chad Kroeger look awesome. Proud Poppa Cee Lo was a bag full of tears and serious business as he declared that he had no problems, thanks to Juliet. Unlike Tony, who has 99 of them. And Christina.
So we're back tomorrow to find out who wins the whole thing. While I fear Tony Lucca may have it on lock, I hope that the universe sees that Juliet Simms deserves to win this. Only time will tell!
So what do you think? Are we hoping that Justin Bieber and Hall & Oates perform a duet tomorrow, or is that just me? Do we think the show will be super-dragged out, or just regular-type dragged out? Does Christina have the power to turn in an upset for Chris Mann in the name of The Christina Aguilera Show? Sound off below!
Follow Alicia on Twitter: @alicialutes
More:
The Voice: Our 5 Favorite Contestants So Far
The Voice Recap: Tears for Fears
Javier Colon Talks Returning to The Voice and Team AdamThe Voice