'The Voice' Recap: Pretty Girls and Unicorns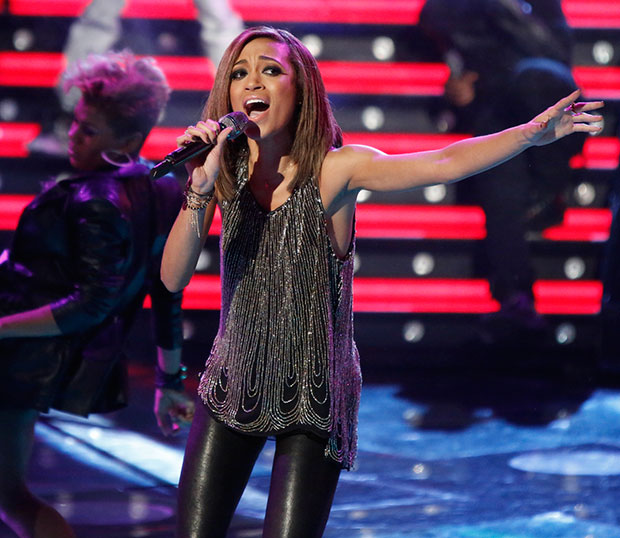 Here's what you missed on The Voice last night. Following Monday's episode, every member of the top six saw their singles chart on iTunes — with Terry McDermott occupying both the No. 1 and No. 2 positions in the Rock category (greedy!).
For the evening's first performance, Amanda Brown joins Neo for "Let Me Love You." I really like this song, and Amanda does as fine a job as always. But Neo, it turns out, kind of sucks live. His voice sounds nasal and uncomfortably strained. This explains why his eyes are conspicuously obscured by the downturned brim of his hat, because he apparently believes that if he can't see us, we can't see — or at least hear — him.
Cee Lo, draped in black sequins and a diamond necklace, seems to have coopted Christina's outfit from the night before. With none of her team members remaining, Xtina reports that she's happy to sit back and watch the competition without a personal stake in the results. "[I'm] like the rest of America right now," says the woman in a neon-pink wig and gem-encrusted leather vest, waving a delicate silver fan.
But before anything of actual interest to anyone can happen, it's time for another duet. Terry and Trevin Hunte reach across the Blake-Cee Lo aisle for OneRepublic's "Feel Again." It's nice, if dull: two undeniably talented men singing an undeniably meh song.
Carson Daly announces the first artist saved: from Team Blake, it's Terry! As they say in Scotland, "Congratulations."
The Twitter feed on the bottom of the screen manages to prove more engaging than whatever Christina Milian is talking about in the Sprint Skybox®™©. A tweet from @BlakeShelton describes guest stars Matchbox 20: "Good dudes. Real good dudes." This is how I will refer to everyone I like from now on.
Next, Amanda and Cassadee Pope duet on Kelly Clarkson's "Breakaway." Their harmonies are lovely and rich, so much so that I'm actually considering downloading this. Could it be that Cassadee's finally growing on me, or is this simply the magic of Kellbelle?
Overcome with emotion, Nicholas David tells Carson that the top six have become "a family," fondly reminiscing over "all the farts" they've shared. If that's what makes a family, I must be pretty closely related to the homeless guy who sat next to me on the subway this morning.
The next contestant to advance to next week is… Trevin Hunte! And yikes, that's already two performers saved — half the top four. Assuming Cassadee's a lock (I mean, come on), I suspect that Nicholas, Amanda, and Melanie Martinez will have to duke it out for that last spot.
Matchbox 20 takes the stage for "Overjoyed," with Nicholas and Trevin singing backup. In case you have Memento disease and suddenly forget who they are, the band has graciously provided a giant illuminated sign announcing their name, which I'd like to think frontman Rob Thomas carries with him everywhere he goes. It's a good song, and the contestants mesh satisfyingly well with the band.
And now it's time for Voice confessional round four: half-hearted impressions of the judges. As Cee Lo, contestants don oversized sunglasses, waxing poetic on "pretty girls" and "unicorns." To mock Adam, they wear torn undershirts with expensive price tags. Faux-stinas wave their fans. Fake-Blakes affect weak Southern accents. And thirty seconds of my life is gone, forever.
The next singer saved is Cassadee — meaning that Team Blake has now secured two of the final four slots.
Melanie and Nicholas come together for Fiona Apple's "Criminal," the very song that Christina recommended that Melanie cover last night — wow, how far in advance do you think these group performances are rehearsed?
They make for a surprisingly great duo, and I almost wish they'd tour together, amassing a repertoire of improbable covers of girl power alt-rock. But it's Melanie who really shines. I wish it had occurred to Adam to balance her girlish persona with grittier material earlier on. Is this last-minute performance too little too late?
Carson announces the first of two artists to be eliminated tonight: sadly, it is indeed Melanie's time to go. After watching her kill it on "Criminal," I'm suddenly (and depressingly) overwhelmed by interesting song choices she never had a shot at. What about Juliana Hatfield? Or even Kate Bush?
But don't sweat it, baby girl — you'll have a line of dresses out at Hot Topic within months.
With only one spot in the final four still up for grabs, two contestants remain on stage: Nicholas David and Amanda Brown. I hate the idea of losing either of them, but Nick is my man. (Did I vote the maximum 10 times for him last night? No. Maybe. Yes. Okay, I voted for him 15 times, just in case there was a bug in the system.)
And the last member of the final four is… NICHOLAS DAVID! A full beard has spontaneously sprouted from my face out of joy and solidarity.
The Voice returns next week, when the final four will be reduced to only two. Follow Molly on Twitter @mollyfitz.
[Image Credit: Tyler Golden/NBC]
More:
The Voice Recap: 50 Shades of Blake
The Voice Recap: The Cee-Bow Connection
The Voice Recap: Somebody Too Close to Love Someone Like You

Harry Styles Spotted Outside Taylor Swift's Hotel Room The Morning After Their Date Night (PHOTOS)

Fall Bikini Bodies: The Good, The Great, The OMG (GALLERY)