'The Voice' Recap: Somebody Too Close to Love Someone Like You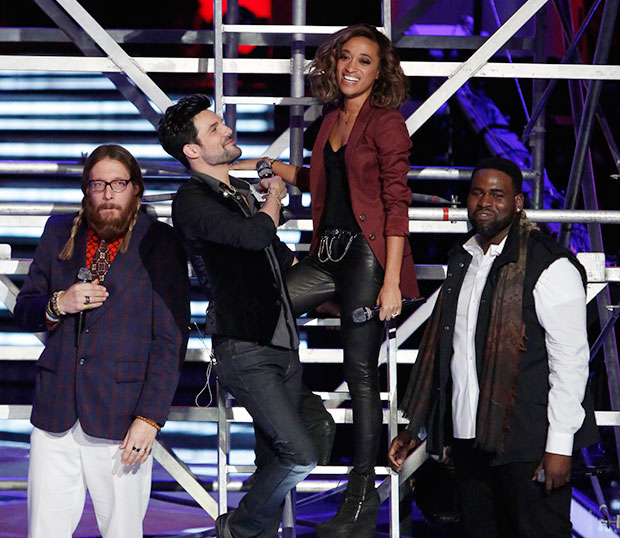 Yesterday was Cyber Monday, so I watched last night's episode of The Voice on my ten 10%-off (10 times 10 equals 100% off; I am a financial genius) plasma TVs I bought earlier that morning with Amazon Prime One-Hour Shipping. Here's what you missed.
No one has cared so much about a Top 8 since back when MySpace had more than four active users (and, let's be real, one of those is Tom). Cee Lo Green is the only coach to have retained three artists in the competition, while Dez Duron stands alone as the sole remaining member of Team Christina—Obi Dez Duroni, you're her only hope. (Considering her recent hairstyles on The Voice, it's only a matter of time till Xtina shows up for a taping in Princess Leia buns.)
The show starts with 50 Cent and Adam Levine dueting on their new single "My Life." A fog machine on full blast and an abundance of neon "50" signs can't distract from how meh this is. I'd rather see Adam perform with some kind of freaky asylum patient from American Horror Story.
The first to take the stage for Team Adam is Amanda Brown, former Adele background singer—going full All About Eve with a cover of the English superstar's "Someone Like You." But this ain't no ballad. Amanda brings a gritty, rock-and-roll edge to her performance, completely transforming the song's tone. Get it, girl.
Cee Lo envisions Cody Belew as a latter-day Freddie Mercury, so what better song for him to cover than Queen's "Somebody to Love?" This classic track requires personality as well as power, and boyfriend delivers—recovering from last week's Beyoncé misstep with a performance grounded in strong vocals.
But that's not to say Cody's lost his oddball "bam bam" charm. When he climbs atop a grand piano—as a full choir in floor-length robes looks on—it's clear that he's more in his element than ever.
Cassadee Pope, Dez Duron, Melanie Martinez and Terry McDermott band together for a version of the All-American Rejects' "Move Along." For reasons that escape me, they are accompanied by Max Headroom lookalikes in sleeveless suits, banging on light-up garbage cans with glowsticks. Yup.
Terry is up next, performing coach Blake Shelton's own (!) "Over." Blake modestly explains the song is "better suited for Terry" than it ever was for his own voice (ugh, humility dreamboat), and that he wants America to see McDermott perform something other than classic rock.
Terry's rendition is completely solid, but not terribly exciting—save for a weird, avant garde close-up of a lightbulb, because somebody behind the camera just wrapped up their first prereq for their Film Studies minor.
Though she's complimentary overall, Christina points out that Terry's voice falters slightly in its lower range. It's interesting at this stage to see the backhanded compliments and subtly passive-aggressive digs emerge from competing judges (the exception to this is Blake, who is a perfect, guileless, broad-shouldered angel). They may no longer have a direct hand in who's eliminated, but damn if they won't try to sway how America votes.
Team Adam's baby sister Melanie Martinez covers "Too Close" by Alex Clare—she mentions that she's chosen this song because she's "going through a break-up," and I wonder if we'll soon have another Taylor Swift on our hands.
This is, in many ways, a standard Melanie performance, but arguably her best so far—this time the raspiness doesn't feel forced, and her power crescendoes perfectly at the chorus. Melanie looks increasingly mortified each time Adam offers to beat up the boy who apparently wronged her, and I suddenly realize—oh no, she broke his heart. Awk. Somewhere on Long Island tonight, a 17-year-old is crying into his AP Chem textbook. We feel for you, bro.
"A lot of people peg me as this Yale quarterback jock guy," Dez Duron says with a smirk. No, Dez. No, they don't. In fact, we peg you as the type of guy who'd cover Justin Bieber, which is exactly what you're about to do.
It's actually irrelevant how well Dez sings "U Smile," because he'll automatically win the vote of every prepubescent female in the country no matter what he does. I find Dez hopelessly boring, and am embarrassed to admit I sort of stopped paying attention mid-song. As an apology, please accept this actual fan comment left on a recent photo uploaded to Dez's Facebook fan page: "He.Is.The.Sexiest.Thing.On.This.Universe."
After last week's ill-conceived detour into dance music, I'm so relieved that Trevin Hunte has chosen "The Greatest Love of All," the gold standard of ballads. Increasingly confident—and looking the part of a supah-star in a supah-sparkly blazer—Trevin does some of his best belting yet. "I really hope that this is heaven," Adam sighs.
Christina Milian is babbling about something to Terry McDermott when, all of a sudden, his wife and son appear in the Skybox alongside them. They giddily make out (Terry and his wife, that is—not his wife and his son, nor his wife and Christina) and it's possibly the sweetest thing ever.
For the evening's second group number, Cody, Trevin, Cassadee Pope and Nicholas David perform "Any Way You Want It" (is Journey secretly NBC's majority shareholder?). In general, these group performances by their nature struggle to surpass the awkward choreography of a middle-school class concert, but this is a strong showing from a strong ensemble.
Baby-daddy-to-be Nicholas David's rehearsal with Cee Lo is joined by soul legend Bill Withers, there to help David hone his rendition of "What's Goin' On." Nicholas can't help but stare at Withers—whose "Lean on Me" he covered last week—literally open-mouthed at the sight of his hero. D'aww.
As you've probably come to expect from Nicholas, the performance is so, so good. In terms of musicianship, he's such a refreshing change from his competitors—who frequently sing with virtually untouched prop guitars—as he makes the keyboard his b-word week after week.
Closing out the night is Blake's Cassadee Pope, still riding high from topping the iTunes charts last week. She takes on Michelle Branch's "Are You Happy Now," tapping into the "spiteful" side of the song—inspired by her painful history with her out-of-the-picture father. (Maybe this also served, obliquely, as emotional fodder for "Over You?" Maybe I spend too much time thinking about Cassadee Pope's childhood? Maybe you don't know me? Maybe you should back off because you'll never understand Cassadee's and my deeply personal connection?)
Back in her pop-punk wheelhouse, Cassadee turns in a strong performance, if not a particularly unique one. For me, it was a letdown after last week's country revelation. Nevertheless, Adam proclaims her to be the show's new "front-runner."
The Voice returns tomorrow night at 8 p.m., when the bottom two artists will be eliminated. Follow Molly on Twitter @mollyfitz.
[Photo Credit: Tyler Golden/NBC]
More:
'The Voice' Recap: Thanksgiving-sing
'The Voice' Recap: Perfect Ten

Chris Brown Makes NSFW Poop-Related Insults, Deletes Twitter Account

'Liz & Dick' Is Bad in the Worst Possible Way: Review