'The Voice' Recap: Stayin' Alive (Until Next Week)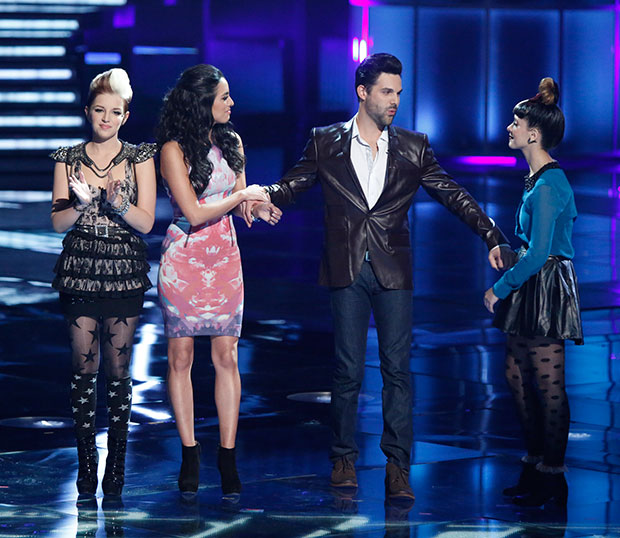 Welcome back to text The Voice. Last night's episode saw the top 12 reduced to only 10 — from now on, all that counts is your votes, with the worst-performing contestants to be eliminated regardless of which team they're on. We've dissolved the electoral college, but I still can't shake the feeling that Florida's going to find a way to screw things up anyway. Also, don't forget that live performances downloaded from iTunes count as a vote for that singer. (This, incidentally, is how Super PACs work.)
The episode opens with the live premiere of Christina Aguilera's new single "Make the World Move," which confusingly samples the horn intro from "Hips Don't Lie." The song features our very own Cee Lo Green, whose primary role in the performance is to stand around and wield a staff. He does it well. The song is good, and the whole production has a fun Gaga-in-Wonderland feeling.
The show briefly reverts to a favored reality TV trope, the confession cam, except everyone is sober, and no one is Snooki. The contestants share anecdotes about their newfound fame and being recognized on the street for the first time. "For some reason, moms love me," Bryan Keith creepily boasts, while Michaela "The Mohawk Girl" Paige complains that she's always referred to as "the mohawk girl." Terry McDermott insists that his hairdo isn't a mullet, and the cutest part is that he really believes it, too.
Carson Daly announces that the two artists who earned the most votes — and the first two to advance safely to the next round — are Sylvia Yacoub, Team Xtina's diva supreme, and Bryan Keith, proving that moms represent a formidable voting bloc.
After the commercial break, Jason Aldean — who is, apparently, a very famous country star — performs "The Only Way I Know," with backing vocals by Dez Duron and Bryan. In case his twang and cowboy hat weren't enough to indicate that Aldean is Country Strong, an obligatory rocking-out reaction shot of Blake Shelton handily confirms it.
The next artists saved are Team Cee Lo's soul man Nicholas David and animate Ken doll Dez of Team Christina. So far, every coach has had at least one team member advance to the top 10 (Christina has two) except Blake. Get it together, Shelton!
Aldean tells Christina Milian that he and Blake first met as opening acts for Rascal Flatts in 2006, and mentions that Blake once had the "gnarliest" mullet around. BRB FRANTICALLY GOOGLE IMAGING NOW, because you are useless, Milian. I'm not sure it's a mullet per se, but whatever it is, it's glorious. Blake's devotion to Terry makes all the more sense now, and I will forever imagine his courtship with wife Miranda Lambert as a Southern, gender-reversed reboot of She's All That.
Cee Lo and his team — Trevin Hunte, Nicholas David, and Cody Belew — offer a glorious cover of "Stayin' Alive," complete with leisure suits, disco balls, and a light-up dance floor. Before I watched The Voice my day was tracking at about a three out of 10, but this performance alone ramped things up to a 5. Trevin and Nicholas are great, but Belew absolutely excels, nailing a flawless Bee Gees falsetto.
Saved next: the 18-year-old pride of Queens (and Team Cee Lo) Trevin, and Team Blake's (and Hey Monday's) Cassadee Pope.
For his first performance of the season, Blake joins Cassadee, Mohawkla, and Terry McMullet (please send the Pulitzer directly to my P.O. Box, thanks) for "Life Is a Highway." It's a lot of fun, if tragically devoid of Cee Lo and Christina-brand insanity — it's also nice to see how undeniably competent these pop-punk and rock artists are within a relatively unfamiliar genre. In other news, I bet Blake smells really, really good.
Mullet trumps mohawk — my word processor aggressively insists on capitalizing Mohawk, because it thinks I'm writing a thoughtful history paper on the Iroquois confederation — Terry McDermott is saved next, along with Team Adam's Amanda Brown.
In the episode's final moments, cutie-pie Melanie Martinez and cutier-pie Cody Belew become the last two contestants to advance to the top 10. Michaela and Adriana Louise are sent home, but not without a few obligatory close-ups of their strained, tear-stained faces. Are you not entertained?
The Voice's top 10 performers return Monday at 8 p.m. Follow Molly on Twitter @mollyfitz.
[Image Credit: Tyler Golden/NBC (2)]
More:
The Voice Recap: Hit the Road, Jack
The Voice Recap: How Am I Supposed to Live Without Trevin?
The Voice Recap: Rock the Vote

'Twilight Saga: Breaking Dawn — Part 2' Star Kristen Stewart on 'Twilight' Finale: I'm 'Desperate' For a Job Now (VIDEO)
(Celebuzz)