'The Voice' Recap: Terry McDermott and the Sundance Kid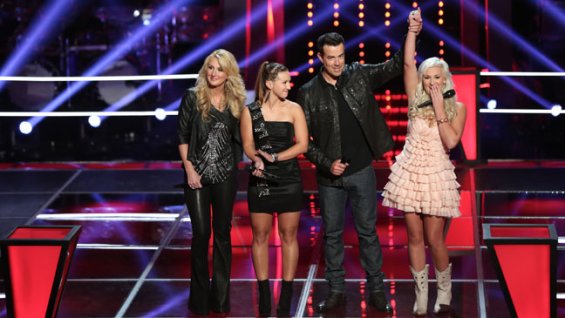 Last night's episode of The Voice marked the beginning of the battle rounds. Performers face off against members of their own team, with one competitor to be eliminated after each duet. (This is where I'd make a timely Hunger Games reference, if I knew anything about The Hunger Games besides a. Jennifer Lawrence and b. teenagers killing each other with arrows?)
This season, coaches can steal a losing contestant away from another team with by pressing their buttons. ("We paid for the freakin' things," I can imagine a grizzled props manager grunting, "We might as well use them.")
In other news, Adam, Blake, Christina, and Cee Lo have finally changed out of the outfits they wore throughout all the blind auditions — presumably to make editing out-of-order for heightened drama possible — and I no longer have to worry that they've been locked without food and water in the auditorium weeks at a time. But just in case: If you're being held against your will, Xtina, look bored and unimpressed during every performance. I'll send help.
Aided by mentor Michael "Hamm and Bublé" Bublé, Blake pairs up Casey Muessigmann — remember his ass-spanking rendition of "Sweet Home Alabama"? — and Scottish rocker Terry McDermott. Both singers auditioned with rock anthems, so Blake assigns them the Kansas classic "Carry On Wayward Son."
Casey's omnipresent cowboy hat (a Hulk Hogan-esque ploy to conceal premature baldness?) makes for an entertaining contrast with Terry, who looks like an aging Justin Bieber that fired his manager and neglected to trim his hair for months.
Though Casey's country take on "Carry On" is fun, he's easily overpowered by Terry's formidable rock-and-roll chops — even country boy Blake has to agree, choosing McDermott. None of the other coaches steal Casey, and I feel improbably sad, like The Voice has suddenly become an ASPCA commercial about dogs that don't get adopted (please, for the love of god, no Sarah McLachlan covers tonight).
Next up, Adam and mentor Mary J. Blige pit Bryan Keith, son of a Grammy-winning Latin artist, against pleasant, enormous-faced Collin McLoughlin.
Sublime's "Santeria" challenges the artists to nail a difficult balance of toughness and sweetness. In rehearsals, Adam compliments Collin's "razor-sharp pitch" but encourages him to explore the song's emotional complexity. The coach also grows increasingly frustrated by Bryan's apparent inability to deliver a convincing Adam Levine impression.
In their battle, Collin brings a likeable reggae flair to "Santeria," but Bryan's winning personality lets him do exactly that: win. Fortunately, Forehead McGee's fairy tale doesn't end here — Blake steals him for Team Shelton.
Native Peruvian Diego Val and YouTube star JR Aquino duke it out on "Jessie's Girl" for Cee Lo and team mentor Rob Thomas. Diego struggles with memorizing the song's lyrics (uh, really?), while Cee Lo pushes JR to "dirty" up his pristine, nonthreatening voice.
Ultimately, neither performance is exceptional. JR delivers an emotionally unsatisfying but well-executed cover, but Diego — whose mannerisms, full disclosure, have started to annoy me — sounds a little pitchy. Nevertheless, Diego it is, and JR is sent home to the small comfort (ahem) of his nearly 500,000 video subscribers.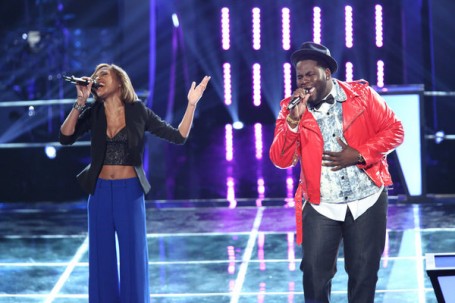 With Billie Joe Armstrong (who is, ermahgerd, totally watching this episode from rehab right now) at her side, Christina chooses "Message in a Bottle" for the charmingly genuine Nelly's Echo and the adorably androgynous De'Borah.
Between Billie Joe's cheerfully constructive criticism ("Even the mistakes you're making sound amazing," he tells De'Borah) and Nelly's reference to finding one's "best self," this segment feels like a group therapy session, and maybe even an ill-conceived network tie-in with NBC's five hundred hourly promos for Go On.
Though De'Borah is initially flustered by Nelly's connection with the song, they both excel in front of the coaches, performing a creative, lively, and well-matched duet. Christina finally picks De'Borah, if only for her fantastic outfit (part NBA hipster, part Steve Urkel). As De'Borah's parents tearfully embrace her backstage, I experience many feels inside my heartholes.
In Team Blake's second battle of the night, yodeling Gracia Harrison takes on mother-daughter duo 2Steel Girls. As the three rehearse the Dixie Chicks' "Sin Wagon," Mama Steel grows nervous that the song doesn't suit her voice, while Gracia works to overcome her natural shyness.
But during the battle, Harrison radiates confidence, looking like a cowgirl version of Glinda in an Oz-ready pink minidress and boots. Though 2Steel Girls harmonize beautifully, having three performers on stage makes for awkward choreography — mom and daughter become unwitting back-up singers, nervously standing to the side while Gracia rocks out center stage. Unsurprisingly, it's she who wins the battle. Though 2Steel Girls are, in Carson's words, "available to steal" (or are they available… 2STEEL?), no one claims them.
The episode ends with another Cee Lo match-up: former Adele background singer Amanda Brown vs. 18-year-old Trevin Hunte, who previously brought down the house with a cover of Beyoncé's "Listen."
Cee Lo picks Mariah Carey's "Vision of Love" to test the pair's power and control, but it soon becomes clear that these two are more than he bargained for. Rob Thomas throws his hands in the air in surprise as Amanda, who is distractingly gorgeous, immediately starts flawlessly belting the song — leaving the already characteristically nervous Trevin visibly shaken.
Their live performance escalates beautifully, electrifying yet amazing controlled. Jeebus, I have no idea who is better; neither, it seems, does anyone else. Undeterred, Adam climbs atop his chair and commits to steal whichever performer their coach doesn't choose.
Cee Lo, who must make terrible March Madness brackets, admits he was foolish to undervalue Amanda, but decides on Trevin instead. Don't worry, Amanda — Adam is more than happy with his sloppy seconds.
The Voice is back with more battles tonight at 8 pm. If there's any justice in this world, at least one pair of singers will wear Brady Bunch-style matching jumpsuits and bust out an elaborate, synchronized line dancing routine (that one's for free, producers).
Find me on Twitter @mollyfitz.
[Image Credits: NBC]
More:
The Voice Preview: It's Time to Battle It Out! — VIDEO
Fun With Ratings: The Voice and Revolution Win Again