'The Voice' Recap: The Cee-Bow Connection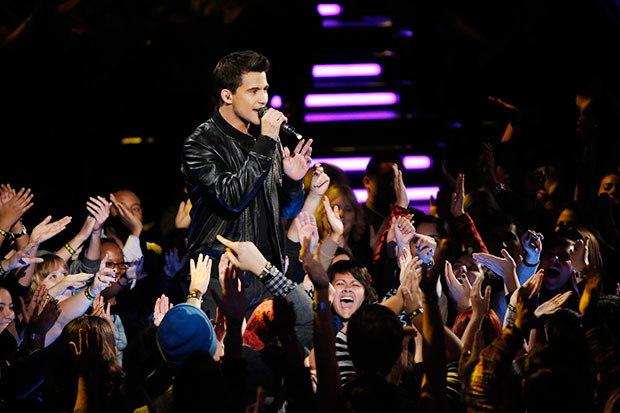 Last night's results show began — as they all do — with reheated footage from the previous episode. It's occurred to me that there's no reason to think the artfully vague comments spliced in from each coach were actually filmed in the last twenty-four hours. For example, that clip of Blake Shelton announcing his team "absolutely, 200 percent dominated" could have just as easily been taped years ago.
Carson Daly announces that recordings of Terry McDermott and Melanie Martinez's most recent performances have topped the iTunes Rock and Alternative charts, respectively, while Cassadee Pope earned the most downloads of any contestant this week.
We've entered that bittersweet stage of the season when no one sucks anymore. No matter what happens, two fabulously gifted singers are leaving tonight — unless Dez Duron is sent home, in which case, high fives all around. Admittedly, a large part of why I hope to see Dez (the last member of Team Xtina) eliminated is because I'd love to witness Christina in pissy senior spring mode.
For the first performance of the night, Team Adam's Amanda Brown and Team Cee Lo's Trevin Hunte reunite for Lady Gaga's "Marry the Night. The fun they're obviously having is infectious, but this cover is only a faint glimmer of the glory the pair achieved with their "Vision of Love" in the Battle Rounds.
In fact, the highlight of this performance is the distractingly bizarre costumes of the background dancers, one of whom wears — I actually paused for this — camouflage tights, red checkered sneakers, a Mardi Gras-bead wallet chain, and a Foot Locker uniform emblazoned with a pink map of Africa. And again, that was only one of them.
Carson announces the first artist saved by America's votes: surprise, surprise (sarcasm, sarcasm), it's Cassadee Pope.
In a pre-taped sequence, Cee Lo recruits his full teams from seasons past and present — I see you, Mackenzie Bourg; what up, boo? — to perform at a Christmas show in Las Vegas… along with the Muppets. It is amazingly weird, and weirdly amazing. (P.S. Remember that time I said Nicholas David looks like Dr. Teeth?! Glad to see you've been keeping up with my recaps, NBC.)
The Muppets then invade the Voice soundstage as Kermit joins Cee Lo for a rendition of "It's Not Easy Being Green" — Cee Lo's last name, as well as the color that frogs are! (!!!). Cee Lo is dressed in a green ensemble that Aretha Franklin might wear to a Royal Wedding in space. The whole production is as sweet as it is surreal.
And now it's time for Voice confessional round three: pre-show rituals. Trevin caresses his stomach. Dez runs in place. Cassadee burps herself, "but from the front." Blake watches The Golden Girls (he's such a Rose, am I right?). Nicholas grooms his facial hair. Melanie restaples her bow to her skull.
The next artist to advance to the top six is — hooray! — Amanda Brown.
In a performance Carson somehow sees fit to declare "memorable" before it even begins, Terry, Nicholas, Melanie, and Cody Belew collaborate on the Plain White T's "Rhythm of Love." It's lovely. There's a hint more of Terry's Scottish accent than usual (yes, please!), and the simple staging — the four sit in a close circle — perfectly suits the song.
Carson invites the top eight to guest star on his early-morning radio show, which to my great disappointment turns out to be a real thing and not a network of tin cans in his basement.
The third member of the top six is… Melanie Martinez! After the break, Cassadee and Dez perform "Hate That I Love You." Their harmonies are surprisingly good, but the duet fails to match the evening's other performances in either quality or weirdness.
The next artist chosen is — double hooray! — Nicholas David. In my mind, Nicholas can do no wrong, even though I hadn't bargained on the semi-phallic, vertical man-bun he'd be wearing tonight.
Yikes, we're down to four, but only two of Terry, Dez, Trevin, and Cody will survive. To my great delight, Terry McDermott — whom I love, but had all but written off — becomes the fifth contestant to make the top six.
The last singer saved is (I am borderline panic attack right now) Trevin Hunte! He immediately starts crying, which immediately makes me cry, which immediately freaks out my dog.
I'm sorry to see Cody go, but not nearly as sorry as I would be to see Dez stay. Besides, I have all the confidence in the world that this won't be our last chance to experience the Belew bam bam.
The Voice returns next Monday with live performances from the top 6. In the meantime, follow Molly on Twitter @mollyfitz.
[Image Credit: Tyler Golden/NBC]
More:
Somebody Too Close to Love Someone Like You
The Voice Recap: Thanksgiving-sing
You Might Also Like:

Best Nude Scenes of 2012 — PICS

'Hunger Games: Catching Fire' First Look: The Quarter Quell Begins! — PICS