'The Voice' Recap: The Hardest Part of Breaking Up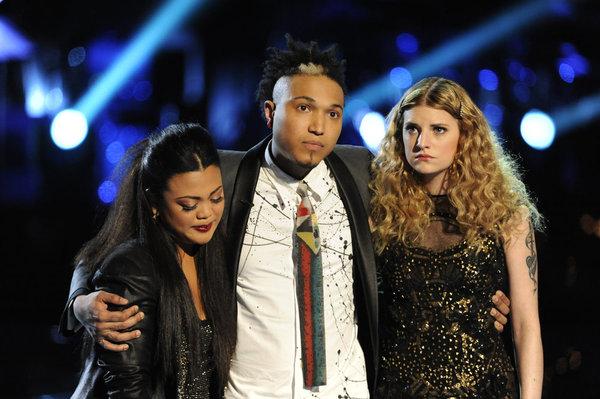 I have to say, Voice fans, I'm probably more into the elimination shows than the performance shows: They cut like a knife. They're fast-paced (generally) and to-the-point. Ruthless, just like every good reality series should be — who needs feelings, am I right? I just sold mine back to the Feelings Store because a 401K actually did end up sounding more enticing. So let's get to it.
Sister ginger from the planet Fleetwood — Florence Welch — and her merry band of machinations are here to perform their new tune "No Light, No Light." The song is not my favorite from her latest album, but future auditioners of The Voice, take note: THIS is how you give flowing, bohemian glamour and realness. All of the weirdo whisper singers the audition rounds seem to fancy should study Florence's sleeves because that's where she keeps all her magic and secrets. (The red hair is a decoy.) Allegedly, Team Cee Lo helped her perform, but I didn't realize that until Carson mentioned them. Florence will take ALL of the spotlights, thankyouverymuch!
Also kudos to imaginary set designer Clarence St. Clair on that stage: It was like an art deco altar to the sun gods.
Carson, trying his best to physically emote even though they've run out of oil for his joints, walks us through a condensed version of the Team Adam performances (because two hours of them last night weren't enough): Katrina's heart game is first, followed by Mathai's peckish acrobatics, and Tony Lucca's teen dream.
Tony is safe. To the surprise of exactly 0.0 percent of the population! It's good to have Justin Timberlake in your corner, y'all. Time for Katrina and Mathai to sing for their supper.
But first we move over to Team Cee Lo. Jamar's fiery furnace, Cheesa's shattered dream, and Juliet Simms' fight of flight. Who will be in the clear here?
BREAKING: Juliet Simms Seen Wearing World's Fiercest Dress. America tells her to "WERRRK!"
Jamar is safe! This is another bit of fine detective work by Captain Obvious. It's time for Cheesa and Juliet to perform, after the commercial break.
We know where this is going, right? I mean, let's not kid ourselves. We do, America. We really, really do.
NEXT: Let the last-chance performances begin!Ugh. Milian. NEXT!
Mathai is up to perform a little ditty called "Cowboy Casanova." Was this really the best song from that random list of song options I imagine the producers give these kids 10 minutes before they perform? Really? Also, is The Voice running some sort of singing school that tells you mega-runs at the end of every. single. song. will make people think you're good? Because all of the contestants do it, and it comes across as this strangely desperate attempt to tell viewers and mentors, "Look at me! Look at me! I'm a pretty princess and I'm worth every penny!" Vocal runs are the cockroaches of our time.
Blake is up first with the critiques, and of course he loves a country song because Blake Shelton is not actually human but an amalgamation of musical instrumentations held together by banjo strings, twang, and beer foam. Christina was glad Mathai showcased an aggressive side, but said she was visibly nervous. Cee Lo agrees with Christina. He appreciated it, which is like patronizingly patting her on the head with his condolences.
Katrina sings "Perfect" and I am so sick of this song. I have this relationship with every Pink (I'm sorry, P!nk. God, she's so EDGY!) song ever. "My life is so crazy! Everything is misunderstood! But don't worry, everything about me is great! I'm a bad-assed outsider loser with a heart of gold!" We get it, P!nk, you're an underdog. And underdog that makes millions of dollars. Cool.
Katrina's performance is solid. Blake says that Katrina is the best singer on Adam's team. This is a fact. Christina agrees and is really excited to hear original material sung by Katrina. Cee Lo plays parrot and also agrees.
See, the problem that Katrina has is the same problem that everyone on this show has: The Tony Lucca Problem. Don't get me wrong, there are worse issues to have (Ebola? Cat scratch fever?), but everyone and their mother's Facebook friends know that Tony Lucca is America's favorite alterna-sensi-Ken doll. Tony Lucca is the guy that was probably too lazy to join a boy band and ended up playing coffee shops until his twinkly good looks and lovely little gee-tar strummin' got him noticed by some folks. (At least, that's how it went down in my imagination.) I rooted for Tony until I didn't root for Tony. Because about two weeks ago I realized Tony is really nice milquetoast with a pretty/scruffy voice. Yes, he should totally be successful and have a career that gives him some nice things, but is he The Voice? The eternal question lives on.
NEXT: Hard. This thing is hard. We return to more awkward backstage blathering, brought to you by the Bump-It on Christina Milian's head. The only thing worth noting is that Lindsay Pavao's make-up is confusing — girl, why are you trying so hard when you're not performing?
Carson, always the stoker of the flames in the least stoked fashion wants to know: Who would you save from Team Adam? All the judges say they would save Katrina except Cee Lo. Welcome to recapping The Obvious Show! Literally no one is surprised by any of this. Even Mathai is visibly thinking, "Yeah, yeah. Katrina should totally stay. And yes, Cee Lo thinks I'm pretty so obviously he likes me best." This is a game.
Adam goes into over-explanation phase when Carson asks him who is going home from his team. We think we just want answers but Adam knows that what we really want is to hear how hard it is to make decisions on a television show. (I'm sorry, guys, is my glass of wine showing?)
Adam needs to decide, but guys, this is like, so hard. Like hard. You know what's hard? This. It's like, um… like a rock. Not like rock 'n' roll (which is totally hard but in, like, a different way) rock, but, like, that thing made of minerals that lives on the ground! That's a thing that is hard, man. A rock, that's what this is like. Just like this thing that Adam is doing right now: deciding who to send home. See? Hard.
Yadda, yadda, yadda — the girls are both snowflakes: totally unique, just like everyone else! Adam barks at the audience a bit, but he wants to get across to everyone that this is totally hard. For real. Katrina blew his mind and made it way farther than he ever thought, while he was constantly waiting for Mathai to explode.
…and that's why she's going to go home. Fly away like a bird, Mathai! At least she gets a hug as a consolation prize. I mean, it sure did look like a nice hug, though.
NEXT: Just add tears!We're back from commercial and just in time, too, because now we get to experience more of Christina Milian's "social media" sessions, where she puts her Pulitzer Prize-winning journalism skills to good use. "How? What? Feelings? Pretty! Handsome!" and then a producer feeds into her ear the words "Twitter! Trends!" and she's done.
Cheesa is singing "Already Gone." She's a little flat at points, pitchy at moments, and definitely hinting at something with her song choice. I mean, right?
Blake agrees with me. So does Christina, even though she thinks Cheesa was full of courage. I like it when we all get along, guys; this is nice! Adam agrees with Christina. Cheesa's face is melting with sadness. She probably went backstage and collapsed, the weight of her sadness turning her bones to dust. Cheesa is now a sad body made of dust and regret. Here lies Cheesa.
Juliet sings "Torn" because the '90s are somehow vintage now and every time someone says either a.) that or b.) that they were born in the nineties, one of the eight Horcruxes that is keeping me alive dies. She's weak at the beginning — being able to control that weakness in an effective/emotive way is actually, well, a weakness of hers — but overall, it's pretty good. The energy and connection is already worlds above what Cheesa just did. Juliet's Clueless-era hair situation is not, though.
Blake says he loves Juliet now (though he didn't used to) and her performance is a testament to how consistently radical and original she is — he gets it. (Way to be late to the game, Blake.) Christina loves her voice, but the "softer bit" (the beginning of the song) isn't her favorite place for Juliet's voice to be. Christina thinks that if Juliet does another "Roxanne"-esque performance, she could take the competition. You heard the woman! I didn't even have to say it! Christina, girl, get out of my skull parts!
NEXT: From Three Lo to Two Lo. Blake would pick Juliet. Christina would pick Juliet. It's a Juliet party and Cheesa is clearly not invited! Cuts like a knife. Like I said!
Anyway, Cee Lo asks the ladies to smile in the "face of this adversity," which, ha, yes, they are facing a lot of adversity on a fancy television show, replete with the over-the-top set pieces of Clarence St. Clair, beauty squads, styling teams, and other fancy folks that make them look and sound good all the time. Real adversity. They are so brave.
Cee Lo picks Juliet. No one is surprised except maybe for Cheesa, who is blown away by a strong wind that suddenly gusts through the studio. Was that a tumbleweed?
So there we have it! We're getting very close, America. Who are your favorites? Who do you think deserves to stay or go next week? Are you nervous? Do you need a sandwich?
Tune in next week for more of the same! Should be a perfectly adequate way to spend a Monday. Make sure to come back here so we can kick it with the real talk.
Follow Alicia on Twitter @alicialutes
[Image Credit: NBC]
More:
The Voice Recap: Hit Me Baby With One More Set Piece
The Voice star Adam Levine Beaten & Bloody in New Video — PIC