'The Voice' Recap: There Can Only Be One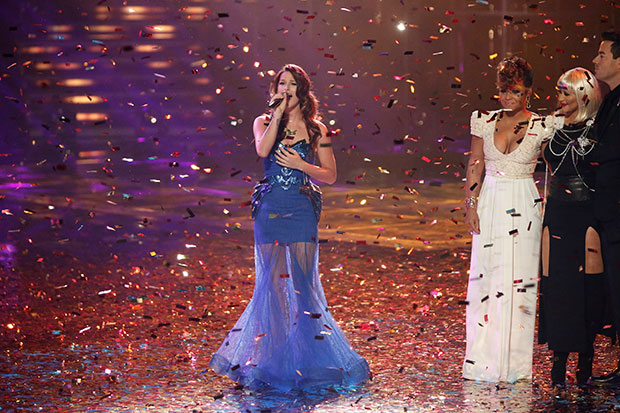 Last night marked the season three finale of The Voice—pop-punk cutie Cassadee Pope, Minnesota soul man Nicholas David, and Scottish rocker Terry McDermott faced off for the top spot. Who was crowned the winner? Did the broadcast suddenly cut to black as the finalists performed "Don't Stop Believin'?" Is Blake Shelton really Gossip Girl? Stay tuned.
Rihanna starts the show with "Diamonds," her only hit I don't actually like. It's a solid performance, though she seems oddly sleepy, and more or less trails off at the end. Overall, I'd have rather watched two minutes of Rihanna reluctantly making awkward small talk with Carson Daly backstage.
Terry McDermott takes the stage for "Rock and Roll All Nite," along with some familiar faces: Amanda Brown, Bryan Keith, and his Team Blake-mates Michaela Paige and Rudy Parris. KISS is near and dear to my heart—I drove on Kissena Boulevard (their supposed Queens thoroughfare namesake) today, y'all—and I enjoy this, but it's nowhere near as campy as I'd like. The standout is the irrepressible Amanda, whose killer performance is almost poignant; she should have made it to the finals.
Nick accompanies Smokey Robinson on the R&B hero's "Cruisin'." I hate to throw shade at a legend, Smokey, but you look terrifying. I know plastic surgery can be addictive (and I guess you do appear a lot younger than 71?), but you look like a rejected Madame Tussauds version of yourself. Let this be your Ghost of Christmas Future moment, Bruce Jenner.
Next, Cassadee Pope joins The Killers for their "Here with Me." I was a Killers mega-fan in high school, but man, this is disappointing (though I'm not gonna lie, you look good, Brandon Flowers). It's boring, slow, and kind of warbly—if this is the big single, what's the rest of the album like? But this works out well for Cassadee, who improbably proves to be the highlight of the song.
After an utterly unnecessary visit from the "cast" (?) of The Biggest Loser, Mackenzie Bourg, Diego Val, Dez Duron, Cody Belew, and Julio Castillo return for "Stacy's Mom." It's a lot of fun, though I'm not sure how the retro diner set and pretty waitresses fit in with the song's narrative. The arrangement smartly gives each singer leave to apply his unique style to his individual lines. Also, I can't tell if Mackenzie's costumed as a nerd or if he's just dressed in his normal clothes, but either way: precious.
We're treated to a preview of next season—with Shakira and Usher pinch-hitting for Cee Lo and Xtina—that's hokey but charming (the same could be said about The Voice in general). The four fight over the car radio in Blake's beat-up pickup until they settle on (and sing along to) "Total Eclipse of the Heart," the greatest song ever written.
In a beguiling cape-slash-jumpsuit, my galpal Kelly Clarkson—who knows a thing or two about winning televised singing competitions—performs "Catch My Breath" with Terry and Cassadee. A fan of the show, Kelly tells Carson that she watched the last episode at "my fiancé's house," then—surprised and excited by the sound of those words coming out her mouth—says them again. Turns out he only proposed a few days ago! D'awww.
Cassadee recruits the stylistically diverse trio of Melanie Martinez, De'Borah and Liz Davis for "It's Time" by Imagine Dragons. This is one of the better ensemble performances I've seen on the show; their voices mesh beautifully. Also, it's strange how Liz seems about ten years older than she actually is (25), while Melanie looks ten years younger.
After Smokey's appearance, it's a relief to see that Peter Frampton has aged like a human. Terry, clearly humbled in the presence of a classic rock icon, provides backing vocals on "Baby, I Love Your Way."
But there's more girl power to come, with Joselyn Rivera, Adriana Louise, Sylvia Yacoub—mah gurl, who I once assumed would reach the final three—Devyn DeLoera, and Loren Allred. These ladies bring it for The Emotions' "Best of My Love," complete with Supremes-style choreography (and Supremes-style attitude).
Pseudo-Santa "Saint Cee Lo Green" rolls up on a sleigh—with obligatory sexy elves in tow—to announce that each finalist has won a new car from Kia. Come on. The number of Kia commercials I've endured over the course of this season has got to entitle me to at least a third of a Sorento.
After another 13-hour commercial break, we're back with Bruno Mars and a fine but forgettable "When I Was Your Man."
Nicholas has invited Trevin Hunte, Dez and Amanda (girlfriend's dance card is full tonight) back to perform Boyz II Men's "End of the Road." It's nice to see how consistently supportive the Voice community is—even if you're eliminated relatively early on, you've got a solid chance of landing more screentime (and possibly a record deal) later.
To her delight, Cassadee Pope has the chance to duet with her "hero" Avril Lavigne on "I'm With You." My inner 14-year-old is excited to see Avril, though she seems standoffish, and looks a little like she could use a bath (doesn't it look like all that heavy shadow has irritated her eyes?). But it's a nice performance, and Cassadee's jumping-up-and-down enthusiasm is endearing. By the way, Pope's costume changes have never been more impressive. Her eyeliner's been at least two different colors in the last half hour.
After the coaches perform Green Day's "Good Riddance (Time of Your Life)" (where is mentor Billie Joe Armstrong when we need him most?), the three finalists join Carson onstage for the episode's final moments.
My heart is racing. My dog has inexplicably started barking. This is about to get real.
Nick looks so nervous I'm concerned he might pass out. As Terry describes his desire to win in honor of his wife and child, the camera cuts to a shot of Nick's family. Priceless.
Without further ado, Carson reveals the artist in third place: it's Nicholas David. He's long been my all-around favorite, and I have to admit I'm bummed. Nevertheless, this means victory is a lock for Team Blake.
Lo and behold, the winner of season three of The Voice is… CASSADEE POPE!
Cassadee may be the only person in America who didn't see her victory coming. She's sweetly speechless. But the season's last few moments are strangely anti-climactic: someone tosses a mike into her hands and she sort of sings, but it's not really audible, and then NBC abruptly cuts to the news. I guess they ran long? An early lesson in humility for our budding superstar.
Well, it's been a long, crazy ride, guys. I'll miss you all. Never change. 2SWEET 2B 4GOTTEN. Have a great summer! See you at the reunion.
Follow Molly on Twitter at @mollyfitz.
[Photo Credit: Tyler Golden/NBC]
More:
'The Voice' Recap: The Final Countdown, Plus a Touching Sandy Hook Tribute
'The Voice' Recap: Of Moonshine and Men
'The Voice' Recap: Bublé, Please Come Home

'A Few Good Men': Where Are They Now? (Moviefone)

Best Mother and Son Movies: 'Forrest Gump' and More! (Moviefone)