'The Voice' Recap: We'll Do It Live!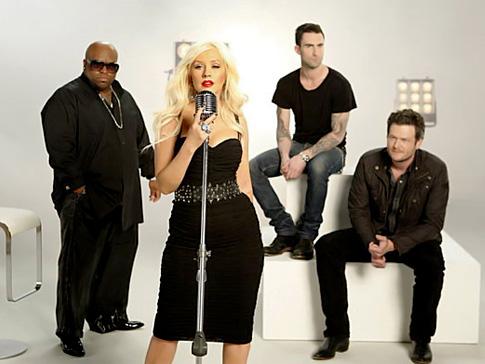 Hey there, gang. I'll be your guide for the foreseeable future here in Voiceland, where the demo ratings never sink below 2.0 and the main question of the evening is, "BUT WHERE IS PURRFECT?"
Previously, on The Voice: The Blind Auditions hooked me pretty much instantly. Blake and Adam were kind of adorable, Cee Lo pet a cat, and Xtina's boobs heart grew three sizes some days. Oh, and they upgraded Carson Daly's Empathyware.
Then came the Battle Rounds, which were less bloody than my inner Capitol-dweller might have liked but which did occasionally make my ears bleed. The coaches made some poor decisions while halving their teams.
On to tonight's show! Which… Hey guys, did you know this is a LIVE SHOW? No, really! Anyway, tonight, we'll Godzilla our way through Teams Blake and Christina. As a reminder… 
On Team Blake we have:
Charlotte "My Name Is An Insufferable Diablo Cody Movie Waiting to Happen" Sometimes
Erin "The Overthinker" Willett
Jermaine "Yeah, I Back-up Danced for Alicia Keys" Paul
Jordis "Rock Star: INXS" Unga
Naia "Dreadlocks" Kete
RaeLynne "My Name Sounds the Same As That U.S. Marshal on FX" 
And on Team Christina we have:
Ashley "That Overachieving Girl in High School Who I May Have Been As Well" De La Rosa
Jesse "My Life Was a Will Smith Movie" Campbell
Lindsey "Two Hairstyles, No Waiting" Pavao
Moses "The MC Everyone Made a Big Deal About" Stone
Chris "My Voice Contains Multitudes, Almost Literally" Mann
Sera "Christina Just Had to Jump Onstage and Sing With Me, and That's All Anyone Can Remember" Hill
In case you forgot what's at stake: a contract with Universal Republic. Also, everlasting fame and glory. (Ha! Just kidding. Ask last season's winner Javier Colon, who I had to look up.)
In the time between filming the Battle Rounds and now, Cee Lo stole Adam's hair, which is a bummer for both, and he appears to be channeling the ghost of James Brown. Christina looks positively demure, and also amazing. Blake looks like he always looks, which is to say: good.
First up…
Jermaine Paul
He'll be doing Bon Jovi's "Livin' On A Prayer," a song that, despite being awesome, gives me hives because of a particularly unpleasant Dance Marathon experience where they played this at hour 15 of 30. Ugh. No one could argue he's a dull performer, but he's a little off — usually he's way more charismatic. 
Let's hear from the coaches:
Christina is glad he worked the stage, but didn't quite feel the connection with the song. 
Blake would like him to savor the moment, because girls love him and his single is gonna sell like hotcakes on iTunes. 
Chris Mann
Chris got tired of people trying to shrink his voice down. So he's going all operatic on Simon & Garfunkel's "Bridge Over Troubled Water" while recording the track. I dunno, Mann. 
My fears are founded: He's almost too good a voice for this song. While his voice is big, there isn't that vulnerability in there that makes this more than just a run-of-the-mill ballad. The shots of his cancer-riddled mom in the audience make me feel awful for thinking these things.
The coaches feel differently than I, of course:
Adam loves the choice, and though he was skeptical initially, he's pleased with the result.
Cee Lo managed to avoid being reduced to tears, unlike last week with his own team. But that doesn't mean he wasn't moved!
Christina says it was "so, so beautiful and heartfelt," and he really dug into the emotion and owned it. Hmph.
RaeLynne
The Little Farmgirl That Could dons her brass cojones once again and sings something related to a coach. This time, it's an actual Maroon 5 song: "Wake Up Call." But country-fried.
And maybe it's because she's charming, or I've been in a country mood lately, but it actually works. She's getting a little drowned out by the band and is definitely breathy, but it's the most fun performance thus far.
And what does Mr. Maroon 5 think? 
Well, Adam says he's had his heart broken twice by her, now: once when she picked Blake over him, and now when she did his song so well. Aw. (What? I am not made of stone.)
Christina loves the sass and alludes to the Greatest Love Affair of Our Time: "Again with the Maroon 5, Blake?" Hush, Christina. Let them have their love.
Blake thinks she's the voice (GET IT, Y'ALL?) of a new generation of country music. And an interesting tidbit: The countrification of that song was actually Adam's idea several months ago. 
Moses Stone
Remember that MC they made a big deal about in the Blind Auditions and then we didn't actually see his audition? That's Moses Stone. He's going to do Kanye ("Stronger"/"POWER"). I'm thinking this is good choice for a performer like–
Oh. With Kanye, you get some melody, but this kid is literally just shouting. Christina is leading the back-up dancers from her chair. I am sitting stone-faced on my couch.
Coaches?
Adam can tell this kid knows how to entertain people. But he's also going to drop some truth bombs: Moses can sing, and that didn't come out here. He has more potential as a singer than a rapper. Blake concurs.
Christina doesn't care — Moses EXCITES her. 
Naia Kete 
The dreadlocked girl I forgot about from Team Blake is going to do "Turning Tables." Okay. Can we please place a moratorium on everyone but Adele performing Adele songs in singing competitions? You are not Adele, everyone. Naia's voice just lacks the fullness that lends the original track a lot of its depth. She's playing down some of the vocal tics from her previous performances, which is an improvement, but it pales in comparison, and you can't not compare, because the original is literally everywhere. 
Coaches?
Christina would have picked something more reggae-ish. This is the closest to out-and-out negativity we've come, tonight.
Blake wanted Naia to stick closer to the original, though, to prove she has range. Which… she didn't really do. Also: "Your tender moments are so special." New euphemism!
Lindsey Pavao 
She's taking "Somebody That I Used to Know" by Gotye in a more dubstep direction? No! Stay away from the dubstep! Her vocal style, which didn't bug me before, has begun to grate, and her bemasked back-up dancers are nightmare-inducing. 
Coaches?
Adam is similarly freaked out by the back-up dancers. He says it was cool, but he missed the power in the chorus.
Christina loves that she took part in creating the arrangement, blah blah true artistry blah.
Jordis Unga 
Jordis gets "Alone" by Heart. It's always nice to hear a full female voice, even if she gets a little squeaky. The acoustic environment is also not doing her a whole lot of favors. Overall, she does well. Her family is wearing grass skirts. Endearing!
Coaches!
Cee Lo gives her a "good," while Christina makes pouty faces. Blake likes that she didn't play it safe. "I'm so glad America has a chance to find out who you are." You mean again, right, Blake?
Sera Hill 
Sera rearranges "Find Your Love" by Drake into something a little more melodic. She's got a bunch of shirtless back-up dancers all up on her, and I'm having trouble concentrating. 
So is Blake, I'm relieved to hear. This activates Carsonbot's joke algorithm: Blake's stuck on the shirtless guys! Ha ha! Can he think of nothing else to say? "She did great. There was male strippers on the stage." Blake, do they not teach verb agreement in Oklahoma? Christina is over the moon, naturally.
Erin Willett
Poor Erin lost her dad to cancer during the Battle Rounds, so I'm going to try and not be horribly snarky. She performs Stevie Wonder's "Living for the City." She's shown before she can be an overthinker, but tonight she looks and sounds great. It's easily the best performance of the night. 
Coaches?
Hey, Blake agrees with me! Cee Lo calls her a champion, especially for being that great under such trying circumstances. 
Ashley De La Rosa 
Ashley's singing "Right Through You" by Alanis. The acoustics rear their ugly head again, and it's a shame, because she sounds pretty good, when you can hear her. She's also the only one who's seemed like she's having any fun, with that unconsciousness that only true self-assurance brings.
Coaches say…
Adam performs a quick age-check on Ashley and rediscovers she's only 17. So he settles for saying she's definitely Most Improved: "Tonight, we saw a woman." That doesn't turn her 18, Levine.
Charlotte Sometimes 
Charlotte gets Paramore's "Misery Business" and goes with a "haunting" version of the song. It's…fine, I guess. She vamps a lot, and her voice is good enough.
Coaches?
Adam thinks it was great, and her voice is unique, though there were a few flat notes. Christina disagrees, and Blake, too, loved her idea for the arrangement.
Jesse Campbell
Last up is Jesse, who Christina says can "sing the phone book." So he's doing… "What a Wonderful World" by Louis Armstrong. Look, I love this song. It's wonderful. It's just not a song you make a performance out of. He's a mite bit too smooth, and it ends up sounding like it was run through the Disney wringer.
What's that, coaches? You disagree?
Cee Lo's heart has been won, and wants Jesse to win if no one from Team Cee Lo can. Adam seconds this motion.
Christina loves him and repeats the phone book thing, then says out of the blue that she's the only sober coach up there, which brings up a good point: This would be way more awesome with inebriated coaches. Truth-bombs everywhere!
And with that, we sign off! I'll see y'all again tomorrow for the post-execution, er, post. Hopefully we won't be deprived of Purrfect a second consecutive evening.
Image Credit: NBC
More:
Voice star Adam Levine Splits From Girlfriend