'The X Factor' Season Finale Recap: A Little Bit Country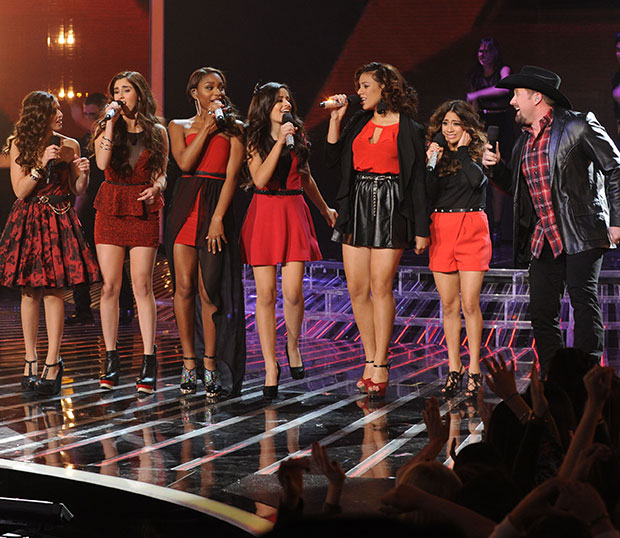 Basically, we could have called this two months ago. The X Factor's season 2 finale was about as predictable as any singing competition denouement we've ever seen. That's right, folks. America cast 35 million votes and determined Tate Stevens to be the winner! Now he can buy $5 million worth of ten-gallon hats. Instantly dispelled was the question about whether America was ready for a country-singing X Factor winner. The question of whether we need any X Factor winner, or X Factor period, however, remains.
The three finalists, Stevens, Carly Rose Sonenclar, and girl-group Fifth Harmony (deemed by Simon Cowell Wednesday to be possible successors to One Direction) all pranced down the red carpet singing "All You Need Is Love," in a kind of harmonic free-for-all that, as nearly all "All You Need Is Love" covers do, that completely missed John Lennon and George Martin's intricate sonic layering. If I finally hear a cover of this song that also weaves in a string-heavy sample of "Greensleaves," as in the original, then I'll be happy.
After that, nearly two hours of pure, unadulterated adulteration followed. A night of astounding filler. First, a montage of Simon's nasty barbs set to "Mr. Grinch' as if this were 2002 and we were just discovering Brit-imported reality-show snark. Were quotes like "You're a mouse trying to be an elephant" and "You sang like a dog trying to lay an egg" really worthy of anchoring a supercut of Cowell barbs? Speaking of which, now that I've spent a better part of the fall TV season staring at Simon's square head and chest hair, I think the time is right to ask the following: what the hell has happened to his appearance? His face is so much fuller than it ever used to be; his eyes are getting all squinty and immobile a la Kenny Rogers and Bruce Jenner; and his hair is sculpted into an Arsenio Hall flat-top circa 1990. Someone's got their work cut out for them in the off-season.
Lest you forget, X Factor reminded us all evening that Christmas is upon us. Stevens did his typically solid, if forgettable, thing, with Charles Brown's "Please Come Home for Christmas." But Fifth Harmony. Oh, Fifth Harmony committed sonic heresy by attempting a multi-part cover of Darlene Love's peerless 1963 classic "Christmas (Baby, Please Come Home)," a song that, for my money, is just a tiny rung below 'White Christmas' for the title of Greatest Christmas Song of the 20th Century. With Fifth Harmony's cover, gone in its entirety was Phil Spector's wall of sound. It's one thing to lose that song's cascading piano chords, but to not even have one decent vocalist (out of five!) tackle that soaring 'They're singing deck the halls/ But it's not like Christmas at all" pre-chorus was tragic. Instead we got one girl with a life-sized tropical-drink umbrella, and another wearing a giant bow on her head like Aretha Franklin. Except this girl is not a gift to us all. Then to top it off, they even did a soft-shoe with candy-cane canes. Luckily, we still have the actual Darlene Love slated to perform "Christmas (Baby, Please Come Home)" on the Late Show With David Letterman Friday, as she does every year before Christmas, as a palate cleanser. Because if I had to choose between a lump of coal in my stocking and having to hear Fifth Harmony mangle Phil Spector's masterpiece, I'd take the coal.
Next up was a montage of Britney Spears' repertoire of odd facial expressions. It was set to Edvard Grieg's crescendo-ing "Peer Gynt,' as Brit Brit's face became ever more contorted. I suppose we should admire X Factor's subtlety in their musical selection for the Britney montage. I'd have likely picked "Ride of the Valkyries" as accompaniment myself.
Carly Rose Sonenclar then followed that up with a better, albeit similarly anemic, rendition of Mariah Carey's latter-day staple "All I Want for Christmas Is You." But she sang it next to a hearth and Christmas tree that made it seem like she was smack in the middle of Dr. Stahlbaum's house and was about to sing a duet with a nutcracker come to life. I really expected that Christmas tree to suddenly grow. Alas, it did not.
Finally, it was time for some results. Fifth Harmony was deemed to have placed third. Group member Ally tried to insert the word "ya'll" as many times as she could into one sentence. She's folksy!
Time for more filler. Pitbull did his usual Absolut-fueled Miami party-starting thing, including requisite untied bow-tie. Then One Direction came out, performed, and showed the two remaining U.S. X Factor finalists a level of fame and success that they will never achieve. I particularly loved the eight-bit videogame aesthetic of their performance. This has been a great year for arcade side-scrollers what with this, Wreck-It Ralph, and Community's "Digital Estate Planning" episode.
Finally, it was time for the winner to be declared and a runner-up to be chosen to head back into obscurity and despair. Tate and Carly, along with respective mentors L.A. Reid and Spears, marched out to "Requiem for a Tower," just to emphasize all the more what a battle this is. Let they, whose X Factor journey is about to come to an end, salute you, America! Well, Tate obviously won. He was by far the best of the group and deserved it. I was a little freaked out by Mario Lopez' slightly ominous declaration immediately thereafter, "Tate Stevens is about to go start a whole new life, a life he only ever dreamed of." I'm hoping that new life involves a gravelly baritone-off with Trace Adkins and Randy Travis. And hey, Carly Rose Sonenclar has only lived a third of Stevens' 37 years. There are so many other reality shows ahead of her.
And that's a wrap! How will you guys bear to go nine months before X Factor graces your lives once again?
Follow Christian Blauvelt on Twitter @Ctblauvelt
[Photo Credit: FOX]
More:
'X Factor' Judge Simon Cowell on Tate Stevens: 'I'd Be Happy to Write Him a Check'
'The X Factor' Recap: The Final br> 'The X Factor' Remembers the Sandy Hook Victims With a Touching Tribute
You Might Also Like:

20 Hottest Bikini Bodies of 2012: Megan Fox and More!