Celebrities You Didn't Know Were on 'The X-Files'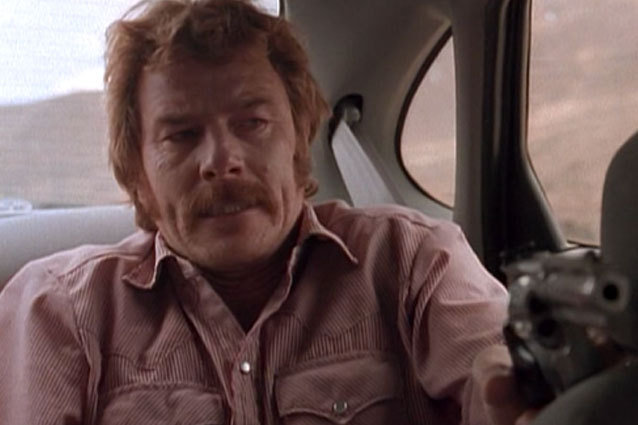 FOX
It was 20 years ago (yes, you're old) that skeptic Dana Scully first teamed up with believer Fox Mulder to investigate the FBI's creepiest cases. Plenty of guest stars joined leads David Duchovny and Gillian Anderson in the paranormal paradise of The X-Files, including tons of actors who would later blow up in their own right. We've combed through the show's 200+ episodes to bring you 13 of its most significant cameos.
Seth Green already had a healthy filmography built up by the time he was cast as a teenage stoner in first season episode "Deep Throat." But his diner conversation with Special Agents Mulder and Scully probably had a big influence on his future career as showrunner of the geek-tastic cartoon series Robot Chicken.
The West Wing star, next seen in the ABC comedy pilot Trophy Wife, plays a seismologist losing his grip in second season episode "Firewalker."
Future Academy Award-nominee Felicity Huffman was trapped with our heroes while investigating the mysterious deaths of a research team at an Alaskan excavation project. She plays Dr. Nancy Da Silva in "Ice", one of the most suspenseful episodes in the entire series.
It's no surprise that Hollywood hottie Ryan Reynolds would be cast as a popular football player in third season episode "Syzygy." Of course, it's The X-Files, so his high school reign is cut short by two flaky teens driven mad by a rare planetary alignment.
"D.P.O.", another third season episode, boasts not one, but two up-and-coming young actors. Jack Black's character owns an arcade where video-game obsessed teen Darin Peter Oswald (Giovanni Ribisi) hangs out when not using his mind to command lightning to kill anyone who pisses him off.
A post-Wings, pre-Monk Tony Shalhoub stars as a dark matter researcher in season two episode "Soft Light." This one is also notable for being the first episode written by Vince Gilligan, who would go on to create a little show called Breaking Bad.
Teeny, tiny Shia LaBeouf can be found late in the series, pulling heart strings as a very ill young boy in season seven's "The Goldberg Variation." 
Cutie Jewel Staite has huge nerd cred, having played a kidnapped girl in "Oubliette" from season three and then going on to star in Joss Whedon's epic space western Firefly. Would that the latter would have had as long a run as The X-Files.
What was it about the third season of The X-Files that predicted the future success of almost all its guest stars? We've got another one in Elementary star Lucy Liu, who is credited as "Lucy Alexis Liu" in "Hell Money."
Bryan Cranston was hardly a nobody when he took the role of Patrick Crump in season six episode "Drive." But this appearance earns a spot on the list simply because the episode was another penned by staff writer Vince Gillian, who clearly remembered Cranston's desperate, tension-filled performance when casting Walter White.
The X-Files creative team had a knack for sniffing out future Oscar nominees. Winter's Bone star John Hawkes played a tortured writer in sixth season episode "Milagro," a role written specifically for him.
What could possibly be ickier than a bile-covered, liver-eating mutant who crawls around in sewer ducts? Ask 43-year-old character actor Doug Hutchison, who played classic X-Files monster Eugene Victor Tooms, about his marriage to 19-year-old attention seeker Courtney Stodden.
More:
'Breaking Bad' Recap: Season 5, Episode 13
100 Years of Quietude: Sci-Fi That Broods
A Tribute to the Robot of 'Futurama'
---
From Our Partners:


40 Most Revealing See-Through Red Carpet Looks (Vh1)


15 Stars Share Secrets of their Sex Lives (Celebuzz)