TV Throwback Thursday: Television's Best Drunk Scenes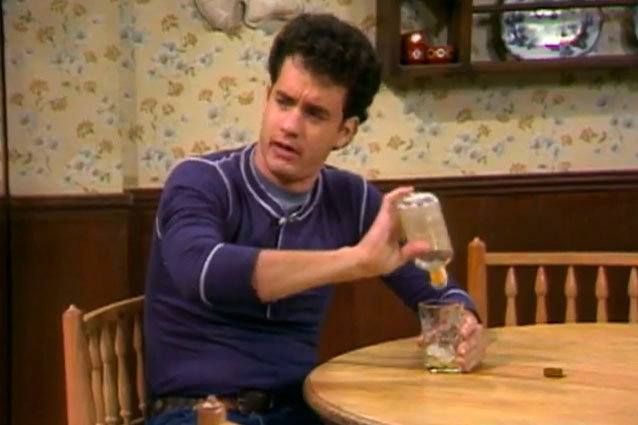 In our quest to bring you the best TV content, sometimes we have to look… backwards. That's why we have Thursday TV Throwback, wherein each week our staff of pop culture enthusiasts will be tasked with bringing back some of the best television clips that have been forgotten by time, space and the general zeitgeist.
This week, we're celebrating one of our favorite topics: Drunkenness!  With St. Patrick's Day right around the corner, we're bringing back some of TV's most memorable benders. From the gleeful to the downright tragic, join us in reliving the days of drunken past.
Brian Moylan: "Uncle Ned Has a Problem" As a young boy I didn't even know what an alcoholic was until watching an episode of Family Ties where Uncle Ned and his drinking problem come to visit. Suddenly so much about my Irish family suddenly made sense. Here is the scene where Elyce Keaton confronts her drunk brother about his addiction, but even better is when a jonesing Uncle Ned drinks a bottle of vanilla extract because he needs a fix. Oh, and did I forget to mention that Ned is Tom Freakin' Hanks. That's way cooler in retrospect than back then, when I didn't know what an alcoholic or a Tom Hanks was.
RELATED: TV Throwback Thursday: 'Beavis and Butt-Head' and other Shows our Parents Wouldn't Let us Watch
Kate Ward: "Vitameatavegamin" TV's best drunk moment is one of its firsts. On a 1952 episode of I Love Lucy, the titular character titillated viewers when she took a job as the pitch girl for Vitameatavegamin, a new tonic with a needlessly long name and dangerous main ingredient: alcohol. After several takes, and several swigs of Vitameatavegamin, Lucy became a bit too happy and peppy for her own good. The TV moment — which still ranks amongst the funniest ever to hit the small screen, is so tasty — it's just like candy.
Matt Patches: "Mork Goes Baserb" Mork and Mindy's high concept — the sitcom antics of a twentysomething and her extraterrestrial roommate — served one purpose: to function as a platform for Robin Williams' physical comedy. No offense, Pam Dawber: the show needed you too. But in the end, it was all about Williams' quirky tendencies and spastic reactions. The show hit an energy high when Mork got around to getting drunk for the first time. Or, "baserb," as they say on Ork. After taking one too many sips of Ginger Ale, Mork launches into an even bigger frenzy than usual, a cacophony of sounds, gestures, and vague pop culture references.
Shaunna Murphy: "Randy's DUI"  Randy Marsh is South Park's number one drunk, so it's surprising that it took him 9 whole seasons to garner his first DUI. Still, the wait was well worth it. "What seems to be the officer, problem?" he says as one of South Park's finest pulls him over for a sobriety test. Maybe this was supposed to teach us about the dangers of drinking and driving, but all it did for me was reinforce the fact that touching your nose is really hard.
Michael Arbeiter: "All in the Family – Archie and Mike stuck in the freezer" One particularly unforgettable episode of All in the Family sees Archie and Mike stuck in a meat locker with nothing but each other's company and a bottle of hooch. What could have just been a joke-filled, low budget 30 minutes actually amounted to one of the most powerful scenes in the show's history: Archie's drunken confessions to Mike about the tyrannies that his own miserable, bigoted, abusive father imparted upon him when he was a boy. The revelation gave Mike and audiences alike a new empathy for Archie, and a refreshed understanding of just how much damage hate can do.
Abbey Stone: "Buffy Want Beer" Who doesn't love teen drinking? Especially when the teen is wise-beyond-her-years vampire slayer Buffy Summers, and the episode (in which drinking turns Buffy into a beer-crazed Neanderthal) is really a club-over-the-head metaphor for the dangers of alcohol. But really, when Buffy want beer, is there anything you can do about it? Buffy get what Buffy want.
Jean Bentley: "Donna Martin's Big Mistake" Everyone has that one friend who can't handle her booze. Unfortunately for Donna Martin, she was that friend when the Beverly Hills, 90210 gang sipped some champagne in their limo on the way to prom (as you do). Double unfortunately (is that a thing?), once her pals realized she was wasted and tried to sneak her out, she stumbled to the ground in front of a teacher and got in major trouble. Yes, this is why you occasionally feel inspired to chant "Donna Martin Graduates!" at completely inappropriate times (oh, just me?). To be fair, it kind of wasn't Donna's fault. Her boyfriend David Silver's dad gave her the champagne, not knowing she was a total goody-goody lightweight. That's what you get for trying to be the cool parent, Mel!
Christian Blauvelt: "The Comandante Song" Being a lancer in the Royal Spanish army in 1820s California is difficult. There's oppressive heat and even more oppressive commandantes. The people hate you because you tax them at gunpoint. And at every turn there's that rascally Zorro, the people's friend, undermining you and carving Z's in the seat of each new pair of trousers you buy. No wonder, then, you turn to the bottle to solve your problems. Just don't get carried away like Sgt. Garcia (Henry Calvin) did in the 1957 episode "Zorro's Flight Into Terror." It's one thing if you want to drunkenly mock your commandante in song… just make certain he's not within earshot.
RELATED: TV Throwback Thursday: Weddings Edition
Kelsea Stahler: "Ross and Rachel Meet Vegas" While I've never accidentally married my best friend/ex boyfriend while stumbling around with a permanent marker mustache on my face, this classic Friends moment is one of my favorite from the series because now that I'm old enough to drink, I know just how accurate it is. (Sorry friends, I know I've tried to make that "Hit me" gag work during actual drinking times. Sometimes I love TV to a fault, it seems.)
Sydney Bucksbaum: "The Hangover, Part IV" When Clark and Lois threw a joint bachelor/bachelorette party in Season 10 of Smallville before their epic wedding, they didn't expect a Hangover-like situation the morning after. But thanks to the gift of an enchanted bottle of champagne, everyone in the Justice League blacked out and had to figure out what happened the night before (especially who got married). After piecing the night together (congratulations on your wedding, Chloe Sullivan/Watchtower and Oliver Queen/Green Arrow!), Lois found the tape that they had taken turns filming the night before and we all got to see just how a drunk Superman would act. (Spoiler alert: he still saved the day!)
[PHOTO CREDIT: NBC]
---
You Might Also Like:


14 Movies That Are, Surprisingly, Not Porn


Stars Who Have Lost Roles For Being Too Hot (Celebuzz)