Thursday TV Throwback: Why 'Popular' is Still Popular 10 Years Later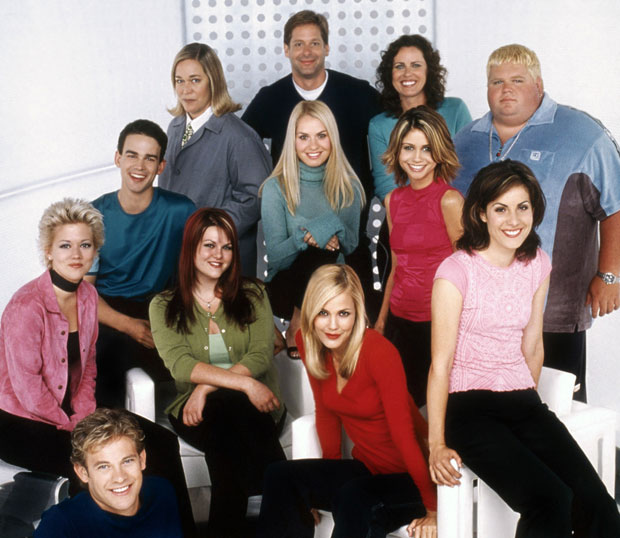 Picture this: A high school TV world where all the "populars" rocked blonde locks and the "wannabes" were brunettes, where everyone prepped for The Millennium while dancing to songs by Puff Daddy and sporting sky-high platform shoes. Sound familiar? You're remembering the cult-classic gem of a series Popular.
Popular premiered on The WB in September 1999 (Math-check: 13 years ago!) starring two high school nemeses Brooke and Sam — Leslie Bibb and Carly Pope — forced to interact upon learning that their parents were getting married. Created by Ryan Murphy and filled with snarky humor and pop-culture infused cutaways, Popular wasn't just another teen drama — it mocked the genre and itself. Although the show is now considered a groundbreaking hit, Popular only ran for two seasons and left fans with an abrupt cliffhanger that many are still talking about.
Take a look at the show's iconic opening credits to refresh your memory of the cast, the clothes, and the frosted beauty products.
Sara Rue, who starred on the dramedy as Carmen, the overweight and desperately seeking acceptance best friend, tells Hollywood.com that there are a number of reasons that Popular's popularity has held up over the years. "Popular came at time when people were dying for a show like that, and the fact that people are still talking about it ten years later is such a huge deal when you think about it."
Even though the show continues to stay relevant thanks in huge part to Tumblr and Netflix, Rue admits that no one on set would have predicted the show's long-term success. "We knew that it was cool and we liked what we were doing and we thought what we had to do every day was fun, but I don't think any of us realized, like, what a weird cult hit it was going to be and that the following would stay so dedicated years and years and years later. That's really a testament to Ryan and to his talent."
Before American Horror Story, Glee, or even Nip/Tuck, Ryan Murphy created, wrote and executive produced Popular. "Ryan was great to work with and even at the time when this was kind of like his first thing, you could tell that he had such a vision," Rue says. From musicals to dramas, horrors to comedies, it now seems that anything Murphy puts his name on turns to ratings gold. "No one else has their hand more on the pulse of the zeitgeist than Ryan Murphy at all times. … He is amazing in terms of knowing what people are interested in and when, and in that moment there is just something about him where he is able to tune into pop culture in a way that nobody else can. I think that is really a gift. It's amazing, actually."
Interestingly enough, when compared side by side, Popular and Glee have extremely similar opening episodes. They both feature a popular blonde challenging an offbeat brunette, the star jock who secretly wants to join the school's music program, as well as quirky, fast-paced and vicious dialogue. Popular, like Glee, was also known for throwing in a chart-topping musical number and intriguing guest star whenever the plotline needed a dose of wacky fun.
In this classically Popular-esque scene, behold the combination of Jay-Z, Broadway's Annie, and RuPaul.
?>
In addition to the over-the-top drama, teen angst, and purposeful over-acting, Popular also had the larger-than-life personality of Mary Cherry (Leslie Grossman). Marry Cherry — always referred to by her first and last name — was a Southern belle with a lot of money and even more sass. She could stab you in the back, smile, say something outrageous, and all would be forgiven. Mary Cherry was definitely the comic relief of the show and epitomized the essence of Popular with her pop culture-packed side stories.
Check out Mary Cherry's giggle-worthy run-in with the "I Know What You Did Last Spring Break" killer in the video below.
However, Popular was more than just silly songs and pop culture parodies — this was a heartfelt show that frequently tackled serious subjects such as domestic abuse, bulimia, alcoholism, and sexual identity. But the most heart-wrenching storyline in the show's two-season life was without a doubt Harrison's (Christopher Gorham) battle with leukemia. Fans were presented with a raw and surprisingly realistic look into the life of a teen cancer patient. The show also took a dark turn in the series finale when Brooke's life was left hanging in the balance after she was purposefully run down with a car by her drunk best friend.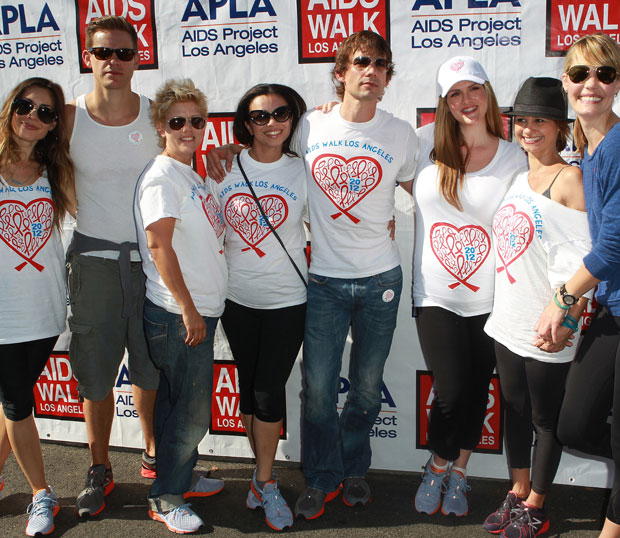 Although it's been 10 years since our TV screens were graced with the 43 iconic episodes of Popular, the cast members still keep in touch. In fact, the glamazons and the wannabes reunited in October 2012 at the AIDS Walk in Los Angeles.
"Some of the cast members organized it and we all got together," Rue says. "I'm pregnant so I showed up and walked for a little bit and then I went home because it was really hot that day. But it was really fun to see everybody and almost everybody was able to make it!"
It's refreshing to see a cast that still tries to reconnect even though they've all separated into such far corners of the entertainment spectrum. To paraphrase a classic Mary Cherry quote, the ladies of Popular are smart, they're witty, and they've (still) got asses that rock!
Follow Leanne on Twitter @LeanneAguilera
[Photo Credit: The WB]
MORE:
Thursday TV Throwback: '90s Catchphrases
Thursday TV Throwback: Music Video Memories