10 Times People Completely Shut Olivia Pope Down On 'Scandal'
Olivia Pope is known for being the one in charge and handling things on Scandal. But that doesn't mean she is always right or has the upper hand. Sometimes people need to knock her down a peg to let her know that she isn't as perfect as she would like to think. So when did people do these? These are the ten times the white knight was completely shut down.
1. When Mellie told her what the difference is between them.
2. The time Rowan told her that her priorities are seriously messed up.
3. When Abby reminded her that she needs to do things for herself.
4. The time Cyrus told her that she is far from apolitical.
5. When Jake gave her a wake up on call on who Rowan is.
6. The time Huck told Olivia she is needs to be all in in order to be a Gladiator.
7. When Harrison refused to be pushed aside.
8. The time Quinn snapped for being forgotten about.
9. When Cyrus pointed out how delusional Olivia and Fitz can be.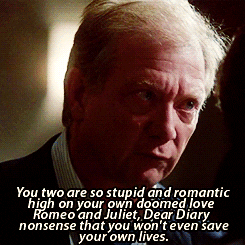 10. The time Mellie pointed out what being First Lady truly means.