'Inside the Actors Studio': Tina Fey's Sarah Palin and 5 Other Impressions For James Lipton's Amusement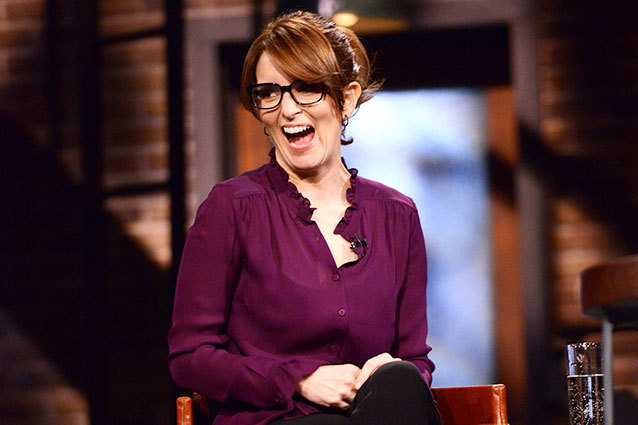 We've really missed Tina Fey's Sarah Palin impression, donchaknow. And thankfully, it returned for a brief, wonderful few minutes when Inside the Actors' Studio host James Lipton asked with scrumtrulescent anticipation if Fey would allow him to speak with her version of Mrs. Palin. The result was, as expected, so great we want to take out behind the bleachers and get it pregnant. (Sorry about that; Fey also talks a little about why she wanted to get Tracy Morgan on 30 Rock before she goes full-Palin.) 
But Fey wasn't the first person to be asked to bring a beloved character to the stark real life setting that is the Actors' Studio stage. She's one of a long line of actors coaxed into schtick by Lipton's gentle breeze of a timbre. 
RELATED: 'Admission' Interview: Tina Fey Takes a Shot at Paul Rudd
Jim Carrey stopped by to chat with Lipton and the host requested what might be the best character reenactment possible: Fire Marshall Bill of In Living Color fame (or should I say notoriety?). One thing was clear: Carrey's still got it. 
Mike Myers wasn't going to be outdone by the actors before him. On his second episode of Inside the Actors' Studio, he gave us not one, but two impressions. The first is his cartoon hero Shrek (8:18 mark) and the second is the pop culture phenomenon Austin Powers (16:29 mark). 
RELATED: Tina Fey & Paul Rudd Connect The Funniest People in Hollywood
My personal favorite is the time we witnessed what The Simpsons' voice actor Dan Castellaneta looks like while he's contorting his voice into the vocal stylings of one Homer Simpson. Believe it or not, "Doh!" isn't even the best one. 
The Family Guy actors also took part in the marvel of seeing actual people make those strange little TV voices, but as an extra treat Seth MacFarlane and Alex Borstine even sang the iconic tune from the opening of the show, complete with Stewie Griffin's inexplicably British interjections.
RELATED: Tina Fey Responds to Taylor Swift: 'It Was a Joke'
Of course, some folks don't go for known characters. Take Robin Williams for example. (Or for the only example, because who else can match his hilarious and wild eccentricities? No one, that's who.) When he visited Lipton, his impression interlude descended into his usual madness and it all ended with Williams wearing a pink pashmina on his head. Typical. 
Follow Kelsea on Twitter @KelseaStahler
[Photo Credit: Anthony Behar/Bravo]
---
You Might Also Like:


Topanga's Revealing Lingerie Shoot: Hello '90s!


25 Stars Before They Were Famous