Lawyer Up! Fictional Legal Characters We Wish Were Real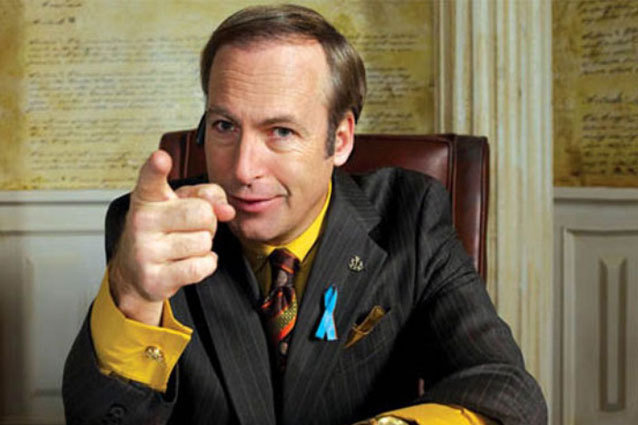 AMC
In this day and age of over-litigation, having somebody represent you legally is almost a life necessity. Whether you've been wrongfully charged for first-degree murder or managing your vast drug empire, you're going to need a lawyer. Too bad that those types of legal representation can only be found on TV or in movies. But these folks below will go above and beyond those stiff-necks at Law & Order are willing to do. When your life depends on it, trust these guys and gals to represent you!
Saul Goodman
Need advice about your meth empire? Need millions of dollars safely laundered? Want to disappear? Better call Saul! Albuquerque's best criminal lawyer will handle all of your needs, and keep it all on the down low. If you need to reach him, he's got numerous phones to keep in touch. S'all good, man!
Elle Woods
Don't be fooled about this Legally Blonde intern; she's got the figures to win your trial if you're being charged with murder. Just when you think the jury will go against you, she'll look at the case from another angle, like washing permed hair within 24 hours will deactivate the ammonium thioglycolate. And more importantly, she'll be sympathetic to your fashion needs!
Vincent 'Vinny' Gambini
If you're looking for a lawyer that will go to jail for your behalf, Vincent Gambini is your man! He will lie, take on a new identity, be found in contempt for court, and wear ridiculous velvet suits to make sure you won't make it to the electric chair. My Cousin Vinny needs a little on-the-job training, but rest assured he'll find that tiny detail (with the assistance of his lovely fiancée) that will swing the jury in your favor.
Lt. Daniel Kafee
Dealing with court-martials are tricky and unraveling military conspiracies are even trickier, which is why only A Few Good Men can handle them. Lt. Daniel Kafee will demand the truth behind every case that lands on his lap, even if he can't handle it. He may come off as inexperienced and blasé at first, and his tendencies to resort to plea bargains may scare off potential clients. In the end, he'll slam his fist on the podium and speechify your way out of life sentence.
Ally McBeal
Dancing with imaginary babies aside, Ally McBeal is someone you would be glad to have representing you. She is a Harvard graduate and works for one of Boston's prestigious firms. However, her personal life may encroach on her professional life. Be prepared to hear about the details of your deposition in one moment, and her volatile romantic life the next. If you find her flightiness endearing, wshe and her partners are more than happy to tackle your case.
More:
'Breaking Bad' Recap: To'hajiilee
Predictions for Saul Goodman's Spinoff
'Jurassic World' Release Date Announced
---
From Our Partners:


40 Most Revealing SeeThrough Red Carpet Looks (Vh1)


15 Stars Share Secrets of their Sex Lives (Celebuzz)