The 12 Most Awkward Things From the 'American Idol' Season 12 Finale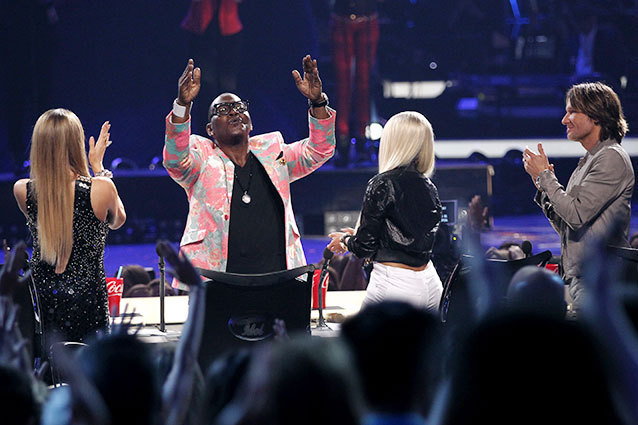 American Idol's Season 12 finale provided an incredible moment: the one in which, plagued with happy tears, winner Candice Glover braved her confetti shower and her own overwhelming happiness to sing her brand new single "I Am Beautiful." It was Idol's collagen injection of hope. This show could still bring us to the end of the road and deliver a winner so talented, so lovable, that she's practically guaranteed to blow us away for years to come. But that only accounts for the last 10 minutes of the two-hour broadcast, the whole of which completely undermined Candice's glory. In short: it was a predictably awkward mess, as always. 
12. Randy Jackson's send-off was pretty condescending, dawg. 
The video package started and ended with a table of canines barking on command with doggy jokes provided in subtitle. This is what he gets after 12 years of recycling one-liners (yet somehow never recycling a single pair of shoes or eccentric glasses frames). 
11. Ryan Seacrest made it worse. 
After Randy triumphantly provided the bass on Mariah Carey's performance of "#Beautiful," Seacrest made a funny, saying "Ladies and gentlemen, Mariah Carey and her dog, Randy." Of course, he was referring to "dawg" (and Randy's favorite affectionate nickname for everyone), but he knew what he was doing there. 
10. How is it possible that with the exception of Jessie J, every "pro" singer who performed a duet with an eliminated Season 12 contestant wasn't nearly as good as the Idol they were paired with?
Seriously, Kimberly Perry. Janelle Arthur wiped the floor with you. 
9. Speaking of awkward pairings, we have a few questions about Amber Holcomb's duet with Emeli Sande:
Like, why is Amber singing the song Candice just did? Does she like being uncomfortable? Why is Sande dressed like she's going to brunch instead of debuting her music to a broad American audience? And why is Amber dressed like Destiny's Child at the airport?
8. Jennifer Hudson was amazing, but her Disney villain line was hilariously strange.
At the end of her duet with Candice, Hudson bellowed "Sing, Candy!" and images of Ursula from The Little Mermaid commanding Ariel to sing so she could steal her pristine princess voice were swathed across my mind. (Still love you, J. Hud.)
7. The "Jordin Sparks Rigged Idol" skit had to make up awful moments for everyone except Lazaro.
The video pretended the audience booed Paul Jolley's jokes and Curtis Finch, Jr's crazy paisley blazer, but when it came to Lazaro, they awkwardly left the video in which he sang like a drunkard in a dive bar at 4 AM practically untouched. Ouch.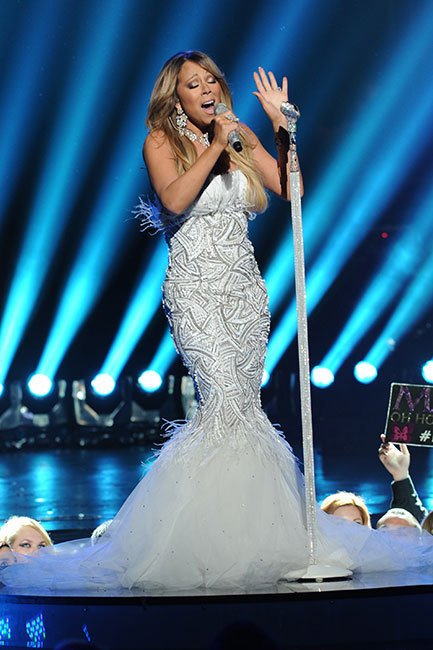 6. Mariah Carey, diva extraordinaire, it's your job to judge other people's singing abilities — are you seriously lip-syncing on Idol?
It sure looked that way. Add to that the fact that she didn't bring her sexy duet partner Miguel in to sing "#Beautiful" with her, and this moment takes many pieces of the awkward cake.
5. Pitbull's boxer briefs were visible and Jennifer Lopez was dressed like a 15-year-old girl in a talent show with no age-appropriate dress-code.
Word to the wise, white linen pants are see-through when confronted with the million-watt lights of the Nokia Theater. Also, Jennifer, you are too old to be dressing in costumes that look like they came from Wet Seal's off-brand, Drakar-Noir-drenched ugly stepsister of a clothing store. And no, that Marilyn Monroe quote stolen from a teenager's tumblr page did not make up for the rest of that sweaty nonsense. 
4. Why are you doing this to Aretha?
Even if they could have gotten her on stage, instead of on a live-feed on the Jumbo-Tron, to actually honor the girls with her magnanimous presence, it's slightly awkward watching a singer we all love so dearly struggle to sing for an audience of 14-year-old girls who don't know her music.
3. Angie Miller's tank top was a sight to behold.
Was she stuck in sea urchin? Had she accidentally fused with a pile of ruffles in Betsey Johnson's workshop? Was she being consumed by the smoke monster from Lost and we were all just too dazzled by Adam Lambert and Jessie J to notice?
2.  It's uncomfortable and mind-boggling that Keith Urban is still so lovable.
I can see your late '90s highlights, Keith! You bop around like a muppet while you sing! Why are you still so damn charming, despite everything?
1.  The "affectionate" judges video package was downright ruthless to Mariah and Randy.
It played up the cute parts of Keith and Nicki Minaj's judging personalities – Keith's adorable facial expressions and Nicki's unstoppable sass – but when it came to Randy and Mariah, it was all prodding and no laughter.
They poked fun at Randy's numerous "useless" bits of commentary and posted a still of Mariah with a double-chin, something I wouldn't be surprised to hear prompted a lawsuit from Miss Diva. Not cool, Idol. You know you just blamed all the series problems on these people and then fired them, right? Give it a rest.
Follow Kelsea on Twitter @KelseaStahler
More:
Has Candice Glover Already Won?
Kree and Candice on Their Finals Singles
'American Idol' Top 2 Results Are Actually Shocking
---
From Our Partners:


Zoe Saldana Strips Down For Magazine (Celebuzz)


33 Child Stars: Where Are They Now? (Celebuzz)