These Are What We Call Good Winners — The 10 Best Emmy Reaction Shots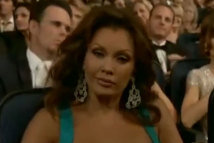 One of the best parts of any awards shows is seeing the reactions of the different nominees. How do the winners handle being honored for their work? Do they walk on stage a complete blubbering mess, or do they stride up to the front of the room with bravado and give a fantastic speech? How do the losing nominees handle seeing that golden statue ripped from their grasp? When there are hundreds of cameras trained on their every facial twitch, there are bound to be some pretty great reaction shots. Here are our top 10 faces and reactions from Emmy winners, losers, and presenters.
Vanessa Williams
Vanessa Williams is cool. I mean, she's just way too cool to be joking around at an award show when she's about to get an Emmy. She's a diva, people! So when Amy Poehler and company devised the goofy gag of wearing various pieces of eyewear while the nominees were being announced, Williams tastefully declined with a look that's a combination of "Hell no am I getting involved with this l foolishness!" and "Where's my Emmy?" while shaking her head dismissively at the camera. She ended up losing to Kristin Chenoweth (at least she went home without wearing an eye patch).
Kristin Chenoweth
Speaking of Chenoweth, her scrunched up face and acceptance speech after her win for Pushing Daisies was simply adorable. Her pixie-like excitement and crocodile tears are just to much to bear. Lines like "I'm unemployed now, so I would like to be on Mad Men" just make the clip even better. 
Aaron Paul
Okay so this moment wasn't at the actual awards show, but it's close enough. If you have a pulse, and you've watched at least five minutes of any given episode of Breaking Bad, then you already love Aaron Paul and his character Jesse Pinkman. But someone as likeable as Paul can surprise you time and time again. During the announcement ceremony for the 2013 Emmys, when Paul learned that he has secured yet another Emmy nomination (8:44 in the video), his face contorted into such childlike glee that his excitement is infectious. The fact that he can get so excited over an award he already has won twice before is very endearing.
Sally Fields
In her Emmy win in 2007 for Brothers and Sisters, Sally Fields launched into a tribute to mothers around the globe. With a face full of conviction and passion, she speaks out against war and says the controversial line, "Let's face it. If the mothers ruled the world, there would be no goddamned war in the first place!"
Steve Carell
Let me give you a little backstory first. Ricky Gervais and Steve Carell have had a bit of a rivalry ever since Carell hilariously "stole" Gervais' Emmy the year before. Now cut to 2008, when Gervais demanded his Emmy back and began to tear into Carell with jokes. Even while everyone else in the theater, including Carell's wife, was collapsing back into their chairs with giggle fits, Carell retained his stony visage, never breaking. He could probably withstand the harshest of tortures. Eventually he relinquished the Emmy, but only after fierce comical prodding by Gervais.
Bryan Cranston
After proving to be a comedy workhouse on Malcom in the Middle for six years, it seemed Bryan Cranston would never get the recognition he deserves by the Emmys. Just how many scenes of a man prancing in his underwear does it take to get an Emmy these days anyway? Luckily, Cranston continued taking off his pants in his next show Breaking Bad, enough times, in fact, to finally secure him the Emmy. When he does win, Cranston's look of surprise and graditude is heartwarming.
Greg Garcia
When Greg Garcia won an Emmy for his hilarious sitcom My Name Is Earl, he used his short time on stage to its fullest, and gave a triumphant up-yours to everyone who ever doubted him, insulted his intelligence, or made him scrape gum off their shoes throughout his rise to sitcom greatness. Even God almighty doesn't escape his comedic wrath.
Kate Winslet
It's nice to see an actress with as much award recognition as Kate Winslet get so excited about winning an award, as she didwhen she won for her performance in Mildred Pierce. When Winslet heard her name, she jumped up and down and sported a face full of genuine excitement.
Andy Samberg
Winning an Emmy would be a massive achievement for some people, but Andy Samberg looked like he was confused as to why he was even invited to the ceremony at all. When Samberg and The Lonely Island Crew won an Emmy for "Dick in a Box," he put on his best grin and went on to poke fun at the entire award show with hefty amounts of sarcasm that probably just rubbed salt in the wounds of people who actually really wanted win.
Jon Stewart
Having to watch Jon Stewart win the Emmy for Best Variety Show year after year must be tough, and in 2012, Jimmy Fallon and Stephen Colbert finally hit their breaking point. The two hosts tackled Stewart and tried their best to stop him from reaching the stage in a funny bit of physical comedy. When Stewart finally reached the stage to accept his golden prize, he looked like he just ran a marathon in a tuxedo. His face was visibly winded when he said (at 1:19 in the video), "I'm not in the kind of shape I should be in to do a bit with Jimmy Fallon."
More:
15 Best and Worst Emmy Dresses
Did The Emmys Forget About 'The Americans'
2013 Emmy Nominations
---
From Our Partners:


A Complete History Of Twerking (1993-2013) (Vh1)


15 Stars Share Secrets of their Sex Lives (Celebuzz)