Who Is the Trashiest Real Housewife of Atlanta?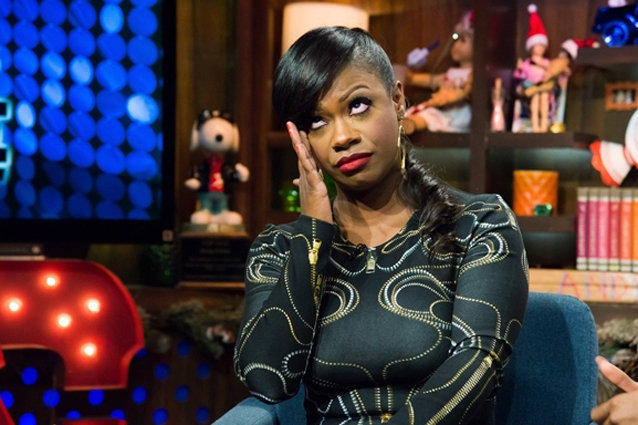 Bravo
The Real Housewives of Atlanta changed the Bravo TV franchise forever. After putting the Southern locale center stage, the Housewives brand became more Bad Girls Club than Lifestyles of the Rich & Famous. When the franchise first started it was about women feigning opulence and slamming each other at fancy lunches. Thanks to these Georgia peaches the series morphed into a hair-pulling, insult spewing shade-fest that has incurred ratings success and major attention.
But in taking a look at the women who have earned this reputation, it is tough to determine who is the most trashy, ratchet, classless… you get the idea. Although none of these ladies veers into posh territory, some go above and beyond, with extra-marital affairs, felonious businesses, and smoking Newports. We've ranked all the ladies of Real Housewives of Atlanta to determine the hierarchy of tackiness.
11. DeShawn Snow
DeShawn gets a pass because she is smart in how she handles her time on the show. She wasn't ratings gold because she kept her private life private. She did have a major divorce from husband Eric Snow when he cheated and left her for another woman. However, she lost 30 pounds, continues to work with her foundation, and has released some children's books. That's not half bad. 
10. Kenya Moore
It's a little controversial to have Kenya so high on this list. Kenya may be conniving, with questionable moral fiber, and a troublemaker, but she behaves in a pretty dignified manner. Unlike other housewives, she lives within her means. It doesn't look like any repo men will be knocking at her door. Her music video wasn't a production value powerhouse. But, hey, she hasn't had any businesses go into foreclosure or a criminal record, so she's doing okay. Considering her issues with her mother and her verbally abusive father, she often is pretty composed, and even slightly respectful even during a fight. Despite a major altercation in the Season 6 reunion special, Kenya is the one who gets attacked. 
9. Porsha Stewart
Is Porsha too stupid to be judged harshly? When she arrives on the show she has a very unhealthy relationship with Kordell Stewart but she doesn't really play the reindeer games the other ladies do. She does call Kenya ashy in a hilarious moment but she doesn't really go to the gutter level. However, with her position on the show in jeopardy she quickly ups the ante. She's currently on the cusp of being fired for getting physical with Kenya Moore. She also has bought into the "fake it 'til you make it" mentality, living in a huge house and shopping left and right without much money. Let's also not forget Kordell talking about her evictions and her mother eating an entire pepperoni pizza on his bed. 
8. Lisa Wu
The level of Lisa's trashiness is up in the air. While she was on the show she was presented as a successful businesswoman and mother. She was often a voice of reason and it was only on the reunion special that she threatened to attack Kim Zolciak. However, most of the businesses she was plugging on the show are not in existence today. Also, she has two divorces under her belt, including one with Keith Sweat, who has custody of their two children. She's no longer with Ed Hartwell, her husband on Real Housewives. It's not quite clear what is happening behind closed doors, but is there a reason she doesn't have custody of her children? 
7. Cynthia Bailey 
Cynthia is tough to categorize. She's well composed, polished, and stunningly beautiful. She often seems above all the petty fighting and bickering. However, her husband Peter Thomas hardly helps her cause. He's the one who makes questionable business decisions, yells at her on camera, and is always ready for a fight. Still, even if Cynthia was as ratchet as her husband she wouldn't be close to some of the other women on the show. So maybe she gets a pass. After all, her modeling school does seem somewhat legit, right? 
6. Kandi Burruss 
Kandi has always been the most successful and composed of the housewives. However, this season we saw what lies beneath. First, her mother starts a potential fist fight at her wedding dress fitting. Now that isn't ratchet behavior by Kandi but it is definitely a clue. When a fight breaks out at NeNe's pajama drama jam things get ugly fast and Kandi shows she's more hood than she looks. So it seems like when she's talked about clocking girls… she might have been serious. A girl knows how to fight. 
5. NeNe Leakes
NeNe often hides her trashy behavior behind her alternate personality, NayNay. She can afford to drop the attitude occasionally and be the original real NeNe we fell in love with. She has the distinction of having fought with every housewife on the seriesm, along with Latoya Jackson and Star Jones. She also doesn't care who, when, or where she's going off on someone. Some of these fights have even gone physical. Plus, despite how exemplary she and her husband Gregg Leakes seem to be at parenting, their son did wind up in the slammer jail.
4. Kim Zolciack-Beerman
Where do we begin with Kim? Is it the Kim with the super fake looking synthetic hair who changed into a trashy mini-dress in a parking lot? Or the woman with the notorious family issues including children by three different fathers? Or do we look at the woman who profited off of a song without giving any money to her producers? Let's also not forget that Kim had a long time affair with her sugar daddy Big Poppa, Lee Najjar, who was married at the time.
3. Marlo Hampton
Marlo was arrested seven times! 'Nuff said.
2. Phaedra Parks
Phaedra is one of the most fun characters on the show. However, she does have a lot going on. Her public face is mother of two, businesswoman, lawyer, and Southern belle. But, occasionally, there is a side of her that comes out that puts her public face in question. For example, how much of a high-class celebrity lawyer can she be if she's representing a guy with tinted windows and taking her payment in cash in the courthouse parking lot. Her possibly soon-to-be ex-husband Apollo Nida is in trouble with the law again. There is even a tell-all by Angela Stanton called Lies of a Real Housewife: Tell the Truth and Shame the Devil. The book alleges that Phaedra was the mastermind behind the charges that Stanton and Nida were charged with. Occasionally, Phaedra's façade cracks and we see what she's really like underneath. See for yourself:
1. Sheree Whitfield
Congratulations Sheree! Not only is so much of her "success" questionable, but she will also get roughneck when she needs to. Both She by Sheree and Château Sheree were a huge bust. She got into multiple fights with her fellow housewives, all beginning with the pulling of Kim's wig). Her appearance on Iyanla: Fix My Life didn't make anything better. It looks like the only one who is going to check her… is herself.